The 57th running of the Irish Derby was held on Wednesday 21st June 1922 over 1 mile 4 furlongs of The Curragh. Subscriptions were 50 sovereigns with a pot of 4915 sovereigns, 150 sovereigns to the second and 50 sovereigns to the third. The winner was owned and bred in Ireland by Major Giles Loder, trained by Peter P Gilpin and ridden by George Archibald. The winner won by 1 1/2 lengths in 2 minutes 39.2 seconds, with a neck between second and third.
IRISH DERBY 1922
SPIKE ISLAND (Bay colt by Spearmint out of Molly Desmond) SR 2002
The winning owner won 4715 sovereigns, (The equivalent of £254,700 in today's terms based on Bank of England inflation calculator).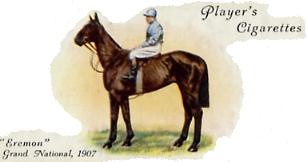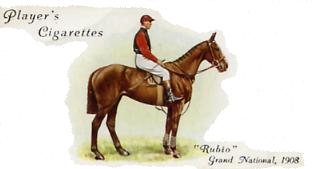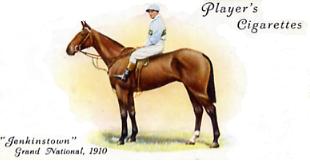 Pos.
Horse
Weight
Jockey
Owner
Trainer
1
SPIKE ISLAND
9.8
George Archibald
Major Giles Loder
Peter P Gilpin
2
O'DORNEY
8.12
Clyde Aylin
Mr Daniel Sullivan
Shem C Jeffery
3
MONTSERRAT
8.12
Herbert Jones
Viscount Lascelles
Richard Marsh
4
SOLIMAN'S ORB
9.8
Thomas Burns
5th Earl Kenmare
Michael Dawson
5
HIGHLANDMORE
8.12
Michael Beary
Miss E Mary Cowhy
William Rankin
6
GALWAY PRINCE
8.12
John Evans
Mr George Barclay
G R Barclay jnr
7
KING DAVID
8.12
Mornington Wing
Mr Thomas K Laidlaw
Joseph Hunter
8
BACHELOR'S HEIR
8.12
Joe Canty
Mr T J O'Neill
Thomas Coombs
9
DOUBLE FIRST
8.12
John Patman
Mr T J O'Neill
Thomas Coombs
10
VALIANT
8.12
Henry H Beasley
Major John Scarvell Cape
Shem C Jeffery
11
BROTHER CHARLES
8.12
Denis Ward
Mr F F McDonogh
F F McDonogh
12
RACHEL
8.8
E Martin Quirke
Captain Charles Moore
Philip Behan
Betting

JOCKEY PROFILE
George William Archibald was born on 24th April 1890 in San Francisco, California. After riding success in America, including the 1911 Kentucky Derby aboard Meridan, he moved to ride in Europe at the Hoppegarten circuit in Germany. After a brief return to America he arrived in England in 1922 to ride for the famous, highly successful Newmarket trainer Peter P Gilpin. He achieved immediate Classic success, winning the 1922 2000 Guineas with St Louis (SR 1925) and travelling to Ireland to ride the Gilpin trained Spike Island (SR 2002) to success in the Irish Derby. Further success in the race continued, he was third in 1923 on Greek Bachelor behind Waygood (SR 1906), and then was involved in a dead-heat in 1924 aboard Zodiac (SR 1849) dead-heating with Haine. The next year he was runner-up on Warminster behind Zionist (SR 1968). His riding career continued to be successful, but at the Craven meeting on 5th April 1927 he was taken ill and died at the age of just 37. A few days later he was buried in Newmarket's Memorial Cemetery.

Evens fav
Spike Island
7/2
King David
6/1
Highlandmore
7/1
Galway Prince
10/1
Montserrat
25/1
Valiant
25/1
Double First
25/1
Soliman's Orb
33/1
Rachel
50/1
O'Dorney
50/1
Bachelor's Heir
100/1
Brother Charles
Over round 127%
FORMLINE:- The impressive and highly thought of winner conceded 10 lbs to the second and won by 1 1/2 lengths in 2 minutes 39.2 seconds. Galway Prince was unplaced in the Epsom Derby when 100/1 behind Captain Cuttle (SR 2078), and was also unplaced in the Doncaster St Leger when 100/1 behind Royal Lancer (SR 1857).
ISBN 978-0-9957632-0-3

652 pages

774 former courses

ISBN 978-0-9957632-1-0

352 pages

400 former courses

ISBN 978-0-9957632-2-7

180 pages

140 former courses

ISBN 978-0-9957632-3-4

264 pages

235 former courses

Copies of the above books are only available by emailing johnwslusar@gmail.com stating your requirements, method of payment (cheque payable to W.Slusar) or Bank transfer, and the address where the book(s) should be sent.

ORDER FORM
Download an order form
Quantity
Cost
Volume 1 North of Hatfield £19.99 + £4 postage
Volume 2 South of Hatfield £14.99 + £3 postage
Volume 3 Wales & Scotland £9.99 + £3 postage
Volume 4 Ireland £9.99 + £3 postage
Volumes 1 - 4 £54.96 + £5 postage
Postage & Packaging
Total
Email order form to johnwslusar@gmail.com