The 59th running of the Irish Derby was held on Wednesday 25th June 1924 over 1 mile 4 furlongs of The Curragh. Subscriptions were 50 sovereigns with a pot of 5250 sovereigns, 150 sovereigns to the second and 50 sovereigns to the third. There was a dead-heat, with Haine owned by Mr Charles F Kenyon, bred in Ireland by Daniel Hederman, trained by Charles Davis and ridden by Joe Canty, while Zodiac was owned and bred by Major Giles Loder, trained by Peter Gilpin and ridden by George Archibald. The joint winners beat the third by 3/4 length in 2 minutes 46.6 seconds.
IRISH DERBY 1924
HAINE (Bay colt by Hainault out of Almond) SR 1909
ZODIAC (Bay colt by Sunstar out of Molly Desmond) SR 1849
The joint winning owners each won 2350 sovereigns, (The equivalent of £135,800 in today's terms based on Bank of England inflation calculator).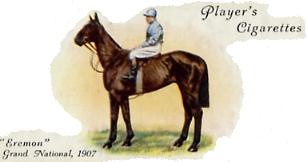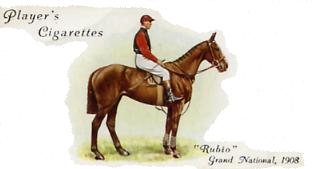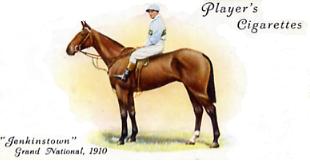 Pos.
Horse
Weight
Jockey
Owner
Trainer
1=
HAINE
9.2
Joe Canty
Mr Charles F Kenyon
Charles Davis
1=
ZODIAC
8.12
George Archibald
Major Giles Loder
Peter P Gilpin
3
ILLYRIAN
8.12
Henry H Beasley
Lady Conyngham
J Holmer Peard
4
BUCKS YEOMAN
8.12
Michael Beary
Sir Abe Bailey
Reginald Day
5
CHURCHTOWN
8.12
E Martin Quirke
Mrs Mary Crofts
Michael Dawson
6
BRIDGE OF CAHIR
8.12
Thomas Burns
Colonel Richard Charteris
Cecil Boyd-Rochfort
7
JEHANGIR
8.12
John Moylan
Mr F Clarke
Robert Fetherstonehaugh
Betting

RACE REPORT
Although the runners were sent off on time, no one was keen to make the pace and it was left to Haine to act as reluctant leader. He maintained his position at the head of affairs for the first 6 furlongs, his rider struggling to get him back on an even keel. At the bend into the rails the race began in earnest and Haine continued to lead, albeit with a reduced margin in front of Zodiac. At the distance Haine was a half length in front of Zodiac, with Illyrian looking threatening on the rail. Close home, in a desperate finish Haine was joined by Zodiac to force a dead-heat, with the game Illyrian just three quarters of a length back in third.

Evens fav
Haine
3/1
Zodiac
7/1
Bucks Yeoman
10/1
Illyrian
20/1
Jehangir
20/1
Churchtown
20/1
Bridge of Cahir
Over round 111%
FORMLINE:- Haine dead-heated with Zodiac but carried 4 lbs more, the pair finishing just 3/4 length in front of Illyrian in third in a slow time of 2 minutes 46.6 seconds. Bucks Yeoman was earlier unplaced in the English 2000 Guineas at 50/1 behind Diophon (SR 1955), and was also unplaced in the Epsom Derby at 100/1 behind Sansovino (SR 1985). Zodiac was unplaced in the English 2000 Guineas at 50/1 behind Diophon (SR 1955), and later unplaced behind Salmon-Trout (SR 1969) in the Doncaster St Leger.
ISBN 978-0-9957632-0-3

652 pages

774 former courses

ISBN 978-0-9957632-1-0

352 pages

400 former courses

ISBN 978-0-9957632-2-7

180 pages

140 former courses

ISBN 978-0-9957632-3-4

264 pages

235 former courses

Copies of the above books are only available by emailing johnwslusar@gmail.com stating your requirements, method of payment (cheque payable to W.Slusar) or Bank transfer, and the address where the book(s) should be sent.

ORDER FORM
Download an order form
Quantity
Cost
Volume 1 North of Hatfield £19.99 + £4 postage
Volume 2 South of Hatfield £14.99 + £3 postage
Volume 3 Wales & Scotland £9.99 + £3 postage
Volume 4 Ireland £9.99 + £3 postage
Volumes 1 - 4 £54.96 + £5 postage
Postage & Packaging
Total
Email order form to johnwslusar@gmail.com