The 62nd running of the Irish Derby was held on Wednesday 22nd June 1927 over 1 mile 4 furlongs of The Curragh. Subscriptions were 65 sovereigns with a pot of 5250 sovereigns, 700 sovereigns to the second and 200 sovereigns to the third. The winner was owned by Sir Delves Broughton, bred in Ireland by F B O'Toole, trained by Ronald Farquharson and ridden by Michael Beary. The winner won by a neck in 2 minutes 43.4 seconds, with a head between second and third.
IRISH DERBY 1927
KNIGHT OF THE GRAIL (Bay colt by Prince Galahad out of Magical Music) SR 1937
The winning owner won 4350 sovereigns, (The equivalent of £252,800 in today's terms based on Bank of England inflation calculator).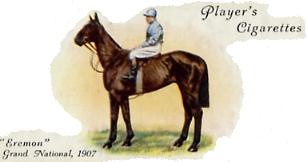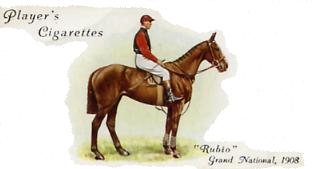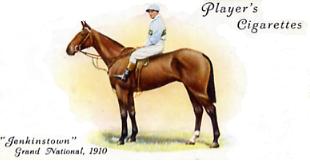 Pos.
Horse
Weight
Jockey
Owner
Trainer
1
KNIGHT OF THE GRAIL
9.5
Michael Beary
Sir Delves Broughton
Ronald Farquharson
2
CHANTREY
9.5
Henri Jelliss
Mr Washington Singer
Alec Taylor
3
ARCHWAY
9.2
Joe Canty
Mr C Wadia
John T Rogers
4
KING HARALD
8.12
Joseph Marshall
Mr Walter Raphael
Sam H Darling
5
COINAGE
8.12
Thomas Burns
Mr J T Milton
Fred Grundy
6
LAVENGRO
8.12
Henry H Beasley
Mr Daniel Sullivan
Atty Persse
Betting

OWNER PROFILE
Sir Henry John Delves Broughton was born at the family home of Doddington Hall, Cheshire on 10th September 1883 and came into the baronetcy on the death of his father in April 1914. When the First World War broke in 1914 he was a Captain of the Irish Guard but was taken ill just before sailing with his men. In 1927 Sir Delves won the Irish Derby with his colt Knight of the Grail (SR 1937), but his excessive gambling was to lead to his downfall. He was part of a famous consortium which launched Bournemouth Racecourse at Ensbury Park in 1925, but it was a much too ambitious plan and folded after just 3 years in April 1928. Such was his problem gambling that he had to sell off almost 34,000 acres of the family estate in the early 1930s and even had to stand trial in Kenya for the murder of Josslyn Hay, the 22nd Earl of Erroll for which he was acquitted. He died of a morphine overdose at the Liverpool Adelphi Hotel on 5th December 1942 aged just 59.

4/6 fav
Chantrey
3/1
Knight of the Grail
5/1
Archway
10/1
Lavengro
100/8
King Harald
50/1
Coinage
Over round 120%
FORMLINE:- The winner battled well in a good contest off level weights with the favourite Chantrey to get home by a neck in 2 minutes 43.4 seconds. Knight of the Grail was unplaced in the English 2000 Guineas when 20/1 behind Adam's Apple (SR 1983). He was then unplaced in the Epsom Derby when 66/1 behind Call Boy (SR 2049).
ISBN 978-0-9957632-0-3

652 pages

774 former courses

ISBN 978-0-9957632-1-0

352 pages

400 former courses

ISBN 978-0-9957632-2-7

180 pages

140 former courses

ISBN 978-0-9957632-3-4

264 pages

235 former courses

Copies of the above books are only available by emailing johnwslusar@gmail.com stating your requirements, method of payment (cheque payable to W.Slusar) or Bank transfer, and the address where the book(s) should be sent.

ORDER FORM
Download an order form
Quantity
Cost
Volume 1 North of Hatfield £19.99 + £4 postage
Volume 2 South of Hatfield £14.99 + £3 postage
Volume 3 Wales & Scotland £9.99 + £3 postage
Volume 4 Ireland £9.99 + £3 postage
Volumes 1 - 4 £54.96 + £5 postage
Postage & Packaging
Total
Email order form to johnwslusar@gmail.com