The 64th running of the Irish Derby was held on Wednesday 26th June 1929 over 1 mile 4 furlongs of The Curragh. Subscriptions were 65 sovereigns with a pot of 5250 sovereigns, 715 sovereigns to the second and 200 sovereigns to the third. The winner was owned by Mr Soloman B Joel, bred in Ireland by Giles Loder, trained by Walter C Earl and ridden by Fred Winter. The winner won by 5 lengths in 2 minutes 36.2 seconds, with 4 lengths between second and third.
IRISH DERBY 1929
KOPI (Brown colt by Spion Kop out of Suncroft) SR 1969
The winning owner won 4335 sovereigns, (The equivalent of £261,800 in today's terms based on Bank of England inflation calculator).
The Youtube link below is a 2 minute 27 second clip of the 1929 Irish Derby https://www.youtube.com/watch?v=_6yrdH2qZdE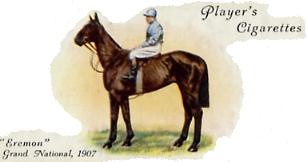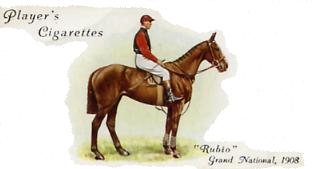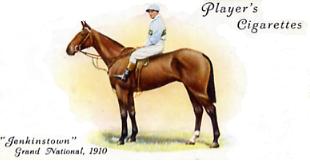 Pos.
Horse
Weight
Jockey
Owner
Trainer
1
KOPI
9.5
Fred Winter
Mr Solly Joel
Walter C Earl
2
STAR EAGLE
8.12
Mornington Wing
Mr Frederick Myerscough
Fred Grundy
3
CRAGADOUR
9.2
Harry Wragg
Count John McCormack
Roderic More O'Ferrall
4
GRAND TERRACE
8.12
Michael Beary
HH Aga Khan III
Richard C Dawson
5
CRAFTY CAPTAIN
8.12
Joe Canty
Sir Thomas Dixon
James J Parkinson
6
SONG OF ESSEX
8.12
E Martin Quirke
Major Evelyn Shirley
John T Rogers
7
RED CLOVER
8.12
J H Harty
Mr Matthew Cunningham
Matthew Cunningham
8
N.P.B.
9.2
Patrick Donoghue
Sir Frederick Eley
George Pugh
9
ALNE FOREST
8.12
John Moylan
Captain Henry Whitworth
Henry Ussher
Betting

OWNER PROFILE
Soloman Barnato Joel, universally known as Solly, was born in London on 23rd May 1865 and moved to South Africa where he made a fortune mining diamonds. He also had a financial interest in Brewing, railways and mining, but his great leisure passion was horse racing. His breeding interest revolved around his stallion Polymelus who sired English 1915 Triple Crown winner Pommern (SR 2064). It was in 1903 that Solly bought the Maiden Erlegh Estate near Reading and 19 years later, in 1922, he purchased Moulton Paddocks near Newmarket. He enjoyed a turf rivalry with his brother Jack Barnato Joel who was arguably more successful, owning the Epsom Derby winners 1911 Sunstar (SR 2059) and 1921 Humorist (SR 2045). However, Solly owned the 1929 winner of the Irish Derby Kopi (SR 1969), the first time that the race was relayed on the wireless. Solly Joel died aged 66 in his beloved Moulton Paddocks in 1931.

4/5 fav
Kopi
5/1
Cragadour
5/1
Star Eagle
6/1
Grand Terrace
8/1
Red Clover
10/1
N.P.B.
50/1
Song of Essex
50/1
Crafty Captain
100/1
Alne Forest
Over round 126%
FORMLINE:- The winner gave weight all round, including 7 lbs to the runner up, and won by a comfortable 5 lengths in 2 minutes 36.2 seconds. Cragadour (4/1) was runner up by a head in the English 2000 Guineas behind Mr Jinks (SR 1951). Cragadour (15/2), Kopi (100/8) and NPB (50/1) were all unplaced in the Epsom Derby won by Trigo (SR 2019).
ISBN 978-0-9957632-0-3

652 pages

774 former courses

ISBN 978-0-9957632-1-0

352 pages

400 former courses

ISBN 978-0-9957632-2-7

180 pages

140 former courses

ISBN 978-0-9957632-3-4

264 pages

235 former courses

Copies of the above books are only available by emailing johnwslusar@gmail.com stating your requirements, method of payment (cheque payable to W.Slusar) or Bank transfer, and the address where the book(s) should be sent.

ORDER FORM
Download an order form
Quantity
Cost
Volume 1 North of Hatfield £19.99 + £4 postage
Volume 2 South of Hatfield £14.99 + £3 postage
Volume 3 Wales & Scotland £9.99 + £3 postage
Volume 4 Ireland £9.99 + £3 postage
Volumes 1 - 4 £54.96 + £5 postage
Postage & Packaging
Total
Email order form to johnwslusar@gmail.com