The 65th running of the Irish Derby was held on Wednesday 25th June 1930 over 1 mile 4 furlongs of The Curragh. Subscriptions were 65 sovereigns with a pot of 5250 sovereigns, 700 sovereigns to the second and 200 sovereigns to the third. The winner was owned by Sir Mathew Wilson, bred in Ireland by Denis Flynn, trained by Walter Nightingall and ridden by Mornington Wing. The winner won by 2 1/2 lengths in 2 minutes 41.6 seconds, with 3 lengths between second and third.
IRISH DERBY 1930
ROCK STAR (Bay colt by Sherwood Starr out of Rockmills) SR 1854
The winning owner won 4350 sovereigns, (The equivalent of £270,300 in today's terms based on Bank of England inflation calculator).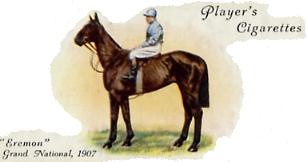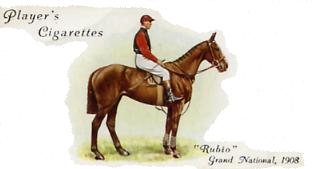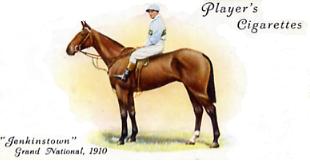 Pos.
Horse
Weight
Jockey
Owner
Trainer
1
ROCK STAR
8.12
Mornington Wing
Sir Mathew Wilson
Walter Nightingall
2
WRIT
9.2
Robert Dick
2nd Viscount Aster
Joseph Lawson
3
CHRISTOPHER ROBIN
9.8
Patrick Beasley
Lt-Colonel Giles Loder
Victor Gilpin
4
SEER
8.12
Henri Jelliss
Mr Gregory Peck
J H S Cannon
5
GREY BACHELOR
8.12
E Martin Quirke
Mr Albert Lowry
Hugh Powney
6
FREIGHTER
8.12
Joe Canty
Mrs Beatrice Webster
Charles A Rogers
7
WILD CORN
8.12
Edward Gardner
Mr John T Rogers
John T Rogers
8
ADLON
8.12
Michael Beary
Mrs Violet Wallace
John Beary
9
BENNACHIE
9.2
Henry H Beasley
1st Baron Wavertree
Atty Persse
10
INNISKEEN
8.12
Patrick Fitzgerald
Major Evelyn Shirley
John T Rogers
11
BLACK ADMIRAL
8.12
John Moylan
Mr Henry Ussher
Henry I Ussher
12
PITCHED BATTLE
8.12
Thomas Burns
Mr S Vlasto
Rod More O'Ferrall
Betting

TRAINER PROFILE
Walter Nightingall was born in Epsom in 1895, son of the racehorse trainer William Nightingall, and took over South Hatch Stables in the town on the death of his father in December 1926. Within 4 years he had trained his first Classic winner when Rock Star (SR 1854) won the 1930 Irish Derby by two and a half lengths in the year the Tote was introduced in Ireland. Although he trained for 40 years, his greatest achievements came later on in his career. In 1937 he took on the challenge of training for the extremely wealthy, but eccentric, Dorothy Paget. He was Champion trainer in 1943, the same year he won his only War Time New Derby Stakes with Straight Deal (SR 2051). He died in 1968 at the age of 73.

3/1 fav
Seer
7/2
Christopher Robin
4/1
Writ
5/1
Rock Star
10/1
Freighter
100/8
Grey Bachelor
25/1
Bennachie
25/1
Wild Corn
25/1
Adlon
40/1
Pitched Battle
66/1
Inniskeen
200/1
Black Admiral
Over round 115%
FORMLINE:- The winner received 10 lbs from Christopher Robin and won by 2 1/2 lengths in 2 minutes 41.6 seconds. Christopher Robin (100/8) and Seer (100/6) were unplaced in the English 2000 Guineas behind Diolite (SR 1937). Seer (40/1) was unplaced in the Epsom Derby behind Blenheim (SR 1964). Christopher Robin (22/1) and Seer (100/9) were unplaced behind Singapore (SR1924) in the Doncaster St Leger.
ISBN 978-0-9957632-0-3

652 pages

774 former courses

ISBN 978-0-9957632-1-0

352 pages

400 former courses

ISBN 978-0-9957632-2-7

180 pages

140 former courses

ISBN 978-0-9957632-3-4

264 pages

235 former courses

Copies of the above books are only available by emailing johnwslusar@gmail.com stating your requirements, method of payment (cheque payable to W.Slusar) or Bank transfer, and the address where the book(s) should be sent.

ORDER FORM
Download an order form
Quantity
Cost
Volume 1 North of Hatfield £19.99 + £4 postage
Volume 2 South of Hatfield £14.99 + £3 postage
Volume 3 Wales & Scotland £9.99 + £3 postage
Volume 4 Ireland £9.99 + £3 postage
Volumes 1 - 4 £54.96 + £5 postage
Postage & Packaging
Total
Email order form to johnwslusar@gmail.com