The 69th running of the Irish Derby was held on Wednesday 27th June 1934 over 1 mile 4 furlongs of The Curragh. Subscriptions were 70 sovereigns with a pot of 5250 sovereigns, 700 sovereigns to the second and 200 sovereigns to the third. Dead-heaters Patriot King and Primero were owned and bred by Mr James de Rothschild and Mr William Barnett respectively, trained by C Pratt and Richard C Dawson and ridden by George Bezant and Cecil Ray. The winners dead-heated in 2 minutes 39.2 seconds, with 2 lengths between second and third.
IRISH DERBY 1934
PATRIOT KING (Bay colt by Bollingbroke out of Grandissima) SR 1928
PRIMERO (Bay colt by Blandford out of Athasi) SR 1936
The winning owners won 2167.5 sovereigns, (The equivalent of £147,400 in today's terms based on Bank of England inflation calculator).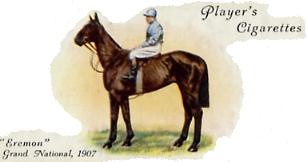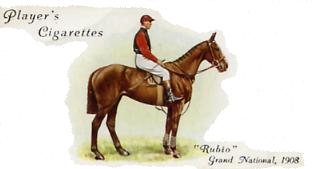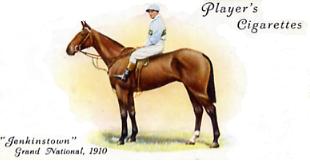 Pos.
Horse
Weight
Jockey
Owner
Trainer
1=
PATRIOT KING
8.12
George Bezant
Mr James de Rothschild
C Pratt
1=
PRIMERO
8.12
Cecil Ray
Mr William Barnett
Richard C Dawson
3
AUTUMN
8.12
Joseph Childs
Mr Josepf E Widener
Cecil Boyd-Rochfort
4
RATHMORE
8.12
Michael Beary
Major V H Parr
Peter R A Thrale
5
GIPSY GEORGE
8.12
Michael Barrett
Mr James J Parkinson
James J Parkinson
6
MOLINO
8.12
William Howard
Mr J J Sullivan
James J Parkinson
Betting

OWNER PROFILE
James Armand de Rothschild was born on 1st December 1878 into the wealthy De Rothschild banking family. He was the son of Edmond James de Rothschild and was educated at Trinity College, Cambridge before serving as an officer in the Royal Canadian Dragoons in the First World War. He owned Waddeston Manor in Buckinghamshire and his leisure passion was horse racing. Amongst his many turf successes he owned Patriot King (SR 1928) who dead-heated with Primero (SR 1936) in the 1934 Irish Derby when ridden by George Bezant. He died on 7th May 1957 aged 78 and donated Waddeston Manor to the National Trust.

2/1 jf
Patriot King
2/1 jf
Autumn
5/2
Primero
4/1
Rathmore
33/1
Molino
33/1
Gipsy George
Over round 120%
FORMLINE:- There was a dead-heat at level weights in a time of 2 minutes 39.2 seconds. Previously Primero (33/1), Rathmore (66/1) and Patriot King (100/1) had finished unplaced in the Epsom Derby behind Windsor Lad (SR 2100). Later Primero (100/6), Patriot King (22/1) and Autum (25/1) finished unplaced in the Doncaster St Leger behind Windsor Lad (SR 2100).
ISBN 978-0-9957632-0-3

652 pages

774 former courses

ISBN 978-0-9957632-1-0

352 pages

400 former courses

ISBN 978-0-9957632-2-7

180 pages

140 former courses

ISBN 978-0-9957632-3-4

264 pages

235 former courses

Copies of the above books are only available by emailing johnwslusar@gmail.com stating your requirements, method of payment (cheque payable to W.Slusar) or Bank transfer, and the address where the book(s) should be sent.

ORDER FORM
Download an order form
Quantity
Cost
Volume 1 North of Hatfield £19.99 + £4 postage
Volume 2 South of Hatfield £14.99 + £3 postage
Volume 3 Wales & Scotland £9.99 + £3 postage
Volume 4 Ireland £9.99 + £3 postage
Volumes 1 - 4 £54.96 + £5 postage
Postage & Packaging
Total
Email order form to johnwslusar@gmail.com