The 72nd running of the Irish Derby was held on Wednesday 23rd June 1937 over 1 mile 4 furlongs of The Curragh. Subscriptions were 65 sovereigns with a pot of 3675 sovereigns, 800 sovereigns to the second and 300 sovereigns to the third. The winner was owned and bred in Ireland by Sir Victor Sassoon, trained by John T Rogers and ridden by Steve Donoghue. The winner won by a length in 2 minutes 40.2 seconds, with 1 length between second and third.
IRISH DERBY 1937
PHIDEAS (Bay colt by Pharos out of Imagery) SR 1928
The winning owner won 2500 sovereigns, (The equivalent of £161,900 in today's terms based on Bank of England inflation calculator).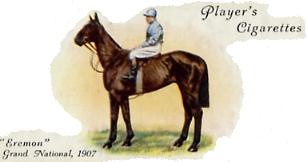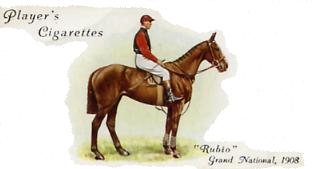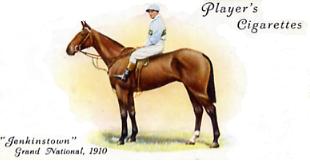 Pos.
Horse
Weight
Jockey
Owner
Trainer
1
PHIDEAS
9.5
Steve Donoghue
Sir Victor Sassoon
John T Rogers
2
SENOR
8.12
Thomas Burns
Mr William Barnett
Richard C Dawson
3
TOLMAN
8.12
Patrick Beasley
Mrs James Corrigan
Cecil Boyd-Rochfort
4
FLAXMAN
8.12
William Howard
Mr John T Rogers
John T Rogers
5
STRONG CURRENT
8.12
Morny Wing
Mr William Barnett
Richard C Dawson
6
NETTLEWEED
8.12
Henry H Beasley
Sir Victor Sassoon
John T Rogers
Betting
JOCKEY PROFILE
Steve Donoghue was born in Warrington, Lancs on 8th November 1884 to a steel working father who had little interest in horse racing, but Steve was to become one of the most celebrated jockeys in turf history. He left home in 1896 aged just 12 to become apprentice to the eminent trainer John Porter, before moving on to Atty Persse's training establishment at Stockbridge. He was crowned Champion jockey on 10 occasions between 1914 and 1923 and also landed the Epsom Derby on 6 occasions; 1915 Pommern (SR 2064), 1917 Gay Crusader (SR 2090), 1921 Humorist (SR 2045), 1922 Captain Cuttle (SR 2078), 1923 Papyrus (SR 1985) and for the final time in 1925 with Manna (SR 2028). He is the only jockey to have landed the English Triple Crown twice, in 1915 and 1917. He also won the 1000 Guineas once, the 2000 Guineas three times, the St Leger twice and the Epsom Oaks in 1918 with My Dear (SR 1992) and again in 1937 with Exhibitionist (SR 1898). He was equally successful riding in Ireland, winning the Irish Derby five times, initially in 1913 with Bachelor's Wedding (SR 1892), then in 1914 with Land of Song (SR 1959), 1926 with Embargo (SR 1953), 1935 with Museum (SR 1921) and finally in 1937 with Phideas (SR 1928). He died of a heart attack in London on 23rd March 1945 aged 60.
4/7 fav
Phideas
7/2
Senor
5/1
Tolman
10/1
Nettleweed
20/1
Flaxman
20/1
Strong Current
Over round 120%
FORMLINE:- The winner conceded 7 lbs to the second and won by a length in 2 minutes 40.2 seconds. Senor (40/1) was unplaced in the Doncaster St Leger behind Chumleigh (SR 1913).
ISBN 978-0-9957632-0-3

652 pages

774 former courses

ISBN 978-0-9957632-1-0

352 pages

400 former courses

ISBN 978-0-9957632-2-7

180 pages

140 former courses

ISBN 978-0-9957632-3-4

264 pages

235 former courses

Copies of the above books are only available by emailing johnwslusar@gmail.com stating your requirements, method of payment (cheque payable to W.Slusar) or Bank transfer, and the address where the book(s) should be sent.

ORDER FORM
Download an order form
Quantity
Cost
Volume 1 North of Hatfield £19.99 + £4 postage
Volume 2 South of Hatfield £14.99 + £3 postage
Volume 3 Wales & Scotland £9.99 + £3 postage
Volume 4 Ireland £9.99 + £3 postage
Volumes 1 - 4 £54.96 + £5 postage
Postage & Packaging
Total
Email order form to johnwslusar@gmail.com