The 73rd running of the Irish Derby was held on Wednesday 22nd June 1938 over 1 mile 4 furlongs of The Curragh. Subscriptions were 65 sovereigns with a pot of 3675 sovereigns, 800 sovereigns to the second and 300 sovereigns to the third. The winner was owned by Mr Daniel Sullivan, bred by Oswald Bell in England, trained by Colonel Arthur J Blake and ridden by Mornington Wing. The winner won by 2 lengths in 2 minutes 43.2 seconds, with 3/4 length between second and third.
IRISH DERBY 1938
ROSEWELL (Brown colt by Orwell out of Bower of Roses) SR 1904
The winning owner won 2500 sovereigns, (The equivalent of £160,000 in today's terms based on Bank of England inflation calculator).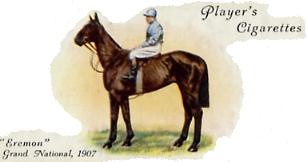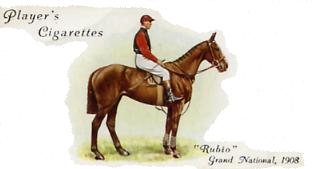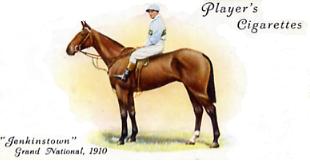 Pos.
Horse
Weight
Jockey
Owner
Trainer
1
ROSEWELL
8.12
Morny Wing
Mr Daniel Sullivan
Colonel Arthur Blake
2
GOLDEN SOVEREIGN
9.5
Thomas Weston
Sir Abe Bailey
Henry L Cottrill
3
MANORITE
9.5
Fred Hunter jnr
Mr D Shaw Kennedy
Peter R A Thrale
4
SOLAN
8.12
John Moylan
Mr Isidore Blake
Colonel Arthur Blake
5
VALEDICTORY
8.12
Patrick Beasley
Mr John Hay Whitney
Cecil Boyd-Rochfort
6
ACLINT BRIDGE
8.12
Henry H Beasley
Major Evelyn Shirley
Bryan Rogers
7
DUNLOE
8.12
Edward Gardner
Mr Henry Ussher
Henry I Ussher
8
LUGNADMEDON
8.12
E Martin Quirke
Mr Harold S Gray
James Canty
9
HONOR'S CHOICE
8.12
Michael Barrett
Mr Michael McDonough
James J Parkinson
Betting

TRAINER PROFILE
Arthur Blake was born in 1884 and after a spell in the Armed Forces, when he rose to the position on Colonel, he became a racehorse trainer. His training career was based at Heath House Stables in Maryborough, Portlaoise from where he became Champion Irish Trainer on 3 occasions, 1929, 1930 and again in 1938. In all he trained 17 Irish Classic winners which included two Irish Derby winners, firstly in 1938 with Rosewell (SR 1904) and again in 1941 with Sol Oriens (SR 1932). He died in 1974.

2/1 jf
Rosewell
2/1 jf
Golden Sovereign
4/1
Valedictory
6/1
Manorite
20/1
Lugnadmedon
20/1
Dunloe
20/1
Aclint Bridge
20/1
Solan
20/1
Honor's Choice
Over round 125%
FORMLINE:- The winner received 7 lbs from his fellow joint favourite and won by 2 lengths in 2 minutes 43.2 seconds. Manorite (100/6) was unplaced in the Epsom Derby behind Bois Roussel (SR 2058).
ISBN 978-0-9957632-0-3

652 pages

774 former courses

ISBN 978-0-9957632-1-0

352 pages

400 former courses

ISBN 978-0-9957632-2-7

180 pages

140 former courses

ISBN 978-0-9957632-3-4

264 pages

235 former courses

Copies of the above books are only available by emailing johnwslusar@gmail.com stating your requirements, method of payment (cheque payable to W.Slusar) or Bank transfer, and the address where the book(s) should be sent.

ORDER FORM
Download an order form
Quantity
Cost
Volume 1 North of Hatfield £19.99 + £4 postage
Volume 2 South of Hatfield £14.99 + £3 postage
Volume 3 Wales & Scotland £9.99 + £3 postage
Volume 4 Ireland £9.99 + £3 postage
Volumes 1 - 4 £54.96 + £5 postage
Postage & Packaging
Total
Email order form to johnwslusar@gmail.com