The 75th running of the Irish Derby was held on Wednesday 26th June 1940 over 1 mile 4 furlongs of The Curragh. Subscriptions were 65 sovereigns with a pot of 3675 sovereigns, 800 sovereigns to the second and 300 sovereigns to the third. The winner was owned and bred by HH Aga Khan III, trained by Frank Butters and ridden by Charlie Smirke. The winner won by 2 lengths in 2 minutes 41.8 seconds, with 2 lengths between second and third.
IRISH DERBY 1940
TURKHAN (Bay colt by Bahram out of Theresina) SR 1968
The winning owner won 2500 sovereigns, (The equivalent of £133,000 in today's terms based on Bank of England inflation calculator).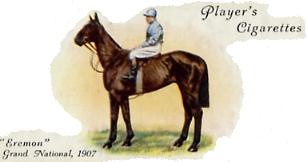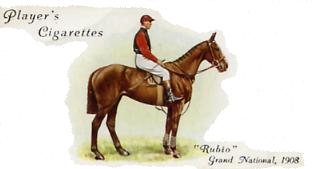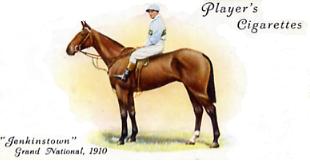 Pos.
Horse
Weight
Jockey
Owner
Trainer
1
TURKHAN
9.5
Charlie Smirke
HH Aga Khan III
Frank Butters
2
GOLDEN TIGER
8.12
John Moylan
Sir Humphrey de Trafford
Cecil Boyd-Rochfort
3
CLAUDIUS
8.12
Michael Beary
Sir Abe Bailey
Joseph Lawson
4
TEASEL
9.5
George Wells
Colonel Arthur Blake
Colonel Arthur Blake
5
TOLAGO
8.12
Morny Wing
Mr Claude Odlum
Colonel Arthur Blake
6
ANTRIM
8.12
E Martin Quirke
Sir Percy Loraine
Rod More O'Ferrall
7
CHICO
8.12
Thomas Burns
Mr William Barnett
Corporal Darby Rogers
Betting

JOCKEY PROFILE
Charlie James William Smirke was born on 23rd September 1906 in the Lambert area of London where his father was a fruit and vegetable market man. Charlie left school aged 13 and immediately became an apprentice, launching a career which won him the Apprentice Championship in consecutive years in 1925 and 1926, and which later produced 11 English Classic victories, including 4 Epsom Derby wins. His first Epsom Derby winner was in 1934 with Windsor Lad (SR 2100), followed two years later by Mahmoud (SR 2020), there was then a gap before he won again in 1952 with Tulyar (SR 2075) and completed his 4 wins in 1958 with Hard Ridden (SR 2028). He was also successful in Ireland, winning the Irish Derby in 1940 with Turkhan (SR 1968) and for a second time in 1951 with Fraise Du Bois (SR 1947). He died at Leatherhead, Surrey on 20th December 1993.

4/11 fav
Turkhan
11/2
Tolago
10/1
Claudius
10/1
Chico
100/8
Golden Tiger
20/1
Antrim
33/1
Teasel
Over round 120%
FORMLINE:- The heavily backed favourite gave 7 lbs to all but the outsider and won by an easy 2 lengths in 2 minutes 41.8 seconds. Turkhan (33/1) was unplaced in the English 2000 Guineas behind Djebel (SR 1936) and was then runner-up at 100/7 3 lengths behind Pont L'Eveque (SR 1974) with Golden Tiger (25/1) unplaced. Turkhan was then rewarded with a second Classic win in the Doncaster St Leger by 3/4 length from Stardust.
ISBN 978-0-9957632-0-3

652 pages

774 former courses

ISBN 978-0-9957632-1-0

352 pages

400 former courses

ISBN 978-0-9957632-2-7

180 pages

140 former courses

ISBN 978-0-9957632-3-4

264 pages

235 former courses

Copies of the above books are only available by emailing johnwslusar@gmail.com stating your requirements, method of payment (cheque payable to W.Slusar) or Bank transfer, and the address where the book(s) should be sent.

ORDER FORM
Download an order form
Quantity
Cost
Volume 1 North of Hatfield £19.99 + £4 postage
Volume 2 South of Hatfield £14.99 + £3 postage
Volume 3 Wales & Scotland £9.99 + £3 postage
Volume 4 Ireland £9.99 + £3 postage
Volumes 1 - 4 £54.96 + £5 postage
Postage & Packaging
Total
Email order form to johnwslusar@gmail.com