The 76th running of the Irish Derby was held on Wednesday 25th June 1941 over 1 mile 4 furlongs of The Curragh. Subscriptions were 65 sovereigns with a pot of 3675 sovereigns, 800 sovereigns to the second and 300 sovereigns to the third. The winner was owned by Mr Percy Reynolds, bred in England by Mrs M E MaherI, trained by Colonel Arthur Blake and ridden by George Wells. The winner won by a length in 2 minutes 37.2 seconds, with 4 lengths between second and third.
IRISH DERBY 1941
SOL ORIENS (Chestnut colt by Hyperion out of Silver Mist) SR 1932
The winning owner won 2500 sovereigns, (The equivalent of £120,000 in today's terms based on Bank of England inflation calculator).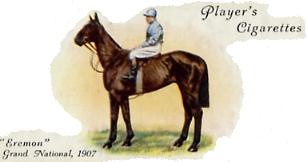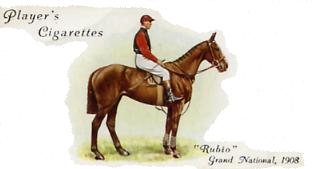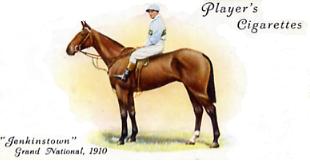 Pos.
Horse
Weight
Jockey
Owner
Trainer
1
SOL ORIENS
8.12
George Wells
Mr A Percy Reynolds
Colonel Arthur Blake
2
KHOSRO
9.5
E Martin Quirke
Sir Percy Loraine
Rod More O'Ferrall
3
ETOILE DE LYONS
8.12
Joe Canty
Mr Hubert Hartigan
Hubert Hartigan
4
TIVERTON
8.12
John Moylan
Mr H S Gill
Corporal Darby Rogers
5
LYNCH TOR
8.12
Thomas Burns
Mr Grant A Singer
Joseph Lawson
6
EASY CHAIR
8.12
Billy Nevett
Lt-Col H Boyd-Rochfort
Cecil Boyd-Rochfort
7
RAO RAJA
8.12
Reg Cartwright
HH Maharaja of Kashmir
Rod More O'Ferrall
8
CARDINAL WOLSEY
8.12
T P Burns
Mr Claude Odlum
Colonel Arthur Blake
9
APOCALYPSE
8.12
Morny Wing
Mr Joseph McGrath
Michael Collins
10
ARABIAN CHIEF
8.12
Joseph Taylor
Mr Frederick Myerscough
Fred Myerscough
Betting

TRAINER PROFILE
Colonel Arthur J Blake first trained the Irish Derby winner in 1938 with Rosewell (SR 1904) for owner Mr David Sullivan, but 3 years later he was successful again when Sol Oriens (SR 1932) won for 'Mr Dillon' aka Mr A Percy Reynolds. By trade Reynolds was an accountant who had an interest in horse racing. However, despite owning a Classic winner, and winning 2500 sovereigns which was the equivalent today of £160,000, he did not pursue the hobby any further.

9/4 fav
Sol Oriens
3/1
Khosro
3/1
Apocalypse
5/1
Easy Chair
8/1
Etoile De Lyons
100/6
Tiverton
100/6
Lynch Tor
50/1
Arabian Chief
50/1
Rao Raja
50/1
Cardinal Wolsey
Over round 125%
FORMLINE:- The winner received 7 lbs from the runner-up and won by a length in a fast time of 2 minutes 37.2 seconds.
ISBN 978-0-9957632-0-3

652 pages

774 former courses

ISBN 978-0-9957632-1-0

352 pages

400 former courses

ISBN 978-0-9957632-2-7

180 pages

140 former courses

ISBN 978-0-9957632-3-4

264 pages

235 former courses

Copies of the above books are only available by emailing johnwslusar@gmail.com stating your requirements, method of payment (cheque payable to W.Slusar) or Bank transfer, and the address where the book(s) should be sent.

ORDER FORM
Download an order form
Quantity
Cost
Volume 1 North of Hatfield £19.99 + £4 postage
Volume 2 South of Hatfield £14.99 + £3 postage
Volume 3 Wales & Scotland £9.99 + £3 postage
Volume 4 Ireland £9.99 + £3 postage
Volumes 1 - 4 £54.96 + £5 postage
Postage & Packaging
Total
Email order form to johnwslusar@gmail.com