The 77th running of the Irish Derby was held on Thursday 25th June 1942 over 1 mile 4 furlongs of The Curragh. Subscriptions were 45 sovereigns with a pot of 2250 sovereigns, 450 sovereigns to the second and 150 sovereigns to the third. The winner was owned by Mr Joseph McGrath, bred in England by Viscount Furness, trained by Michael Collins and ridden by Mornington Wing. The winner won by 6 lengths in 2 minutes 35 seconds, with a head between second and third.
IRISH DERBY 1942
WINDSOR SLIPPER (Bay colt by Windsor Lad out of Carpet Slipper) SR 2035
The winning owner won 1621.25 sovereigns, (The equivalent of £72,600 in today's terms based on Bank of England inflation calculator).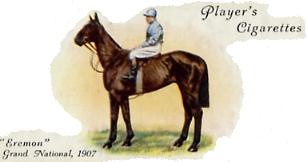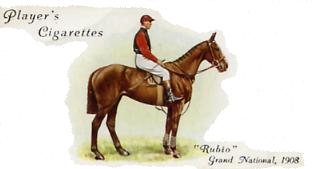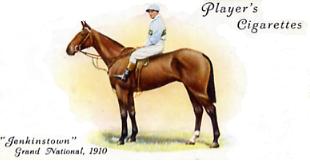 Pos.
Horse
Weight
Jockey
Owner
Trainer
1
WINDSOR SLIPPER
9.2
Morny Wing
Mr Joseph McGrath
Michael Collins
2
GRAND INQUISITOR
8.12
Gerald Cooney
Mrs Toby Wellesley
Edward McGrath
3
COROMYTH
8.12
George Wells
Mr David Frame
William J Byrne
4
FORT OSWAY
8.12
Thomas Burns
Miss Dorothy Paget
Charles A Rogers
5
DODOMA
8.8
E Martin Quirke
HH Aga Khan III
Hubert M Hartigan
6
MILLER
8.12
Thomas McNeill
Mr G J Ellis
Henry I Ussher
7
AGAMEMNON
8.12
William Hamill
Mr P J Flemming
Patrick J Lenehan
8
KILMACDUAGH
8.12
James Tyrrell
Mr W M Shawe Taylor
Henry I Ussher
9
QUEEN EYOT
8.12
John Moylan
Major Dermot McCalmont
Robert Fetherstonehaugh
10
BENGAL
8.12
T.P.Burns
Major J J Hilliard
Charles A Rogers
11
CARA KOOSH
8.12
Joe Canty
Mrs K Kelly
William J Kelly
12
CEYLON
8.12
William Howard
Mr G J Ellis
Henry I Ussher
13
THUNDERBOLT
8.12
Frederick McGiff
Sir Percy Loraine
Rod More O'Ferrall
Betting

TRAINER PROFILE
Michael Collins was a very successful Irish trainer, winning the Trainers Championship in 1941, 1942, 1943 and again in 1945. Although he managed to train 5 Classic winners, without doubt his highest rated winner was the Irish Derby in 1942 was Windsor Slipper (SR 2035) who went on to complete the Triple Crown.

2/7 fav
Windsor Slipper
8/1
Cara Koosh
100/6
Dodoma
100/6
Grand Inquisitor
25/1
Miller
50/1
Queen Eyot
50/1
Coromyth
100/1
Fort Osway
200/1
Ceylon
200/1
Bengal
200/1
Kilmacduagh
300/1
Thunderbolt
500/1
Agamemnon
Over round 110%
FORMLINE:- The impressive unbeaten Windsor Slipper conceded at least 4 lbs to all others in the field and won in a canter by 6 lengths in the quick time of 2 minutes 35 seconds.
ISBN 978-0-9957632-0-3

652 pages

774 former courses

ISBN 978-0-9957632-1-0

352 pages

400 former courses

ISBN 978-0-9957632-2-7

180 pages

140 former courses

ISBN 978-0-9957632-3-4

264 pages

235 former courses

Copies of the above books are only available by emailing johnwslusar@gmail.com stating your requirements, method of payment (cheque payable to W.Slusar) or Bank transfer, and the address where the book(s) should be sent.

ORDER FORM
Download an order form
Quantity
Cost
Volume 1 North of Hatfield £19.99 + £4 postage
Volume 2 South of Hatfield £14.99 + £3 postage
Volume 3 Wales & Scotland £9.99 + £3 postage
Volume 4 Ireland £9.99 + £3 postage
Volumes 1 - 4 £54.96 + £5 postage
Postage & Packaging
Total
Email order form to johnwslusar@gmail.com