The 78th running of the Irish Derby was held on Thursday 24th June 1943 over 1 mile 4 furlongs of The Curragh. Subscriptions were 42 sovereigns with a pot of 2000 sovereigns, 450 sovereigns to the second and 100 sovereigns to the third. The winner was owned by Mr Frederick Myerscough, bred in Ireland by Mr H G Wellesley, trained by Frederick Myerscough and ridden by Joseph Canty. The winner won by a length in 2 minutes 37.8 seconds, with 3/4 length between second and third.
IRISH DERBY 1943
THE PHOENIX (Bay colt by Chateau Bouscaut out of Fille de Poete) SR 2019
The winning owner won 1438 sovereigns, (The equivalent of £62,300 in today's terms based on Bank of England inflation calculator).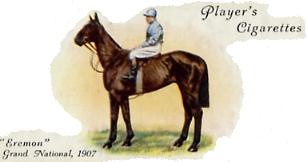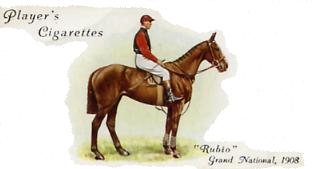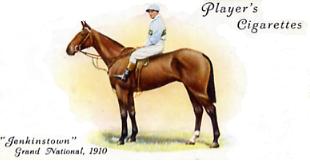 Pos.
Horse
Weight
Jockey
Owner
Trainer
1
THE PHOENIX
9.5
Joe Canty
Mr Frederick Myerscough
Fred Myerscough
2
SOLAR PRINCE
8.12
Morny Wing
Mr Joseph McGrath
Michael Collins
3
SOLFERINO
8.12
John Power
Mr James McVey
John Oxx
4
CRACKERJACK
8.12
E Martin Quirke
Sir Cecil King-Harman
Colonel Arthur Blake
5
VICTOR HUGO
8.12
George Wells
Mr D Malone
D Malone
6
SKYLINE
8.12
John Ussher
Mr Frederick Myerscough
Fred Myerscough
7
ST VALENTINE
8.12
T P Burns
Mr E A Robinson
Colonel Arthur Blake
8
CAVEHILL
8.12
Aubrey Brabazon
Sir Thomas Dixon
Cecil Brabazon Peach
9
BEGORRA
8.12
William Barrett
Mr Waring Willis
Emmanual Parkinson
Betting

RACE REPORT
The crowd expected great things in the Irish Derby and were so confident that The Phoenix would prevail that they made him 2/5 favourite. He was unbeaten in his two year old career, winning at the Curragh, sandwiched between two wins at Phoenix Park. He won on his reappearance in the Irish 2000 Guineas, albeit by just half a length, and then arrived at The Curragh full of hope and expectation. However, he was to meet the two horses he had beaten in the 2000 Guineas, Solferino and Solar Prince, conceding 7 lbs to each of them. After Crackerjack and St Valentine set the early pace, the main trio came to the fore as they rounded the final bend. In a close finish, and despite the best efforts of Solar Prince and Solferino, they had to give best to The Phoenix by a length and three quarters of a length. Strongly fancied to remain unbeaten in the Irish St Leger, he was outstayed by his old rival Solferino by 5 lengths.

2/5 fav
The Phoenix
5/1
Solferino
6/1
Solar Prince
100/8
Crackerjack
50/1
Skyline
50/1
Cavehill
50/1
Begorra
50/1
St Valentine
50/1
Victor Hugo
Over round 118%
FORMLINE:- The strongly fancied The Phoenix conceded 7 lbs to the field and won cleverly by a length in 2 minutes 37.8 seconds.
ISBN 978-0-9957632-0-3

652 pages

774 former courses

ISBN 978-0-9957632-1-0

352 pages

400 former courses

ISBN 978-0-9957632-2-7

180 pages

140 former courses

ISBN 978-0-9957632-3-4

264 pages

235 former courses

Copies of the above books are only available by emailing johnwslusar@gmail.com stating your requirements, method of payment (cheque payable to W.Slusar) or Bank transfer, and the address where the book(s) should be sent.

ORDER FORM
Download an order form
Quantity
Cost
Volume 1 North of Hatfield £19.99 + £4 postage
Volume 2 South of Hatfield £14.99 + £3 postage
Volume 3 Wales & Scotland £9.99 + £3 postage
Volume 4 Ireland £9.99 + £3 postage
Volumes 1 - 4 £54.96 + £5 postage
Postage & Packaging
Total
Email order form to johnwslusar@gmail.com