The 82nd running of the Irish Derby was held on Wednesday 25th June 1947 over 1 mile 4 furlongs of The Curragh. Subscriptions were 60 sovereigns with a pot of 3500 sovereigns, 750 sovereigns to the second and 250 sovereigns to the third. The winner was owned by HH Maharajah of Baroda, bred in England by Sir Eric Ohlson, trained by Sam Armstrong and ridden by Edgar Britt. The winner won by 1 1/2 lengths in 2 minutes 41.2 seconds, with 1 1/2 lengths between second and third.
IRISH DERBY 1947
SAYAJIRAO (Brown colt by Nearco out of Rosy Legend) SR 1958
The winning owner won 2523.75 sovereigns, (The equivalent of £93,800 in today's terms based on Bank of England inflation calculator).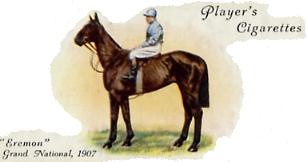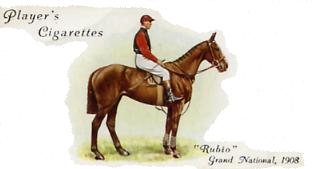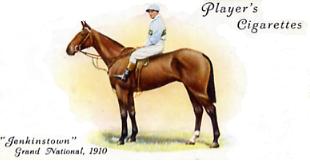 Pos.
Horse
Weight
Jockey
Owner
Trainer
1
SAYAJIRAO
9.0
Edgar Britt
HH Maharajah of Baroda
Sam Armstrong
2
GRAND WEATHER
9.0
Thomas Burns
My Y J Fitzpatrick
Edward McGrath
3
ESPRIT DE FRANCE
9.0
Morny Wing
Prince Aly Khan
Hubert M Hartigan
4
SANS TACHE
9.0
Joe Canty
Mr James McLean
Hubert M Hartigan
5
IMPECCABLE
9.0
William Howard
Mr Richard McIlhagga
Bernard Nugent
6
PEAT SMOKE
9.0
James Eddery
Mr Joseph McGrath
Michael Collins
7
SIGNAL CORPS
9.0
Patrick Powell jnr
Mr Frederick Myerscough
Fred Myerscough
8
WOODLAND STAR
9.0
Michael Beary
Prince Aly Khan
Hubert M Hartigan
9
SUSPENDER
9.0
John Moylan
Major Dermot McCalmont
Rob Fetherstonehaugh
10
MAGNIFIQUE
9.0
John G Canty
Sir Harold Gray
James Canty
11
ARRANMORE
9.0
William T Wells
Mr Patrick Ryan
Patrick J Ryan
Betting

OWNER PROFILE
Shrimant Maharaja Sir Pratapsinhrao Gaekwad, better known in English racing circles as the Maharaja of Baroda, was born on 29th June 1908 in India and in 1939 succeeded his grandfather to become the last Maharaja of the State which was merged in to the Union of India after independence in 1947. He was not well regarded by everyone in the State and was known, wasting much of his inherited wealth, but he did spend as he desired on his chosen sport of horse racing. In 1947 he won the Irish Derby with Sayajirao (SR 1958) trained by Sam Armstrong and ridden by Edgar Britt.He was runner-up the next year with Star of Gujrath when beaten by Nathoo (SR 1968). Sayajirao (SR 1958) went on to land the Doncaster St Leger. In 1948 the best horse he ever owned, My Babu (SR 2108) won the 2000 Guineas and was strongly fancied to win the Derby but was beaten into fourth place behind My Love (SR 2042). He died on 19th July 1968 to be succeeded by his eldest son Fatehsinghrao Gaekwad.

Evens fav
Sayajirao
9/4
Grand Weather
10/1
Esprit De France
100/8
Sans Tache
20/1
Suspender
20/1
Woodland Star
40/1
Peat Smoke
100/1
Signal Corps
100/1
Magnifique
100/1
Arranmore
100/1
Impeccable
Over round 113%
FORMLINE:- The strongly fancied winner won by 1 1/2 lengths in 2 minutes 41.2 seconds having previously been placed third at 33/1 in the English 2000 Guineas some 8 lengths behind Tudor Minstrel (SR 2232). Sayajirao was then third in the Epsom Derby beaten 4 lengths and 3/4 length by Pearl Diver (SR 2000). He claimed his second Classic in impressive style when winning the Doncaster St Leger by 3 lengths from Arbar.
ISBN 978-0-9957632-0-3

652 pages

774 former courses

ISBN 978-0-9957632-1-0

352 pages

400 former courses

ISBN 978-0-9957632-2-7

180 pages

140 former courses

ISBN 978-0-9957632-3-4

264 pages

235 former courses

Copies of the above books are only available by emailing johnwslusar@gmail.com stating your requirements, method of payment (cheque payable to W.Slusar) or Bank transfer, and the address where the book(s) should be sent.

ORDER FORM
Download an order form
Quantity
Cost
Volume 1 North of Hatfield £19.99 + £4 postage
Volume 2 South of Hatfield £14.99 + £3 postage
Volume 3 Wales & Scotland £9.99 + £3 postage
Volume 4 Ireland £9.99 + £3 postage
Volumes 1 - 4 £54.96 + £5 postage
Postage & Packaging
Total
Email order form to johnwslusar@gmail.com