The 83rd running of the Irish Derby was held on Wednesday 23rd June 1948 over 1 mile 4 furlongs of The Curragh. Subscriptions were 60 sovereigns with a pot of 4000 sovereigns added, 750 sovereigns to the second and 250 sovereigns to the third. The winner was owned and bred in Ireland by HH Aga Khan III, trained by Frank Butters and ridden by Rae Johnstone. The winner won by 5 lengths in 2 minutes 37.8 seconds, with a neck between second and third.
IRISH DERBY 1948
NATHOO (Grey colt by Nasrullah out of Taj Shirin) SR 1968
The winning owner won 6882.5 sovereigns, (The equivalent of £237,900 in today's terms based on Bank of England inflation calculator).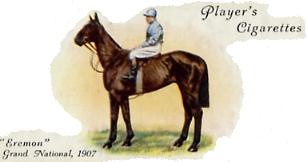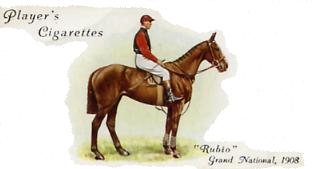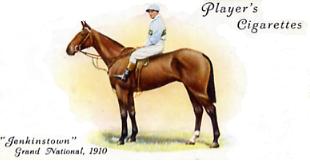 Pos.
Horse
Weight
Jockey
Owner
Trainer
1
NATHOO
9.0
Rae Johnstone
HH Aga Khan III
Frank Butters
2
STAR OF GUJRATH
9.0
Charlie Smirke
HH Maharajah of Baroda
Sam Armstrong
3
SOODANI
9.0
Morny Wing
HH Aga Khan III
Hubert M Hartigan
4
ALDBOROUGH
9.0
Aubrey Brabazon
Miss Dorothy Paget
Henri A Jelliss
5
BARFELT
9.0
George Wells
Mr J W M Skeffington
M Vincent O'Brien
6
RIDING MILL
9.0
Martin Moloney
Sir Percy Loraine
Harry Wragg
7
WILD JOHNNIE
9.0
Herbert Holmes
Mrs Anna Maria King
Robert Fetherstonehaugh
8
FAIR ASHTON
9.0
Joe Canty
Miss Vera James
B Thorpe
9
FAIR RAY
9.0
Michael Beary
1st Baron Portal
Cecil Boyd-Rochfort
10
KNIGHT OF THE ROSES
9.0
William Howard
Mr L P Freedman
Robert Fetherstonehaugh
11
WINDSOR WHISPER
8.10
Maurice Hartnett
Lt-Col Evelyn Shirley
Michael Collins
12
OPPIDAN
9.0
James Eddery
Mr James McVey jnr
Kevin Bell
Betting

JOCKEY PROFILE
William Raphael Johnstone, universally known as Rae, was born the son of a coalminer on 13th April 1905 in New Lambton in New South Wales. He rode his first winner aged just 15 in 1920 but was seldom out of trouble with racing authorities in his early career. Although he moved to France to ride in 1932 he made frequent forays to England and was successful in 13 English Classics. He won the Epsom Derby on 3 occasions, firstly in 1948 with My Love (SR 2042), then in 1950 with Galcador (SR 2058) and lastly in 1956 with Lavandin (SR 1938). He was also successful 3 times in the fillies equivalent, the Oaks, with wins in 1947 on Imprudence (SR 1904), then in 1950 on Asmena (SR 1903) and finally in 1954 on Sun Cap (SR 1904). He rounded off the 1950 and 1951 seasons with St Leger wins, initially with Scratch (SR 2077) and then with Talma (SR 1999). He did not confine his Classic victories to England, travelling across the Irish Sea to win the Irish Derby in 1948 with Nathoo (SR 1968) and the very next year with Hindostan (SR 1971).He died at Le Tremblay racecourse in Paris of a heart attack on 29th April 1964.

3/1 fav
Aldborough
7/2
Nathoo
8/1
Riding Mill
10/1
Fair Ray
100/8
Knight of the Roses
100/8
Wild Johnnie
100/8
Star of Gujrath
100/6
Windsor Whisper
20/1
Barfelt
25/1
Soodani
25/1
Fair Ashton
100/1
Oppidan
Over round 111%
FORMLINE:- Although none of the runners took part in any of the 5 English Classics, the winner won by a comfotable 5 lengths in an above average time of 2 minutes 37.8 seconds.
ISBN 978-0-9957632-0-3

652 pages

774 former courses

ISBN 978-0-9957632-1-0

352 pages

400 former courses

ISBN 978-0-9957632-2-7

180 pages

140 former courses

ISBN 978-0-9957632-3-4

264 pages

235 former courses

Copies of the above books are only available by emailing johnwslusar@gmail.com stating your requirements, method of payment (cheque payable to W.Slusar) or Bank transfer, and the address where the book(s) should be sent.

ORDER FORM
Download an order form
Quantity
Cost
Volume 1 North of Hatfield £19.99 + £4 postage
Volume 2 South of Hatfield £14.99 + £3 postage
Volume 3 Wales & Scotland £9.99 + £3 postage
Volume 4 Ireland £9.99 + £3 postage
Volumes 1 - 4 £54.96 + £5 postage
Postage & Packaging
Total
Email order form to johnwslusar@gmail.com