The 85th running of the Irish Derby was held on Wednesday 21st June 1950 over 1 mile 4 furlongs of The Curragh. Subscriptions were 60 sovereigns with a pot of 4000 sovereigns added, 750 sovereigns to the second and 250 sovereigns to the third. The winner was owned by Francis More O'Ferrall, bred in Ireland by Mr R Laidlaw, Miss E B C Laidlaw and Mrs M R S Thornton, trained by Paddy Prendergast and ridden by John Thompson. The winner won by 1/2 length in 2 minutes 37.6 seconds, with 3 lengths between second and third.
IRISH DERBY 1950
DARK WARRIOR (Brown colt by Fairhaven out of Dunure) SR 1959
The winning owner won 6957.5 sovereigns, (The equivalent of £226,600 in today's terms based on Bank of England inflation calculator).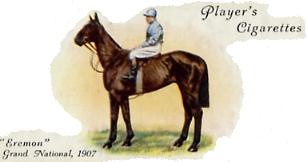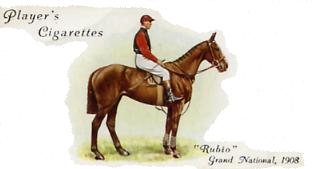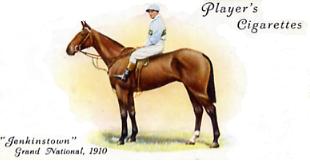 Pos.
Horse
Weight
Jockey
Owner
Trainer
1
DARK WARRIOR
9.0
John Thompson
Francis More O'Ferrall
Paddy Prendergast
2
ECLAT
9.0
Charlie Smirke
HH Aga Khan III
Marcus M Marsh
3
PARDAL
9.0
Rae Johnstone
Marcel Boussac
Henri Semblat FR
4
MIGHTY OCEAN
9.0
Aubrey Brabazon
Mr A W Gordon
Corporal Darby Rogers
5
TURKISH PRINCE
9.0
Martin Molony
Mr Richard McIlhagga
Paddy Prendergast
6
EDWARSII
9.0
Robert Quinlan
Mr Joseph McGrath
Seamus McGrath
7
CECIL FRANCIS
9.0
Herbert Holmes
Mr Herbert Kerr
P J Higgins
8
ALBUS SUPERBUS
9.0
James Eddery
Mr Joseph McGrath
Seamus McGrath
Betting

OWNER PROFILE
Francis More O'Ferrall was born in Kildangan, County Kildare in 1904, eldest son of landowner Dominic More O'Ferrall. Like his two brothers he was interested in horse racing and founded the Anglo-Irish Bloodstock Agency. He won the 1950 Irish Derby with Dark Warrior (SR 1959) trained by Paddy Prendergast and ridden by John Thompson. His two brothers, Roderic and Rory, were also involved in horse racing. Roddy was a horse breeder and successful trainer, while the middle of the three brothers, Rory, was a successful owner enjoying Classic success in the 1960 Irish 2000 Guineas with Kythnos and in 1974 in the Irish St Leger with Mistisri. Francis died in 1974 aged 72.

13/8 fav
Pardal
2/1
Mighty Ocean
4/1
Dark Warrior
7/1
Eclat
10/1
Albus Superbus
20/1
Turkish Prince
50/1
Edwardsii
100/1
Cecil Francis
Over round 120%
FORMLINE:- The winner, racing off level weights, won by a half length in 2 minutes 37.6 seconds. None of the runners ever contested an English Classic.
ISBN 978-0-9957632-0-3

652 pages

774 former courses

ISBN 978-0-9957632-1-0

352 pages

400 former courses

ISBN 978-0-9957632-2-7

180 pages

140 former courses

ISBN 978-0-9957632-3-4

264 pages

235 former courses

Copies of the above books are only available by emailing johnwslusar@gmail.com stating your requirements, method of payment (cheque payable to W.Slusar) or Bank transfer, and the address where the book(s) should be sent.

ORDER FORM
Download an order form
Quantity
Cost
Volume 1 North of Hatfield £19.99 + £4 postage
Volume 2 South of Hatfield £14.99 + £3 postage
Volume 3 Wales & Scotland £9.99 + £3 postage
Volume 4 Ireland £9.99 + £3 postage
Volumes 1 - 4 £54.96 + £5 postage
Postage & Packaging
Total
Email order form to johnwslusar@gmail.com