The 88th running of the Irish Derby was held on Wednesday 24th June 1953 over 1 mile 4 furlongs of The Curragh. Subscriptions were 60 sovereigns with a pot of 4000 sovereigns added, 750 sovereigns to the second and 250 sovereigns to the third. The winner was owned by Brigadier W P Wyatt, trained by Cecil Boyd-Rochfort and ridden by W Henry Carr. The winner won on disqualification by a length in 2 minutes 34.6 seconds, having initially been beaten by a head.
IRISH DERBY 1953
CHAMIER (Chestnut colt by Chamossaire out of Therapia) SR 2009
PREMONITION (Bay colt by Precipitation out of Trial Ground) SR 2013
The winning owner won 6758.75 sovereigns, (The equivalent of £179,400 in today's terms based on Bank of England inflation calculator).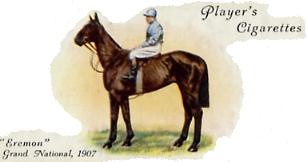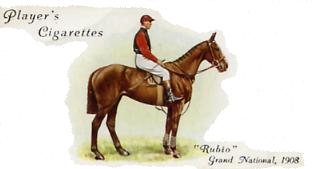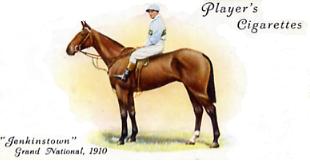 Pos.
Horse
Weight
Jockey
Owner
Trainer
Disq
PREMONITION
9.0
W Henry Carr
Brigadier W P Wyatt
Cecil Boyd-Rochfort
1
CHAMIER
9.0
Bill Rickaby
Mrs Connie Vickerman
M Vincent O'Brien
2
SEA CHARGER
9.0
Rae Johnstone
Mr Martin Molony
Kevin R Kerr
3
CLONLEASON
9.0
Liam Ward
Mr A L Hawkins
Paddy Prendergast
4
ARDENT LOVER
9.0
Scobie Breasley
Mrs L McVey
Michael Hurley
5
SUNNY SLIPPER
9.0
Patrick Powell jnr
Mrs Anna Maria King
John Oxx
6
TIMBERLAND
9.0
Geof Littlewood
Mr W Dennis
Henry D Peacock
7
WE DON'T KNOW
9.0
James Mullane
Mr R S Clark
Michael Collins
8
BLUE NOTES
9.0
T P Burns
Mr John H Thursby
Michael Rogers
9
JUNGLE LANDING
9.0
John Eddery
Mr Joseph McGrath
Seamus McGrath
10
VICTORY ROLL
9.0
Michael Beary
Mr J Olding
Atty Persse
11
LISSOY
9.0
John Power
Mr William J Kelly
Kevin Bell
12
TREETOPS HOTEL
9.0
Thomas Burns
Mr T S Reeves
Corporal Darby Rogers
Betting

JOCKEY PROFILE
Willie Henry Carr, universally known as Willie, was born on Lord Lonsdales estate on 30th November 1916 at Clifton, near to the Cumbrian town of Penrith. His father Robert Carr was head lad of a training establishment and Willie was destined to become a jockey, riding his first winner at Ayr in July 1931. In 1946 Willie was appointed Royal jockey to the King, but had to wait 9 years before he achieved Classic success. In 1955 he rode Meld (SR 2026) to victory in the 1000 Guineas at Newmarket and went on to achieve the fillies Triple Crown with Meld when trained by Captain Cecil Boyd-Rochfort. In 1953 he was first passed the post in the Irish Derby aboard Premonition (SR 2013) but was disqualified and the race was awarded to Chamier (SR 2009). He gained further English Classic success in 1959 when Parthia (SR 2047) won the Epsom Derby. In an extremely successful career he rode 1363 winners and after retiring as a jockey he managed the Genesis Green Stud at Newmarket. He died on 19th October 1985 aged 68.

5/4 fav
Chamier
2/1
Premonition
100/9
Ardent Lover
100/7
Timberland
100/7
Sea Charger
100/6
Clonleason
100/6
Victory Roll
25/1
We Don't Know
25/1
Treetops Hotel
33/1
Blue Notes
50/1
Sunny Slipper
100/1
Jungle Landing
100/1
Lissoy
Over round 127%
FORMLINE:- Premonition was first passed the post, winning by a head in 2 minutes 34.6 seconds, but after a Stewards Enquiry he was disqualified and placed last. Therefore Chamier was awarded the race beating Sea Charger by a length. Premonition was made 5/1 joint favourite for the Epsom Derby but was unplaced behind Pinza (SR 2131). Later Premonition (10/1) won the Doncaster St Leger by 3 lengths from Northern Light II, with Chamier (100/6) unplaced.
ISBN 978-0-9957632-0-3

652 pages

774 former courses

ISBN 978-0-9957632-1-0

352 pages

400 former courses

ISBN 978-0-9957632-2-7

180 pages

140 former courses

ISBN 978-0-9957632-3-4

264 pages

235 former courses

Copies of the above books are only available by emailing johnwslusar@gmail.com stating your requirements, method of payment (cheque payable to W.Slusar) or Bank transfer, and the address where the book(s) should be sent.

ORDER FORM
Download an order form
Quantity
Cost
Volume 1 North of Hatfield £19.99 + £4 postage
Volume 2 South of Hatfield £14.99 + £3 postage
Volume 3 Wales & Scotland £9.99 + £3 postage
Volume 4 Ireland £9.99 + £3 postage
Volumes 1 - 4 £54.96 + £5 postage
Postage & Packaging
Total
Email order form to johnwslusar@gmail.com