The 93rd running of the Irish Derby was held on Wednesday 25th June 1958 over 1 mile 4 furlongs of The Curragh. Subscriptions were 60 sovereigns with a pot of 4000 sovereigns added, 750 sovereigns to the second and 250 sovereigns to the third. The winner was owned by Mrs Anne B Biddle, bred in Ireland by Mr J Clarke, trained by Michael Dawson and ridden by Liam Ward. The winner won by a short head in 2 minutes 58.9 seconds, with 4 lengths between second and third.
IRISH DERBY 1958
SINDON (Chestnut colt by Hyperbole out of Cotton Wool) SR 1954
The winning owner won 7345 sovereigns, (The equivalent of £163,200 in today's terms based on Bank of England inflation calculator).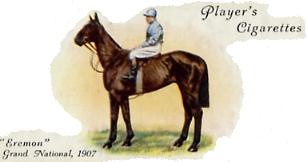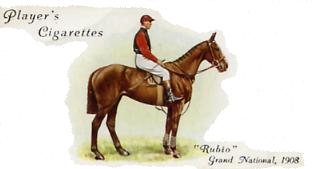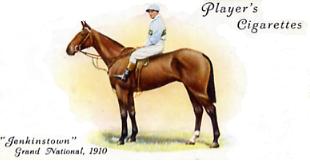 Pos.
Horse
Weight
Jockey
Owner
Trainer
1
SINDON
9.0
Liam Ward
Mrs Anne Biddle
Michael Dawson
2
PADDY'S POINT
9.0
G W Robinson
Mr F N Shane
George Robinson
3
ROYAL HIGHWAY
9.0
Nicholas Brennan
Mrs Diana Macauley
Stuart Murless
4
NAGAMI
9.0
Joe Mercer
Mrs Etti Plesch
Harry Wragg
5
ADVANCE GUARD
9.0
Patrick Powell jnr
Major J Alexander
Major J Alexander
6
MESEMBRYANTHEMUM
9.0
John Power
Major M W Beaumont
John Oxx
7
IRISH PENNY
9.0
Aubrey Brabazon
Mr A A Thorn
D St John Gough
8
LAO TZU
9.0
Bill Elliott
Mr Terrence Gray
Michael Hurley
9
TERN
9.0
Peadar Matthews
Mr R W Hall-Dare
Michael Hurley
10
KENTUCKY SUN
9.0
Wally Swinburn
Mr Ralph Lowe
E Martin Quirke
11
PRESTEL
9.0
James Eddery
Mr Joseph McGrath
Seamus McGrath
12
LORENZO
9.0
Manny Mercer
Mr Gerald A Oldham
Harry Wragg
Betting

RACE REPORT
In extremely heavy going Sindon, owned by the American Mrs Ann Bullitt Biddle, previously a maiden, set the early pace and was allowed to stride on from Lorenzo, Advance Guard and Mesembryanthemum, with Nagami bringing up the rear. All of the jockeys found the going difficult, the majority were mud-splattered throughout, but Sindon kept on his steady pace at the head of affairs. With 2 furlongs to go Lorenzo began to drop back, while noticeable progress was being made by Paddys Point despite being a dozen lengths off the pace. At the distance Sindon began to stay, although strongly challenged by Paddys Point who failed to get up by a short head, with 4 lengths back to Royal Highway, while Nagami finished fourth.

6/4 fav
Paddy's Point
9/4
Nagami
10/1
Royal Highway
10/1
Lorenzo
100/8
Sindon
100/7
Mesembryanthemum
20/1
Lao Tzu
25/1
Advance Guard
25/1
Irish Penny
50/1
Tern
50/1
Kentucky Sun
50/1
Prestel
Over round 122%
FORMLINE:- The winner, racing at level weights, won by a short head in the extremely slow time of 2 minutes 58.9 seconds due mainly to the heavy underfoot conditions. Nagami (8/1) was third in the English 2000 Guineas beaten 1/2 length and 3 lengths by Pall Mall (SR 2047). Paddy's Point was second and Nagami (10/1) was third in the Epsom Derby beaten 5 lengths and 1 1/2 lengths by Hard Ridden (SR 2028). Nagami was third in the Doncaster St Leger beaten 8 lengths and 3/4 length by Alcide (SR 2031).
ISBN 978-0-9957632-0-3

652 pages

774 former courses

ISBN 978-0-9957632-1-0

352 pages

400 former courses

ISBN 978-0-9957632-2-7

180 pages

140 former courses

ISBN 978-0-9957632-3-4

264 pages

235 former courses

Copies of the above books are only available by emailing johnwslusar@gmail.com stating your requirements, method of payment (cheque payable to W.Slusar) or Bank transfer, and the address where the book(s) should be sent.

ORDER FORM
Download an order form
Quantity
Cost
Volume 1 North of Hatfield £19.99 + £4 postage
Volume 2 South of Hatfield £14.99 + £3 postage
Volume 3 Wales & Scotland £9.99 + £3 postage
Volume 4 Ireland £9.99 + £3 postage
Volumes 1 - 4 £54.96 + £5 postage
Postage & Packaging
Total
Email order form to johnwslusar@gmail.com