The 96th running of the Irish Derby was held on Wednesday 21st June 1961 over 1 mile 4 furlongs of The Curragh. Subscriptions were 60 sovereigns with a pot of 4000 sovereigns added, 750 sovereigns to the second and 250 sovereigns to the third. The winner was owned by Mrs Galdys Joel, bred in England at the Snailwell Stud, trained by Humphrey Cottrill and ridden by Herbert Holmes. The winner won by half a length in 2 minutes 33.5 seconds, with 2 1/4 lengths between second and third.
IRISH DERBY 1961
YOUR HIGHNESS (Chestnut colt by Chamossaire out of Lady Grand) SR 1892
The winning owner won 7921.25 sovereigns, (The equivalent of £167,600 in today's terms based on Bank of England inflation calculator).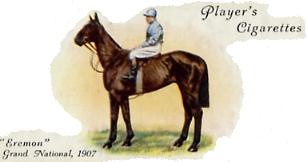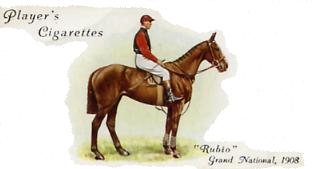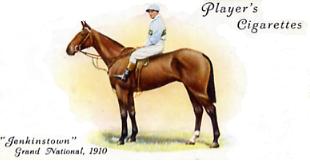 Pos.
Horse
Weight
Jockey
Owner
Trainer
1
YOUR HIGHNESS
9.0
Herbert Holmes
Mrs Gladys Joel
Humphrey Cottrill
2
SOYSAMBU
9.0
Thomas Gosling
Mr Max Bell
Paddy Prendergast
3
HAVEN
9.0
Lester Piggott
Mr W F Pinnington
Michael Rogers
4
NEANDERTHAL
9.0
Willie Robinson
Mr Mahlon Kline
M Vincent O'Brien
5
BAYNARD
9.0
John Winter
1st Baron Ennisdale
Paddy Prendergast
6
CIPRIANI
9.0
Ron Hutchinson
Lady Honor Svejdar
Paddy Prendergast
7
DUAL
9.0
Jimmy Lindley
Sir Harold Wernher
John Gosden
8
ANNER BANKS
9.0
John Rafferty
Mrs Thomas O'Brien
Thomas O'Brien
9
LIGHT YEAR
9.0
Garnet Bougoure
Mr T E Hallinan
M Vincent O'Brien
10
TIME GREINE
9.0
Bill Williamson
Mr Joseph McGrath
Seamus McGrath
11
WISE BOY
9.0
Michael Kennedy
Mrs Anna Maria King
Sir Hugh Nugent
12
RULLAHGEELAGH
9.0
John Wright
Mr Joseph McGrath
Seamus McGrath
13
ARCHIPELAGO
9.0
T P Burns
11th Earl Harrington
Chaloner Chute
14
GARLAND KNIGHT
9.0
John Power
Mr J B Turner
A D Turner
15
LE PRINCE
9.0
Liam Ward
Mrs Anne Biddle
Thomas Shaw
16
SUPREME VERDICT
9.0
Patrick Powell jnr
Mr J Audain
Michael Rogers
17
COUNTERATTACK
9.0
Liam Browne
Mrs Anne Biddle
Thomas Shaw
18
INDIAN JUDGE
9.0
George McGrath
Mr Herbert Kerr
Kevin Kerr
Betting

TRAINER PROFILE
Humphrey Lawson Cottrill was born on 10th September 1906 at Ashton upon Mersey in Cheshire, son of Harry Cottrill a racehorse trainer who had been responsible for two Classic winners. Harry first trained the 1927 2000 Guineas winner Adams Apple (SR 1983), followed by the 1936 Epsom Oaks winner Lovely Rosa (SR 1731). Humphrey Cottrill was forced to take on his father's training establishment at Seven Barrows near Lambourn in 1933 when his father became unwell. Humphrey failed to train any English Classic winners during his long career, but was successful in the 1961 Irish Derby with Your Highness (SR 1892).In 1974 Humphrey retired from training at the age of 68, but rather than being the end of his career, it was the start of a new opportunity, for he became the Racing Manager for Khalid Abdullah, a post which he held for 5 years until 1982. He died on 26th August 1999 at Newmarket aged 92.

2/1 fav
Light Year
11/2
Soysambu
11/2
Haven
8/1
Time Greine
9/1
Dual
100/8
Cipriani
100/8
Anner Banks
20/1
Neanderthal
25/1
Supreme Verdict
25/1
Rullahgeelagh
33/1
Your Highness
50/1
Wise Boy
66/1
Le Prince
100/1
Garland Knight
100/1
Baynard
100/1
Archipelago
100/1
Counterattack
100/1
Indian Judge
Over round 124%
FORMLINE:- The outsider and unfancied Your Highness sprung a surprise to win by half a length in 2 minutes 33.5 seconds. Time Greine (25/1) was third in the English 2000 Guineas beaten by 2 lengths and a short head by Rockavon (SR 1767). Cipriani was fifth, while Neanderthal and Time Greine were unplaced in the Epsom Derby behind Psidium (SR 1966).
ISBN 978-0-9957632-0-3

652 pages

774 former courses

ISBN 978-0-9957632-1-0

352 pages

400 former courses

ISBN 978-0-9957632-2-7

180 pages

140 former courses

ISBN 978-0-9957632-3-4

264 pages

235 former courses

Copies of the above books are only available by emailing johnwslusar@gmail.com stating your requirements, method of payment (cheque payable to W.Slusar) or Bank transfer, and the address where the book(s) should be sent.

ORDER FORM
Download an order form
Quantity
Cost
Volume 1 North of Hatfield £19.99 + £4 postage
Volume 2 South of Hatfield £14.99 + £3 postage
Volume 3 Wales & Scotland £9.99 + £3 postage
Volume 4 Ireland £9.99 + £3 postage
Volumes 1 - 4 £54.96 + £5 postage
Postage & Packaging
Total
Email order form to johnwslusar@gmail.com