The 97th running of the Irish Derby was held on Saturday 30th June 1962 over 1 mile 4 furlongs of The Curragh. Subscriptions were 170 sovereigns with a pot of £30,000 added which represented a massive increase on previous years due mainly to the fact that this was the launch of the Irish Sweeps Derby. The winner was owned by Mrs Howell E Jackson, bred in USA at the Bull Run Stud, trained by Etienne Pollet in Chantilly and ridden by Roger Poincelet.
IRISH DERBY 1962
TAMBOURINE II (Bay colt by Princequillo out of Le Mirambule) SR 1952
The winning owner won £50,027.50, (The equivalent of £1,014,700 in today's terms based on Bank of England inflation calculator).
The winner won by a short head in 2 minutes 28.8 seconds, with 5 lengths between second and third.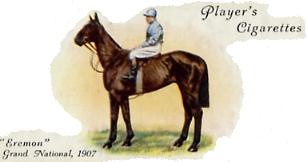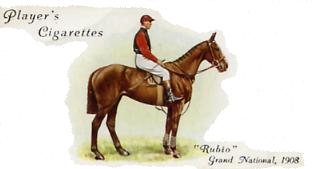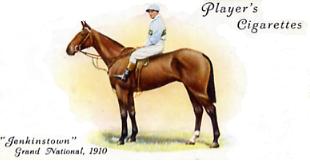 Pos.
Horse
Weight
Jockey
Owner
Trainer
1
TAMBOURINE II
9.0
Roger Poincelet
Mrs Howell E Jackson
Etienne Pollet
2
ARCTIC STORM
9.0
Bill Williamson
Mrs E M Carroll
John Oxx
3
SEBRING
9.0
Pat Glennon
Mr Townsend Martin
M Vincent O'Brien
4
LARKSPUR
9.0
Scobie Breasley
Mr Raymond Guest
M Vincent O'Brien
5
ATLANTIS
9.0
Liam Ward
Mrs Anne Biddle
Thomas Shaw
6
SAINT DENYS
9.0
Philip Canty
Mrs T Gray & Princess N d'Imeretie
Michael Hurley
7
CYRUS
9.0
Bill Rickaby
Jocelyn Hambro
Geoffrey Brooke
8
OUR GUILE
9.0
Eph Smith
Mrs Gladys Joel
Humphrey Cottrill
9
SOLPETRE
9.0
George McGrath
Mr Fred Turner jnr
Kevin R Kerr
10
TRADE WIND
9.0
John Greenaway
Mr Clifford Nicholson
Bill Elsey
11
SNOWHOUND
9.0
Michael Kennedy
Mr Thomas Power
Charles Weld
12
ARCOR
9.0
Neville Sellwood
Marcel Boussac
Henri Nicholas
13
RUNNING ROCK
9.0
John Power
Mr Michael Kennedy
Patrick Norris
14
LE PIRATE
9.0
Peter Boothman
Major Victor McCalmont
Robert Fetherstonehaugh
15
LONDON GAZETTE
9.0
Greville Starkey
Mrs Victor McCalmont
H Thompson-Jones
16
MUMZOWA
9.0
T P Burns
Mr Rex Beaumont
Kevin Bell
17
MARCH WIND
9.0
Willie Robinson
Mrs Anne Biddle
Thomas Shaw
18
T.V.
9.0
Patrick Powell jnr
Commander A R Bradshaw
Stuart Murless
19
GAIL STAR
9.0
Douglas Page
Mr Joseph McGrath
Seamus McGrath
20
TICONDEROGA
9.0
Patrick Sullivan
Colonel James Reid
John Oxx
21
TALGO ABBESS
9.0
Robert Moylan
Mr Thomas Scahill
Private
22
SIR PAT
9.0
Wilfred Berg
Mr Peter McCarthy
Clement Magnier
23
BORGHESE
9.0
Garnet Bougoure
Mrs Meg Mullion
Paddy Prendergast
24
TRIMATIC
9.0
Edward Cracknell
Mrs H Taylor
Patrick Norris
Betting

JOCKEY PROFILE
Poger Poincelet was born on 3rd March 1921 and became a multiple Classic winning French jockey who often made forays to England and Ireland to plunder Classic victories. He won 5 English Classics, starting with the 2000 Guineas in 1952 aboard Thunderhead (SR 1965), followed by a Classic double in 1960 in the 1000 Guineas and Oaks aboard Never Too Late (SR 2016). He then won the biggest prize of all, the Epsom Derby in 1961 on Psidium (SR 1966), finishing with a 1000 Guineas winner in 1963 on Hula Dancer (SR 2001). He also won the 1962 Irish Derby on Tambourine II (SR 1952). He retired from riding in 1971 and died after a long illness on 1st November 1977 aged 57.

9/4 fav
Larkspur
6/1
Sebring
15/2
Tambourine II
15/2
Arctic Storm
10/1
Arcor
100/7
Saint Denys
25/1
Cyrus
33/1
Running Rock
33/1
Our Guile
33/1
Le Pirate
33/1
London Gazette
66/1
Atlantis
66/1
March Wind
66/1
T.V.
66/1
Gail Star
75/1
Trade Wind
100/1
Solpetre
100/1
Snowhound
100/1
Mumzowa
100/1
Ticonderoga
100/1
Talgo Abbess
100/1
Sir Pat
100/1
Borghese
100/1
Trimatic
Over round 114%
FORMLINE:- The French trained winner won by a short head in the fast time of 2 minutes 28.8 seconds, in the process defeating the Epsom Derby winner Larkspur (SR 1921).
ISBN 978-0-9957632-0-3

652 pages

774 former courses

ISBN 978-0-9957632-1-0

352 pages

400 former courses

ISBN 978-0-9957632-2-7

180 pages

140 former courses

ISBN 978-0-9957632-3-4

264 pages

235 former courses

Copies of the above books are only available by emailing johnwslusar@gmail.com stating your requirements, method of payment (cheque payable to W.Slusar) or Bank transfer, and the address where the book(s) should be sent.

ORDER FORM
Download an order form
Quantity
Cost
Volume 1 North of Hatfield £19.99 + £4 postage
Volume 2 South of Hatfield £14.99 + £3 postage
Volume 3 Wales & Scotland £9.99 + £3 postage
Volume 4 Ireland £9.99 + £3 postage
Volumes 1 - 4 £54.96 + £5 postage
Postage & Packaging
Total
Email order form to johnwslusar@gmail.com