The 102nd running of the Irish Derby was held on Saturday 1st July 1967 over 1 mile 4 furlongs of The Curragh. Subscriptions were £270 with a pot of £30,000 added. The winner was owned by Mr Charles W Engelhard, bred in USA by Mrs Julian G Rogers, trained by Fulke Johnson-Houghton at Blewbury and ridden by Lester Piggott. The winner won by 3/4 length in 2 minutes 32.4 seconds, with 3 1/2 lengths between second and third.
IRISH DERBY 1967
RIBOCCO (Bay colt by Ribot out of Libra) SR 2015
The winning owner won £57,610, (The equivalent of £994,000 in today's terms based on Bank of England inflation calculator).
The Youtube link below is a 1 minute 46 second clip of the 1967 Irish Derby https://www.youtube.com/watch?v=4xmFN_omqgc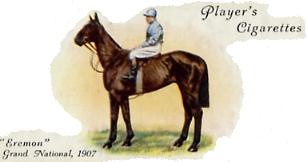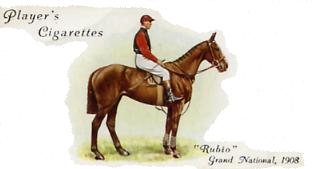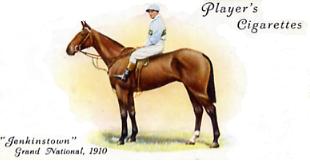 Pos.
Horse
Weight
Jockey
Owner
Trainer
1
RIBOCCO
9.0
Lester Piggott
Mr Charles Engelhard
Fulke Johnson-Houghton
2
SUCARYL
9.0
George Moore
Lady Maud Evelyn Sassoon
Noel Murless
3
DART BOARD
9.0
Scobie Breasley
Mr Michaell Sobell
Sir Gordon Richards
4
GAY GARLAND
9.0
Ron Hutchinson
Mr Anthony Askew
Harry Wragg
5
DAN KANO
9.0
Patrick Powell jnr
Mr Saul Raccah
James Lenehan
6
ATHERSTONE WOOD
9.0
Ryan Parnell
Mr Stephen O'Flaherty
Stephen Quirke
7
DANCING MOSS
9.0
Greville Starkey
Mr D Drewery
Robert Fetherstonehaugh
8
EL MIGHTY
9.0
Gerald Thiboeuf
Mr A Tsiatalous
David Hanley
9
TAPIS ROSE
9.0
R McCarthy
Mr A J Richards
David Hanley
10
FORTISSIMO
9.0
Peter Boothman
Major Victor McCalmont
Robert Fetherstonehaugh
11
SIGNA INFESTA
9.0
George McGrath
Mr Seamus McGrath
Seamus McGrath
12
CREPE CLOVER
9.0
Patrick Sullivan
Mr R S Reynolds
Stuart Murless
13
STEADY II
9.0
Roger Poincelet
Baron G de Waldner
F Palmer FR
14
RUGGED MAN
9.0
T P Burns
Mr J McNamee-Sullivan
Aubrey Brabazon
15
SKAMANDER
9.0
John Roe
Mrs Martin Andree
John Oxx
16
SOVEREIGN SLIPPER
9.0
Desmond Lake
Mr R H Preston
Patrick Murphy
17
KISS OF LIFE
9.0
Liam Browne
Mr R G Angus
G N Robinson
18
RARE JEWEL
9.0
Peader Matthews
Mr Thomas McCairns
P Prendergast jnr
19
HEAVE HO
9.0
Liam Ward
Mrs Thomas E Kelly
Seamus McGrath
20
MARK SCOTT
9.0
John Murtagh
Mr A S D Scott
Patrick Norris
21
PALMAS
9.0
Percy J Willett
Mr G A Newsome
Ernest Davey
22
ZARACARN
9.0
Laurence Johnson
Mr J G Barnett
Charles Weld
Fell
ROYAL SWORD
9.0
Michael Kennedy
General R King Mellon
Michael Rogers
Betting

OWNER PROFILE
Charles W Engelhard was born in New Jersey on 15th February 1917 into a wealthy American family whose father, also Charles Engelhard, had made his fortune in mining and metals. Charles junior served with the USA Air Force during the Second World War and then took charge of his father's mining company. His leisure passion was horse racing, owning stables in England, USA and South Africa. He won the Doncaster St Leger on 4 occasions, in 1964 with Indiana (SR 2014), 1967 with Ribocco (SR 2015), 1968 with Ribero (SR 1997) and 1970 with Nijinsky (SR 2140). Without doubt his best horse was Nijinsky, English Triple Crown winner in 1970. However, he also enjoyed success across the Irish Sea, winning the 1967 Irish Derby with Ribocco (SR 2015), 1968 with Ribero (SR 1997) and 1970 with Nijinsky (SR 2140). He died on 2nd March 1971 in Boca Grande, Florida aged just 54.

5/2 fav
Ribocco
11/2
Royal Sword
8/1
Steady II
8/1
Sucaryl
9/1
Dart Board
100/9
Signa Infesta
18/1
Fortissimo
18/1
Gay Garland
22/1
Atherstone Wood
28/1
Rugged Man
28/1
Dancing Moss
40/1
Heave Ho
40/1
Sovereign Slipper
66/1
Mark Scott
100/1
Skamander
100/1
Crepe Clover
100/1
El Mighty
150/1
Tapis Rose
150/1
Dan Kano
150/1
Kiss of Life
150/1
Rare Jewel
150/1
Palmas
150/1
Zaracarn
Over round 120%
FORMLINE:- Prior to winning this Classic by 3/4 length, Ribocco had finished second in the Epsom Derby beaten 2 1/2 lengths by Royal Palace (SR 2031). In a career spanning 14 races, Ribocco won 5 of them.
ISBN 978-0-9957632-0-3

652 pages

774 former courses

ISBN 978-0-9957632-1-0

352 pages

400 former courses

ISBN 978-0-9957632-2-7

180 pages

140 former courses

ISBN 978-0-9957632-3-4

264 pages

235 former courses

Copies of the above books are only available by emailing johnwslusar@gmail.com stating your requirements, method of payment (cheque payable to W.Slusar) or Bank transfer, and the address where the book(s) should be sent.

ORDER FORM
Download an order form
Quantity
Cost
Volume 1 North of Hatfield £19.99 + £4 postage
Volume 2 South of Hatfield £14.99 + £3 postage
Volume 3 Wales & Scotland £9.99 + £3 postage
Volume 4 Ireland £9.99 + £3 postage
Volumes 1 - 4 £54.96 + £5 postage
Postage & Packaging
Total
Email order form to johnwslusar@gmail.com