The 3rd running of the Irish Oaks was held on Tuesday 20th July 1897 over 1 mile of The Curragh, starting at the Madrid Post. A pot of 300 sovereigns was availble, 20 sovereigns to the second and 10 sovereigns to the third. The winner was owned by Captain F Fetherstonehaugh, trained by Heath at Maryborough and ridden by Clyde Aylin. The winner won by 4 lengths, with a neck between second and third.
IRISH OAKS 1897
DABCHICK (Black filly by Gallinule out of Concussion) SR 1917
The winning owner won 270 sovereigns, (The equivalent of £33,400 in today's terms based on Bank of England inflation calculator).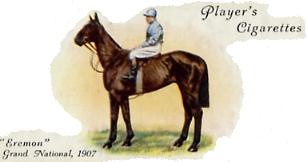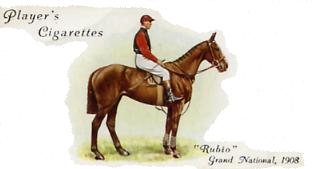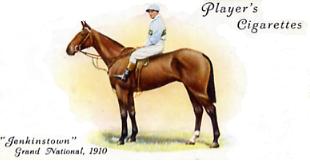 Pos.
Horse
Weight
Jockey
Owner
1
DABCHICK
8.3
Clyde Aylin
Captain F Fetherstonehaugh
2
NILE QUEEN
8.7
Algernon Anthony
Mr W J Goulding
3
LUA
8.6
W Horton
Mr T G Gordon
4
IVY SPRAY
8.6
J Wynne
Mr C Hannan
5
SLOE
8.3
Leahy
Mr H Beasley
6
POVERINA
8.6
T Lane
Mr R H Stubber
7
SWEET ECHO
8.6
Dawson
Colonel Thomson
Betting

RACE REPORT

After a level break it was left to Nile Queen to make the early running, followed by Ivy Spray, Dabchick and Sloe. Reaching the bend in the rais Nile Queen still led but was being challenged at the distance by Dabchick who assumed command and won by an easy 4 lengths. There was a neck between Nile Queen and Lua, with Ivy Spray fourth and Sloe fifth.

Evens fav
Dabchick
4/1
Nile Queen
9/2
Ivy Spray
5/1
Lua
10/1
Poverina
10/1
Sweet Echo
10/1
Sloe
Over round 131%
ISBN 978-0-9957632-0-3

652 pages

774 former courses

ISBN 978-0-9957632-1-0

352 pages

400 former courses

ISBN 978-0-9957632-2-7

180 pages

140 former courses

ISBN 978-0-9957632-3-4

264 pages

235 former courses

Copies of the above books are only available by emailing johnwslusar@gmail.com stating your requirements, method of payment (cheque payable to W.Slusar) or Bank transfer, and the address where the book(s) should be sent.

ORDER FORM
Download an order form
Quantity
Cost
Volume 1 North of Hatfield £19.99 + £4 postage
Volume 2 South of Hatfield £14.99 + £3 postage
Volume 3 Wales & Scotland £9.99 + £3 postage
Volume 4 Ireland £9.99 + £3 postage
Volumes 1 - 4 £54.96 + £5 postage
Postage & Packaging
Total
Email order form to johnwslusar@gmail.com