The 8th running of the Irish Oaks was held on Wednesday 23rd July 1902 over 1 mile of The Curragh, starting at the Madrid Post. A pot of 300 sovereigns was availble, 20 sovereigns to the second and 10 sovereigns to the third. The winner was owned by Mr W Dunne, trained by M Dawson at Rathbride Manor, Curragh and ridden by D Condon. The winner won by 3 lengths, with 3 lengths between second and third.
IRISH OAKS 1902
MARIEVALE (Bay filly by Buckingham out of Kooinur) SR 1925
The winning owner won 270 sovereigns, (The equivalent of £31,600 in today's terms based on Bank of England inflation calculator).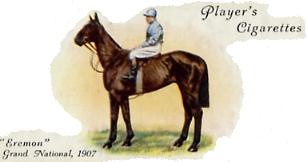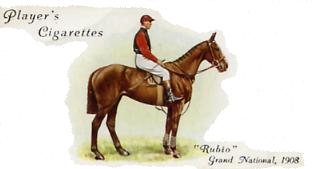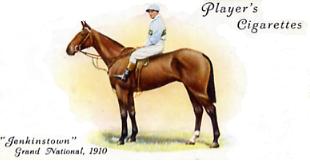 Pos.
Horse
Weight
Jockey
Owner
1
MARIEVALE
8.10
D Condon
Mr W Dunne
2
GOODY TWO SHOES
8.6
W Higgs
Mr W Hall Walker
3
STARTLING
8.10
Bernard Dillon
Major Eustace Loder
4
LISIRRIL
8.7
J Thompson
Mr S E Shirley
5
FAIR REBEL
8.6
J Clayton
Mr W Cullen
Betting

RACE REPORT

Although the field reached the start in plenty of time, Lisirril caused a delay, but once the signal was given Fair Rebel took the lead from Startling and Goody Two Shoes. On settling into their stride the favourite, Goody Two Shoes, came to the fore ahead of Marievale and Startling, with Fair Rebel already sending out distress signals. At the junction of the courses Goody Two Shoes veered right across to the stand side losing considerable ground and allowing Marievale a smooth passage on the rails. The favourite did not recover, and Marievale won by 3 lengths, with 3 lengths back to Startling in third.

4/6 fav
Goody Two Shoes
7/2
Marievale
100/12
Startling
10/1
Fair Rebel
10/1
Lisirril
Over round 112%
ISBN 978-0-9957632-0-3

652 pages

774 former courses

ISBN 978-0-9957632-1-0

352 pages

400 former courses

ISBN 978-0-9957632-2-7

180 pages

140 former courses

ISBN 978-0-9957632-3-4

264 pages

235 former courses

Copies of the above books are only available by emailing johnwslusar@gmail.com stating your requirements, method of payment (cheque payable to W.Slusar) or Bank transfer, and the address where the book(s) should be sent.

ORDER FORM
Download an order form
Quantity
Cost
Volume 1 North of Hatfield £19.99 + £4 postage
Volume 2 South of Hatfield £14.99 + £3 postage
Volume 3 Wales & Scotland £9.99 + £3 postage
Volume 4 Ireland £9.99 + £3 postage
Volumes 1 - 4 £54.96 + £5 postage
Postage & Packaging
Total
Email order form to johnwslusar@gmail.com