The 15th running of the Irish Oaks was held on Wednesday 21st July 1909 over 1 mile of The Curragh, starting at the Madrid Post. A pot of 300 sovereigns was availble, 20 sovereigns to the second and 10 sovereigns to the third. The winner was owned by Mr J Cooper, trained by M Reidy at The Curragh, and ridden by John Doyle. The winner won by 1 1/2 lengths, with a head between second and third.
IRISH OAKS 1909
FREDITH (Bay filly by Hackler out of Sybil) SR 1751
The winning owner won 270 sovereigns, (The equivalent of £30,600 in today's terms based on Bank of England inflation calculator).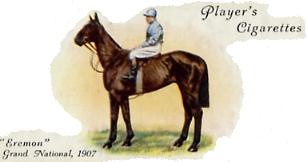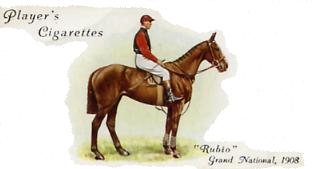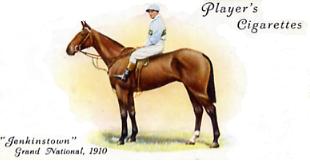 Pos.
Horse
Weight
Jockey
Owner
Trainer
1
FREDITH
8.3
John Doyle
Mr J Cooper
M Reidy
2
CASPIA
9.3
Clyde Aylin
Mr C J Blake
Shem Jeffrey
3
FLUFFY RUFFLES
8.10
Steve Donoghue
Mr Richard Croker
Allen
4
GALATEE
8.3
W Lea
Mr J H H Peard
J H H Peard
5
EMMA OLIVIA
9.0
A Sharples
Mr A Lowry
Dawson
6
HELEN FENTON
8.10
J Thompson
Mr J H H Peard
J H H Peard
7
MISS FLIGHTY
8.7
P Hughes
Mr J Lonsdale
Cullen
Betting

RACE REPORT

They arrived at the start early, although Fluffy Ruffles was fractious, but they got away on time. Fredith led from Caspia, Emma Olivia and Galatee. After 2 furlongs Emma Olivia took the helm and went on from Caspia, demoting the favourite to third. After half a mile Caspia assumed control and maintained her position until inside the distance where she was resolutely challenged by both Fluffy Ruffles and Fredith. However, it was Fredith who proved the stronger to win by 1 1/2 lengths, with a head separating Caspia and Fluffy Ruffles.

Even fav
Fredith
4/1
Emma Olivia
5/1
Fluffy Ruffles
100/14
Galatee
100/12
Caspia
100/12
Helen Fenton
100/12
Miss Flighty
Over round 136%
ISBN 978-0-9957632-0-3

652 pages

774 former courses

ISBN 978-0-9957632-1-0

352 pages

400 former courses

ISBN 978-0-9957632-2-7

180 pages

140 former courses

ISBN 978-0-9957632-3-4

264 pages

235 former courses

Copies of the above books are only available by emailing johnwslusar@gmail.com stating your requirements, method of payment (cheque payable to W.Slusar) or Bank transfer, and the address where the book(s) should be sent.

ORDER FORM
Download an order form
Quantity
Cost
Volume 1 North of Hatfield £19.99 + £4 postage
Volume 2 South of Hatfield £14.99 + £3 postage
Volume 3 Wales & Scotland £9.99 + £3 postage
Volume 4 Ireland £9.99 + £3 postage
Volumes 1 - 4 £54.96 + £5 postage
Postage & Packaging
Total
Email order form to johnwslusar@gmail.com