The 17th running of the Irish Oaks was held on Wednesday 2nd August 1911 over 1 mile of The Curragh, starting at the Madrid Post. A pot of 300 sovereigns was availble, 20 sovereigns to the second and 10 sovereigns to the third. The winner was owned by Mr J Hutton, trained by M Dawson at Rathbride Manor, Curragh, and ridden by M Colbert. The winner won by a head, with 3 lengths between second and third.
IRISH OAKS 1911
TULLYNACREE (Brown filly by Fowling Piece out of Atlantic) SR 1806
The winning owner won 270 sovereigns, (The equivalent of £30,200 in today's terms based on Bank of England inflation calculator).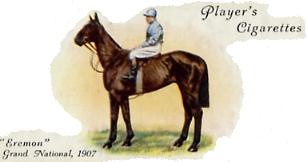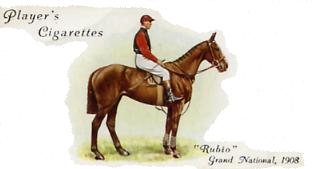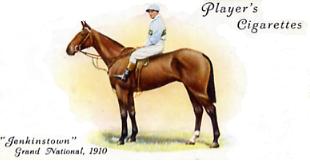 Pos.
Horse
Weight
Jockey
Owner
Trainer
1
TULLYNACREE
8.7
M Colbert
Mr J Hutton
M Dawson
2
CROWDEN
8.7
F Hunter
Mr P Cullinan
J Dunne
3
WETHER'S WELL
9.4
R Crisp
Mr J H H Peard
J H H Peard
4
PACIENCIA
8.3
W Bray
Mr H S Geary
Philip Behan
5
BUSHEY DAME
8.7
H Buxton
Mr D Moloney
M Dawson
6
AGUA
8.6
John Doyle
Mr A E Kinaban
Philip Behan
Betting

RACE REPORT

Arriving at the start on time, Agua took control at flag fall to lead from Paciencia, Wether's Well and Bushey Dame. This order was maintained for 3 furlongs until Paciencia gained the lead, well attended by Bushey Dame and Wether's Well. At the distance it was clear that the favourite was in trouble, leaving Tullynacree and Crowden to go head to head in a tight finish. Tullynacree forged ahead in the last 50 yards to win by a head, with Wether's Well toiling 3 lengths behind.

4/7 fav
Wether's Well
6/1
Crowden
6/1
Tullynacree
7/1
Paciencia
10/1
Agua
10/1
Bushey Dame
Over round 121%
ISBN 978-0-9957632-0-3

652 pages

774 former courses

ISBN 978-0-9957632-1-0

352 pages

400 former courses

ISBN 978-0-9957632-2-7

180 pages

140 former courses

ISBN 978-0-9957632-3-4

264 pages

235 former courses

Copies of the above books are only available by emailing johnwslusar@gmail.com stating your requirements, method of payment (cheque payable to W.Slusar) or Bank transfer, and the address where the book(s) should be sent.

ORDER FORM
Download an order form
Quantity
Cost
Volume 1 North of Hatfield £19.99 + £4 postage
Volume 2 South of Hatfield £14.99 + £3 postage
Volume 3 Wales & Scotland £9.99 + £3 postage
Volume 4 Ireland £9.99 + £3 postage
Volumes 1 - 4 £54.96 + £5 postage
Postage & Packaging
Total
Email order form to johnwslusar@gmail.com