The 26th running of the Irish Oaks was held on Wednesday 21st July 1920 over 1 1/2 miles of The Curragh, starting at the Howth Post. A pot of 2000 sovereigns was availble, 100 sovereigns to the second and 50 sovereigns to the third. The winner was owned by Captain C Moore, trained by Shem Jeffrey, and ridden by Michael Beary. The winner won by 4 lengths in 2 minute 42.4 seconds, with 5 lengths between second and third.
IRISH OAKS 1920
PLACE ROYALE (Bay filly by Royal Realm out of All Square) SR 1864
The winning owner won 1850 sovereigns, (The equivalent of £78,600 in today's terms based on Bank of England inflation calculator).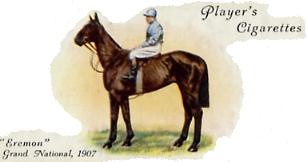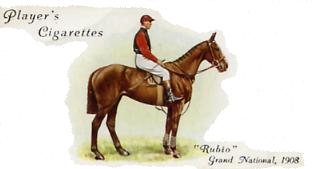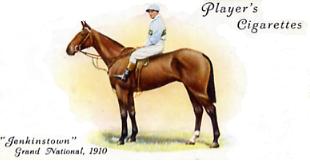 Pos.
Horse
Weight
Jockey
Owner
Trainer
1
PLACE ROYALE
9.0
Michael Beary
Captain C Moore
Shem Jeffrey
2
SUN BLINK
8.4
Vic Smyth
Duke of Portland
W Waugh
3
MISS BRIAN BORU
8.10
W Beasley
Captain James Daly
Grundy
4
PRINCESS WAVELET
9.0
H Beasley
Mr W Parrish
Rogers
5
DATINE
9.0
F Lane
Mr F D Osborne
Arnott
6
PERCEPTIVE
9.0
W Barrett
Mr Laidlaw
Hunter
Betting

RACE REPORT

A much depleted crowd was in attendance when a train drivers strike stranded people in Dublin. 30 armed police had tried to board the train, which stopped at Kildare, but the driver refused to drive the train with rifle carrying police. The race itself was much less exciting as Place Royale made all to win comfortably by 4 lengths, with a further 5 lengths between Sun Blink and Miss Brian Boru.

6/4 fav
Sun Blink
9/4
Place Royale
7/1
Datine
8/1
Perceptive
10/1
Miss Brian Boru
10/1
Princess Wavelet
Over round 111%
ISBN 978-0-9957632-0-3

652 pages

774 former courses

ISBN 978-0-9957632-1-0

352 pages

400 former courses

ISBN 978-0-9957632-2-7

180 pages

140 former courses

ISBN 978-0-9957632-3-4

264 pages

235 former courses

Copies of the above books are only available by emailing johnwslusar@gmail.com stating your requirements, method of payment (cheque payable to W.Slusar) or Bank transfer, and the address where the book(s) should be sent.

ORDER FORM
Download an order form
Quantity
Cost
Volume 1 North of Hatfield £19.99 + £4 postage
Volume 2 South of Hatfield £14.99 + £3 postage
Volume 3 Wales & Scotland £9.99 + £3 postage
Volume 4 Ireland £9.99 + £3 postage
Volumes 1 - 4 £54.96 + £5 postage
Postage & Packaging
Total
Email order form to johnwslusar@gmail.com