The 28th running of the Irish Oaks was held on Wednesday 19th July 1922 over 1 1/2 miles of The Curragh, starting at the Howth Post. A pot of 2500 sovereigns was availble, 150 sovereigns to the second and 75 sovereigns to the third. The winner was owned by Captain P Daly, trained by F Grundy, and ridden by J Dines. The winner won by 2 1/2 lengths in 2 minute 40.4 seconds, with a length between second and third.
IRISH OAKS 1922
MISS HAZLEWOOD (Chestnut filly by Royal Canopy out of Maudie) SR 1810
The winning owner won 2275 sovereigns, (The equivalent of £123,000 in today's terms based on Bank of England inflation calculator).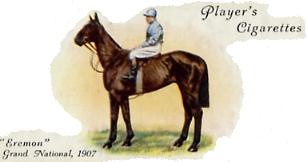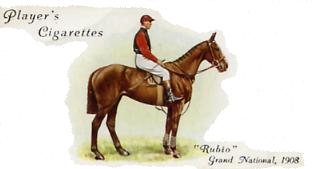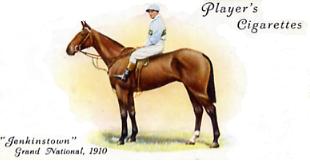 Pos.
Horse
Weight
Jockey
Owner
Trainer
1
MISS HAZLEWOOD
9.0
J Dines
Captain P Daly
F Grundy
2
ELUNYD
9.0
Morny Wing
Mr J E Rowson
Lines
3
EL OBEID
9.0
Thomas Burns
Colonel F Blacker
M Dawson
4
LADY VIOLETTE
9.0
Michael Beary
Mr A Le Roch
Shem Jeffrey
5
MARTINA
9.0
Joe Canty
Captain Charles Moore
Philip Behan
6
DUTY CALLS
9.0
H H Beasley
Mr W Parrish
F Grundy
7
PEARL ASH
9.0
A Barrett
Mr D W Barnett
Rankin
8
NOBLE PRINCESS
9.0
S E Quirke
Mr W A Wallis
McCabe
9
RACHEL
9.0
Clyde Aylin
Captain Charles Moore
Philip Behan
10
MONEEN
9.0
Jas Canty
Major Gerard
Gerard
Betting

RACE REPORT

Pearl Ash was quickest into her stride and on settling down led alongside Elunyd, with El Obeid and Noble Princess close up. After 2 furlongs El Obeid took over and led until the field turned into the straight, at which point Elunyd regained the advantage. Inside the distance Miss Hazlewood made rapid progress to mount a challenge to Elunyd, and the issue was settled in a matter of strides when Miss Hazlewood strode on to win by 2 1/2 lengths, with a length back to El Obeid.

Evens fav
Elunyd
3/1
El Obeid
7/1
Duty Calls
8/1
Lady Violette
20/1
Rachel
20/1
Martina
25/1
Miss Hazlewood
50/1
Pearl Ash
50/1
Noble Princess
50/1
Moneen
Over round 117%
ISBN 978-0-9957632-0-3

652 pages

774 former courses

ISBN 978-0-9957632-1-0

352 pages

400 former courses

ISBN 978-0-9957632-2-7

180 pages

140 former courses

ISBN 978-0-9957632-3-4

264 pages

235 former courses

Copies of the above books are only available by emailing johnwslusar@gmail.com stating your requirements, method of payment (cheque payable to W.Slusar) or Bank transfer, and the address where the book(s) should be sent.

ORDER FORM
Download an order form
Quantity
Cost
Volume 1 North of Hatfield £19.99 + £4 postage
Volume 2 South of Hatfield £14.99 + £3 postage
Volume 3 Wales & Scotland £9.99 + £3 postage
Volume 4 Ireland £9.99 + £3 postage
Volumes 1 - 4 £54.96 + £5 postage
Postage & Packaging
Total
Email order form to johnwslusar@gmail.com