The 30th running of the Irish Oaks was held on Wednesday 23rd July 1924 over 1 1/2 miles of The Curragh, starting at the Howth Post. A pot of 2500 sovereigns was availble, 150 sovereigns to the second and 75 sovereigns to the third. The winner was owned by Lady Nunburnholme, trained by Captain Cecil Boyd-Rochfort in Newmarket, and ridden by Joe Childs. The winner won by a short head in 2 minute 45.8 seconds, with 5 lengths between second and third.
IRISH OAKS 1924
AMETHYSTINE (Brown filly by Hainault out of Lesterlin) SR 1768
The winning owner won 2275 sovereigns, (The equivalent of £128,600 in today's terms based on Bank of England inflation calculator).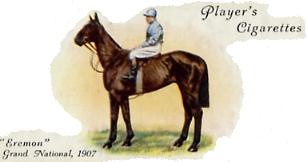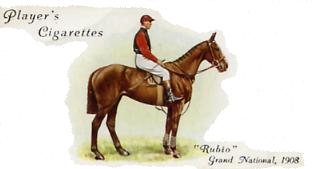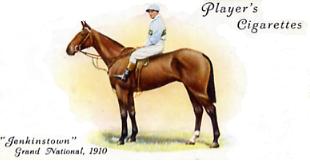 Pos.
Horse
Weight
Jockey
Owner
Trainer
1
AMETHYSTINE
9.4
Joe Childs
Lady Nunburnholme
Cecil Boyd-Rochfort
2
VOLTOI
9.4
H Jameson
Mr J J McAuley
Coombs
3
ARGANTHE
9.0
H H Beasley
Mrs A Bendir
Harper
4
BENEDICTA
9.0
Jack Moylan
Mr D J Cogan
Staunton
5
PURE GAIETY
9.0
E Foley
Mr R C Ross
N Moss
6
LUCKY MAN
9.0
J Dines
Mr R H Walker
Walker
7
ARMOUR PLATE
9.0
J Fitzgerald
Mr J Musker
J J Parkinson
8
LADY MARCIGNY
9.0
Thomas Burns
Mr J Musker
J J Parkinson
Betting

RACE REPORT

Off to time, it was left to Pure Gaiety to stride ahead early on from Armour Plate, Benedicta and Arganthe. This order was maintained for the first mile until Benedicta drew to the front, although soon gave way to Amethystine and Voltoi. In a good battle between the two it was Amethystine who held on by a short head, with 5 lengths back to Arganthe in third.

6/4 fav
Voltoi
2/1
Arganthe
3/1
Amethystine
6/1
Benedicta
50/1
Armour Plate
50/1
Lady Marcigny
50/1
Lucky Man
50/1
Pure Gaiety
Over round 120%
ISBN 978-0-9957632-0-3

652 pages

774 former courses

ISBN 978-0-9957632-1-0

352 pages

400 former courses

ISBN 978-0-9957632-2-7

180 pages

140 former courses

ISBN 978-0-9957632-3-4

264 pages

235 former courses

Copies of the above books are only available by emailing johnwslusar@gmail.com stating your requirements, method of payment (cheque payable to W.Slusar) or Bank transfer, and the address where the book(s) should be sent.

ORDER FORM
Download an order form
Quantity
Cost
Volume 1 North of Hatfield £19.99 + £4 postage
Volume 2 South of Hatfield £14.99 + £3 postage
Volume 3 Wales & Scotland £9.99 + £3 postage
Volume 4 Ireland £9.99 + £3 postage
Volumes 1 - 4 £54.96 + £5 postage
Postage & Packaging
Total
Email order form to johnwslusar@gmail.com