The 33rd running of the Irish Oaks was held on Wednesday 20th July 1927 over 1 1/2 miles of The Curragh, starting at the Howth Post. A pot of 2500 sovereigns was availble, 150 sovereigns to the second and 75 sovereigns to the third. The winner was owned by Mr M Field, trained by Captain Cecil Boyd-Rochfort at Newmarket, and ridden by Joe Childs. The winner won by a neck in 2 minute 37.6 seconds, with 5 lengths between second and third.
IRISH OAKS 1927
CINQ-A-SEPT (Chestnut filly by Roi Herode out of Rackety Coo) SR 1812
The winning owner won 2275 sovereigns, (The equivalent of £135,900 in today's terms based on Bank of England inflation calculator).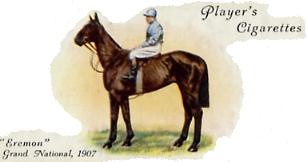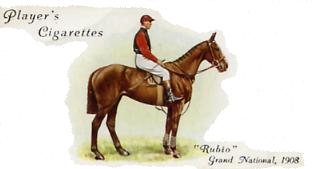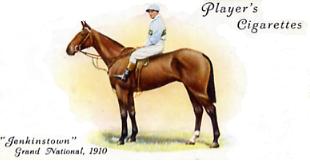 Pos.
Horse
Weight
Jockey
Owner
Trainer
1
CINQ-A-SEPT
9.0
Joe Childs
Mr M Field
Cecil Boyd-Rochfort
2
LA DOUAIRIERE
9.0
Charlie Smirke
HH Aga Khan
R Dawson
3
WEST INDIES
9.4
Thomas Burns
Lady Mahon
F Grundy
4
NEVER CROSS
9.0
Henri Jelliss
Lord Astor
Alec Taylor
5
CRESTA RUN
9.10
E C Elliott
Colonel Giles Loder
Peter P Gilpin
6
VIXEN'S CHARM
9.0
Joe Canty
Mr W Jackson
M Dawson
7
MISS O'HARA
9.0
Morny Wing
Miss A B Coyle
F Grundy
Betting

RACE REPORT

Off 6 minutes late it was left to West Indies to set a strong pace at the main expense of Never Cross, with Vixen's Charm and Cresta Run close behind. This was the order for the first 6 furlongs, at which point the favourite Cresta Run took closer order in second place, with La Douairiere moving easily into third. West Indies was still at the head of affairs approaching the distance, but was challenged by both Cinq-a-Sept and La Douairiere, the former getting up by a neck, with 5 lengths back to the game West Indies in third.

Evens fav
Cresta Run
4/1
Never Cross
5/1
West Indies
6/1
Cinq-a-Sept
100/8
La Douairiere
100/1
Miss O'Hara
100/1
Vixen's Charm
Over round 110%
ISBN 978-0-9957632-0-3

652 pages

774 former courses

ISBN 978-0-9957632-1-0

352 pages

400 former courses

ISBN 978-0-9957632-2-7

180 pages

140 former courses

ISBN 978-0-9957632-3-4

264 pages

235 former courses

Copies of the above books are only available by emailing johnwslusar@gmail.com stating your requirements, method of payment (cheque payable to W.Slusar) or Bank transfer, and the address where the book(s) should be sent.

ORDER FORM
Download an order form
Quantity
Cost
Volume 1 North of Hatfield £19.99 + £4 postage
Volume 2 South of Hatfield £14.99 + £3 postage
Volume 3 Wales & Scotland £9.99 + £3 postage
Volume 4 Ireland £9.99 + £3 postage
Volumes 1 - 4 £54.96 + £5 postage
Postage & Packaging
Total
Email order form to johnwslusar@gmail.com