The 50th running of the Irish Oaks was held on Saturday 29th July 1944 over 1 1/2 miles of The Curragh, starting at the Howth Post. A pot of 1000 sovereigns was availble, 100 sovereigns to the second and 50 sovereigns to the third. The winner was owned by Major Dermot McCalmont, trained by Robert Fetherstonhaugh, and ridden by Jack Moylan. The winner won by a neck, with 1 1/2 lengths between second and third.
IRISH OAKS 1944
AVOCA (Grey filly by Mr Jinks out of Avondale) SR 1822
The winning owner won 850 sovereigns, (The equivalent of £35,800 in today's terms based on Bank of England inflation calculator).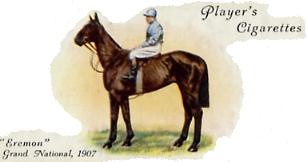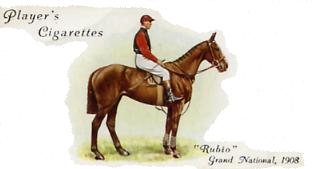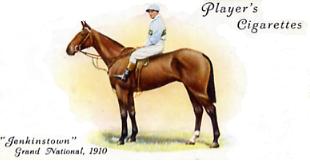 Pos.
Horse
Weight
Jockey
Owner
Trainer
1
AVOCA
9.0
Jack Moylan
Major Dermot McCalmont
Robert Fetherstonhaugh
2
JOYCE
9.0
B Duffy
Mr P Burrell
H Hartigan
3
HIGH SPIRITS
9.0
E Martin Quirke
Mr T Gray
4
ANNETTE
9.4
Joe Canty
Mr P Burrell
H Hartigan
5
FAIRDUE
9.7
T P Burns
6
NO TRACE
9.0
Morny Wing
7
MIEUXSERENE
9.0
W Barrett
8
BRUSHWOOD GIRL
9.0
A Barrett
9
LOADED DICE
9.0
H Holmes
Betting
OWNER PROFILE
Dermot McCalmont was born in 1887 into a family who enjoyed their racing. His father, Colonel Harry McCalmont, had won the English Triple Crown with Isinglass (SR 2047) in 1893 and Dermot became an accomplished amateur jockey, winning the Grand Military Gold Cup at Sandown Park which was restricted to Military Amateur riders. After his military career, where he reached the post of Major, he devoted more time to horse racing, developing the Ballylinch Stud in Kilkenny in 1914 built around the unbeaten stallion The Tetrarch, but he was also a successful, Classic winning owner. He won the English 2000 Guineas in 1920 with Tetratema (SR 2077) and for a second time in 1929 with Mr Jinks (SR 1951), but was equally successful in Ireland. He won the 1944 Irish Derby with Slide On (SR 1928) and again the next year with Piccadilly (SR 1853). Also winning the Irish Oaks in 1944 with Avoca. He died in 1968 aged 81.
4/6 fav
Annetta
5/1
High Spirits
6/1
Fairdue
7/1
Avoca
20/1
No Trace
25/1
Joyce
25/1
Mieuxserene
25/1
Brushwood Girl
25/1
Loaded Dice
Over round 123%
ISBN 978-0-9957632-0-3

652 pages

774 former courses

ISBN 978-0-9957632-1-0

352 pages

400 former courses

ISBN 978-0-9957632-2-7

180 pages

140 former courses

ISBN 978-0-9957632-3-4

264 pages

235 former courses

Copies of the above books are only available by emailing johnwslusar@gmail.com stating your requirements, method of payment (cheque payable to W.Slusar) or Bank transfer, and the address where the book(s) should be sent.

ORDER FORM
Download an order form
Quantity
Cost
Volume 1 North of Hatfield £19.99 + £4 postage
Volume 2 South of Hatfield £14.99 + £3 postage
Volume 3 Wales & Scotland £9.99 + £3 postage
Volume 4 Ireland £9.99 + £3 postage
Volumes 1 - 4 £54.96 + £5 postage
Postage & Packaging
Total
Email order form to johnwslusar@gmail.com