The 56th running of the Irish Oaks was held on Saturday 22nd July 1950 over 1 1/2 miles of The Curragh, starting at the Howth Post. A pot of 5905 sovereigns was availble, 904 sovereigns to the second and 586 sovereigns to the third. The winner was owned by Mons Marcel Boussac, trained by Charles Semblat and ridden by Rae Johnstone. The winner won by 1/2 length in 2 minutes 27 seconds, with 3 lengths between second and third.
IRISH OAKS 1950
COREJADA (Bay filly by Pharis out of Tourzima) SR 1925
The winning owner won 4415 sovereigns, (The equivalent of £143,800 in today's terms based on Bank of England inflation calculator).
Significant details are missing from this page. If you can fill the gaps then email johnwslusar@gmail.com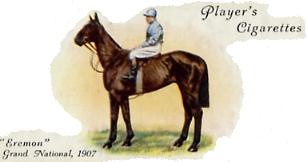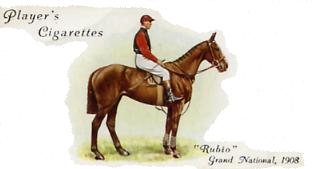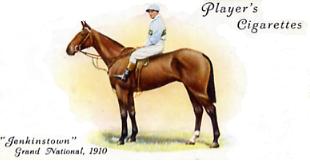 Pos.
Horse
Weight
Jockey
Owner
Trainer
1
COREJADA
9.0
Rae Johnstone
Mons Marcel Boussac
Charles Semblat
2
NIZARIA
9.0
M Molony
HH Aga Khan
Hubert Hartigan
3
STELLA POLARIS
9.0
Charlie Smirke
Mr J Musker
M Marsh
4
HIGHLY PLACED
9.0
F McKenna
Mr J S Gray
Hurley
5
ROSE SLIPPER
9.0
W Howard
Mrs E J King
M Arnott
6
MORNING MADAM
9.0
P Canty
Mr Y J Kirkpatrick
P Connolly
7
SOL-LUNAR
9.0
John Power
Mr A P Reynolds
John Oxx
8
REQUETTE
9.0
Aubrey Brabazon
Mr W H Barnett
Darby Rogers
9
MUNGANO ROSE
9.0
Liam Ward
Mr P J O'Meara
John Oxx
10
L'HORIZON
9.0
J Feane
HH Aga Khan
Hubert Hartigan
11
GOLDEN PLAID
9.0
J Tyrrell
Mr C S Bird jnr
H Ussher
12
QUEEN OF IRAN
9.0
P F Conlon
HH Aga Khan
Hubert Hartigan
13
EARLY SHOW
9.0
Herbert Holmes
Mr R McIlhagga
J M Rogers
14
DE DE TEE
9.0
J W Thompson
Mr R McIlhagga
Paddy Prendergast
15
CALFSTOWN BRAMBLE
9.0
N Brennan
Mr J A Wilson
H Ussher
16
FOOLISHNESS
9.0
T Reagan
Mr R W Hall-Dare
H M Ryan
Betting

RACE REPORT

This year the value of the race reached £5935, an increase on the £5220 of the previous year, of the £4680 in 1948, and of the low in 1945 of £1000. Although the favourite had lost the French Oaks in unlucky fashion, she was made the odds-on favourite to land this Classic for Mons Marcel Boussac, a third Classic of the season for the stable which had already landed the Epsom Derby with Galcador (SR 2058) and the Epsom Oaks with Asmena (SR 1903). The field set off at a steady pace with no one keen to cut out the early running. It was left to outsider Foolishness to lead from Requette and Sol-Lunar, while Corejada was held up towards the rear. As the leaders turned into the home straight Requette gave home supporters false hope in her dash for the line, but with two furlongs to run she was a spent force, and Nizaria took over. At the distance Corejada seemed to be boxed in, with Johnstone struggling to find a gap, but he bided his time and once he released her she won readily, albeit by a cheeky half a length, with 3 lengths back to Stella Polaris in third.

4/7 fav
Corejada
6/1
Stella Polaris
8/1
Requette
10/1
Nizaria
10/1
Rose Slipper
100/8
De De Tee
20/1
Morning Madam
20/1
L'Horizon
50/1
Sol-Lunar
50/1
Mungano Rose
50/1
Queen of Iran
50/1
Early Show
66/1
Highly Placed
100/1
Golden Plaid
100/1
Calfstown Bramble
100/1
Foolishness
Over round 136%
ISBN 978-0-9957632-0-3

652 pages

774 former courses

ISBN 978-0-9957632-1-0

352 pages

400 former courses

ISBN 978-0-9957632-2-7

180 pages

140 former courses

ISBN 978-0-9957632-3-4

264 pages

235 former courses

Copies of the above books are only available by emailing johnwslusar@gmail.com stating your requirements, method of payment (cheque payable to W.Slusar) or Bank transfer, and the address where the book(s) should be sent.

ORDER FORM
Download an order form
Quantity
Cost
Volume 1 North of Hatfield £19.99 + £4 postage
Volume 2 South of Hatfield £14.99 + £3 postage
Volume 3 Wales & Scotland £9.99 + £3 postage
Volume 4 Ireland £9.99 + £3 postage
Volumes 1 - 4 £54.96 + £5 postage
Postage & Packaging
Total
Email order form to johnwslusar@gmail.com