The 35th running of the Irish St Leger was held on Wednesday 14th September 1949 over 1 mile 6 furlongs of The Curragh. The winner was owned by Mr William Woodward, trained by Captain Cecil Boyd-Rochfort and ridden by Willie Carr. A purse of £2000 allowed for the second to receive 100 sovereigns and the third 50 sovereigns. The winner won by a short head, with 10 lengths between second and third, but was disqualified and placed last.
IRISH ST LEGER 1949
BROWN ROVER (Brown horse by Fighting Fox out of La Rose) SR 1944
The winning owner won £1850 (The equivalent of £64,200 in 2018 terms based on Bank of England inflation calculator).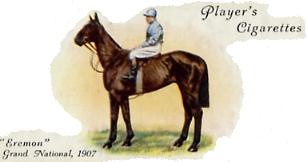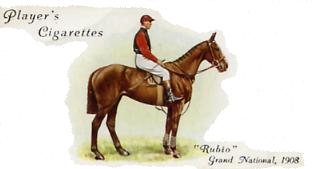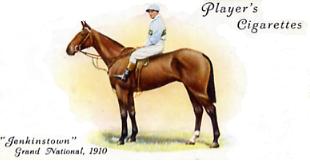 Pos.
Horse
Age/Weight
Jockey
Owner
Trainer
1
BROWN ROVER
3 9st 0lbs
Willie Carr
Mr William Woodward
Captain Cecil Boyd-Rochfort
2
AEOLIAN
3 9st 0lbs
C Fagan
3
TRIBAL SONG
3 9st 0lbs
Aubrey Brabazon
Mr A W Gordon
Colonel Darby Rogers
4
PINK LARKSPUR
3 9st 0lbs
J Longden
Mr T Donnelly
John Oxx
5
SOME BLOOM
3 9st 0lbs
John Power
Mr T Donnelly
John Oxx
6
BONAPARTE
3 9st 0lbs
T Wallace
Colonel Darby Rogers
7
HAMPDEN PARK
3 9st 0lbs
Herbert Holmes
Mr J McLean
H M Hartigan
8
BIRD WATCHER
3 9st 0lbs
P F Conlon
Lt-Col Evelyn Shirley
McCormick
9
FLASH ARIN
3 9st 0lbs
Morny Wing
Mr A L Hawkins
Paddy Prendergast
10
NASR-ED-DIN
3 9st 0lbs
Martin Moloney
Paddy Prendergast
11
COOL STREAM
3 9st 0lbs
F McKenna
Col Darby Rogers
Colonel Darby Rogers
12
DECERINO
3 9st 0lbs
P Powell jnr
R Morrison
Disq
MOONDUST
3 9st 0lbs
Rae Johnstone
HH Aga Khan
Frank Butters
Betting

Brown Rover was runner-up in the Irish Derby 1 3/4 lengths behind Hindostan (SR 1971), with Pink Larkspur 2 1/2 lengths further back in third. Moondust finished a short head in front of Brown Rover, the pair 10 lengths clear of Aeolian, but Moondust was disqualified and placed last. Brown Rover was owned by Mr William Woodward, Chairman of the New York Jockey Club.

3/1 fav
Brown Rover
7/2
Moondust
25/1
Tribal Song
50/1
Aeolian
ISBN 978-0-9957632-0-3

652 pages

774 former courses

ISBN 978-0-9957632-1-0

352 pages

400 former courses

ISBN 978-0-9957632-2-7

180 pages

140 former courses

ISBN 978-0-9957632-3-4

264 pages

235 former courses

Copies of the above books are only available by emailing johnwslusar@gmail.com stating your requirements, method of payment (cheque payable to W.Slusar) or Bank transfer, and the address where the book(s) should be sent.

ORDER FORM
Download an order form
Quantity
Cost
Volume 1 North of Hatfield £19.99 + £4 postage
Volume 2 South of Hatfield £14.99 + £3 postage
Volume 3 Wales & Scotland £9.99 + £3 postage
Volume 4 Ireland £9.99 + £3 postage
Volumes 1 - 4 £54.96 + £5 postage
Postage & Packaging
Total
Email order form to johnwslusar@gmail.com