The 76th running of the Irish St Leger was held on Saturday 22nd September 1990 over 1 mile 6 furlongs of The Curragh. The winner was owned by Y Sohma, bred by Lord Porchester, trained by Paul Cole, and ridden by T Quinn. The winner won by a length in 3 minutes 0.60 seconds, with 3 lengths between second and third.
IRISH ST LEGER 1990
IBN BEY (Chestnut horse by Mill Reef out of Rosia Bay) SR 1837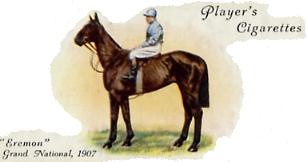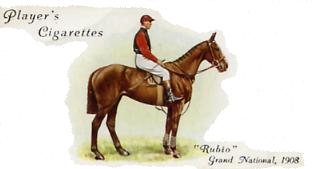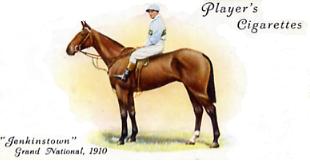 Pos.
Horse
Age/Weight
Jockey
Owner
Trainer
1
IBN BEY
6 9st 8lbs
T Quinn
Y Sohma
Paul Cole
2
MR PINTIPS
6 9st 8lbs
Declan Gillespie
Lord Halifax
Lord Huntingdon
3
BRAASHEE
4 9st 8lbs
Michael Roberts
Maktoum Al Maktoum
Alec Stewart
4
TYRONE BRIDGE
4 9st 8lbs
Pat Shanahan
Paul Green
Martin Pipe
5
PER QUOD
5 9st 8lbs
Bruce Raymond
H Turney McKnight
Ben Hanbury
6
GLOWING STAR
4 9st 8lbs
John Reid
N Stassen
Joseph Canty
7
THETFORD FOREST
3 8st 12lbs
R Quinton
Sheikh Mohammed
D Nicholson
8
NORTHERN PET
3 8st 9lbs
W F Harris
Mrs Patrick Conlan
Kevin Prendergast
9
ANNIE LAURIE
3 8st 9lbs
Christy Roche
T F Roe
Liam Browne
10
RARE HOLIDAY
4 9st 8lbs
Mick Kinane
Dr Michael Smurfit
Dermot Weld
11
MICHELOZZO
4 9st 8lbs
Steve Cauthen
Charles St George
Sir Henry Cecil
12
UPWARD TREND
4 9st 5lbs
Steve Craine
Paul Green
Jim Bolger
Betting
5/4 fav
Michelozzo
5/1
Ibn Bey
5/1
Braashee
13/2
Tyrone Bridge
10/1
Thetford Forest
12/1
Per Quod
20/1
Glowing Star
25/1
Mr Pintips
25/1
Northern Pet
25/1
Rare Holliday
25/1
Upward Trend
33/1
Annie Laurie
Over Round 131%
FORMLINE:- In a career spanning 29 races, Ibn Bey won 10 and was second on 3 occasions, including victories in the Predominate Stakes, the Grand Prix de Deauville and the Geoffrey Freer Stakes.
ISBN 978-0-9957632-0-3

652 pages

774 former courses

ISBN 978-0-9957632-1-0

352 pages

400 former courses

ISBN 978-0-9957632-2-7

180 pages

140 former courses

ISBN 978-0-9957632-3-4

264 pages

235 former courses

Copies of the above books are only available by emailing johnwslusar@gmail.com stating your requirements, method of payment (cheque payable to W.Slusar) or Bank transfer, and the address where the book(s) should be sent.

ORDER FORM
Download an order form
Quantity
Cost
Volume 1 North of Hatfield £19.99 + £4 postage
Volume 2 South of Hatfield £14.99 + £3 postage
Volume 3 Wales & Scotland £9.99 + £3 postage
Volume 4 Ireland £9.99 + £3 postage
Volumes 1 - 4 £54.96 + £5 postage
Postage & Packaging
Total
Email order form to johnwslusar@gmail.com