LONE STAR PARK RACECOURSE
The Lone Star Park racecourse is situated between Dallas and Fort Worth in the state of Texas, covering 315 acres, and has a dirt track racing circuit of a mile oval as well as a 7 furlong turf track for sprint races. Its inaugural meeting took place on 17th April 1997. It holds a Spring racing season extending from April until July and regularly entertains up to 8,000 punters in its grandstand.
Its principal race days are the Lone Star Million Day, the Dallas Turf Cup Day and the Texas Mile Day. Its principal races are the Lone Star Derby, the Texas Mile Stakes, the Dallas Turf Cup, the Ouija Board Handicap and the Lone Star Park Handicap.
The Lone Star Derby is run over 8 and a half furlongs and was won in 2012 by Thirtyfirststreet ridden by Chris Landeros.
The Texas Mile Stakes was won in 2012 by Endorsement ridden by Robby Albrado. Littlebitlively was lively enough in 1998 and 1999 to complete the double in this race.
I am grateful to Richard Gauthier, our American Racing Correspondent, for the scans of the 2004 Owners, Trainers and VIP badges shown below.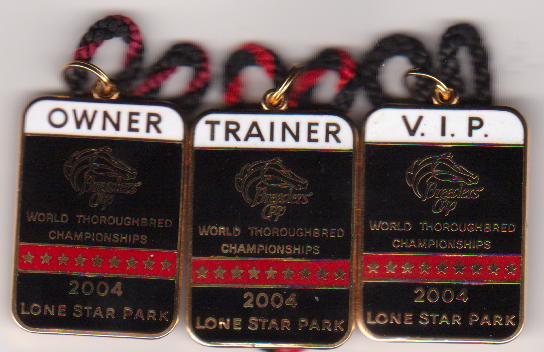 The Ouija Board Handicap is over 8 furlongs and was won in 2011 by Wasted Tears when ridden by Julien Leparoux. Remarkably this completed the treble for the horse, although it was ridden in 2010 by Cliff Berry, and in 2009 by Eguard Tejers.
The Lone Star Park Handicap is contested over 8 and a half furlongs and was won in 2012 by Nates Mineshaft when ridden by Donald Simington. In 1998 and 1999 Mootha Express completed the double.
Lone Star Park had the honour of hosting the 2004 Breeders Cup. Use the link to research Cup history.
If you have badges, racecards, pictures of the racecourse or further details about the course, including your memories, then email johnslusar@fsmail.net