MACAU RACECOURSE
The Taipa racecourse is in Macau, which became part of China in 1999 but still remains autonomous. Racing is now administered by the Macau Jockey Club, who took over the course from the Macau Trotting Club in 1989. The land had originally been used for harness racing, but the Jockey Club saw the potential for thoroughbred horse racing. The course is a turf track with circumference 1600 metres, with a run-in of just under 400 metres. Inside the turf track is a sand track with circumference of 1400 metres.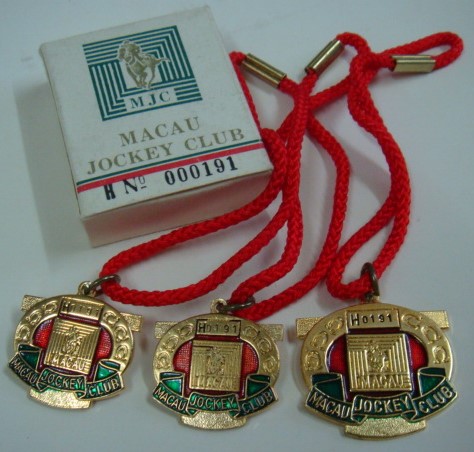 The principal race is the Macau Derby which is run each April over 1800 metres for 4 year olds. It was first run in 1992 when Let Us Famous was the winner. More recently, in 2013 the winner was Lucky and Wealthy. There are two other Group 1 races at the track, the Macau-Hong Kong Trophy over 1500 metres for 4 year olds and upwards, and the Chairman's Challenge Cup over 1200 metres for 3 year olds and over. The Macau Hong Kong Trophy was first contested in 2004 when Brett Doyle rode Crown's Gift to victory. April also sees the running of the Macau Sprint Trophy, whilst in May the Gold Cup is contested.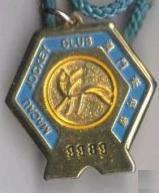 Other feature races are held in June and August. In June the Group 2 Director's Cup is run over 1500 metres for 3 year olds and over. Also in June the Winter Trophy is over 1800 metres for 3 year olds and upwards. In August the Summer Trophy is contested over 1200 metres for 3 year olds and over.
For further information go to www.mjc.mo
If you have badges, racecards, pictures of the racecourse or further details about the course, including your memories, then email johnwslusar@gmail.com