1984-1993 Jumbo Wilkinson
Benjamin Edward Wilkinson, born on 14th May 1932 in Sedgefield, was 17 when he had his first ride in public aboard Vernon Arms on Saturday 21st January 1950 at Wetherby and regularly rode for Ashgill trainer Jack Fawcus in his early career. He rode in the Grand National on 7 occasions, firstly in 1953 when unplaced on Cream of the Border for G B Mackie, beaten by Early Mist. He then gained a creditable fourth place on Glorious Twelfth for H J Joel in 1957, beaten by Sundew, and ran unplaced on the same horse the next year behind Mr What. In 1959 he was on Pintail for J P Bissill when beaten by Oxo, but his best performance was in the 1960 National behind Merryman II when Jumbo finished third on Clear Profit. He had two more unsuccessful mounts, in 1961 on Siracusa, and in 1963 on College Don. However, he did record some of his highest profile wins an Aintree, notably in the 1960 Grand Sefton on Ernest 20/1 trained by Bobby Renton, and the 1960 Becher Chase on Clear Profit 4/1 trained by R Newton. He won the 1959 Mildmay of Flete Chase at the Cheltenham Festival aboard Siracusa for Mrs E Truelove, and had previously won the 1957 Rowland Meyrick Chase at Wetherby on Symaethis Nephew. He also won the inaugural running of the Champion Novice Chase on Glorious Twelfth when it was contested at Manchester. His final winning ride was on Easter Monday, 27th March 1967 on Toledo Steel at Carlisle, and after experiencing one too many falls, he finally hung up his riding boots. In a career spanning 17 years he notched up more than 300 winners and was fully equipped for the next stage of his racing career as a trainer. He began by assisting Jack Fawcus at Ashgill, a trainer he had served his apprenticeship with between 1948 and 1953, and one he had ridden for successfully many times. However, on 30th May 1967 Jack Fawcus was tragically killed in a car crash on his journey to Uttoxeter races, and Jumbo successfully applied for a temporary trainers licence. Wilkinson was terribly upset about the death of his mentor and great friend Fawcus, but he knuckled down to the task in hand, and sent out his first winner just 2 weeks after taking out the licence. That inaugural winner was Bubbled Over, who won the Hurn Apprentice Selling Handicap at Beverley on 14th June 1967. During that 1967 season he took on the 21 Fawcus horses and, despite his success, he left Ashgill for Tupgill at the end of the season and was replaced by Ernie Weymes. Jumbo spent 16 years at Tupgill, starting in 1968 with 13 horses, but by 1973 his string had increased to 18, the largest number he ever trained. He was content to train around 14 horses annually, give or take a couple, and he always got the best out of his horses. Kelso Chant was one such horse, winning 15 races, including the prestigious Long Walk Hurdle at Ascot in 1978. In 1973, with his stable size at its maximum, he captured the Premier Long Distance Hurdle at Haydock with Be My Guest, owned by D Lennon and ridden by Brian Fletcher in the same year Fletcher won the Aintree Grand National on Red Rum. At the end of the 1983 season Jumbo left Tupgill and transferred his string of 12 to Fell View in East Witton. Whilst at Fell View he recorded his most memorable success in the 1986 Scottish Grand National with Hardy Lad 28/1 who was ridden by Micky Hammond, and owned by Mrs Antonia Milligan, grandmother of Kate Milligan who later replaced Wilkinson at Fell View.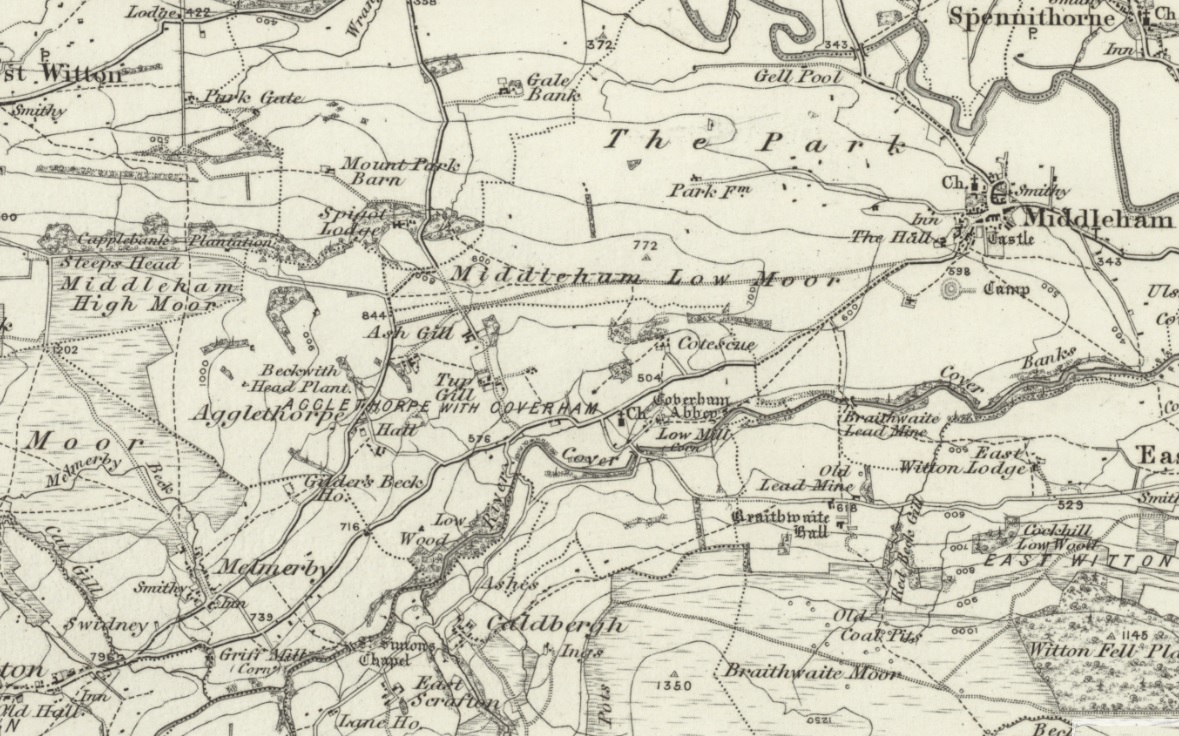 Jumbo also won the Marston Moor Chase at Wetherby with Armagret, a multiple winner for Jumbo. Between 1984 and 1993 Jumbo trained successfully at Fell View; his maximum number of horses in that time was 15 in both 1985 and 1986, but by 1992 he had dipped to 10, and a year later, when down to just 5, he decided to end his glorious training career, having trained over 200 winners in a training career spanning 26 years. His final victory was at Market Rasen in the Daffodil Novices Handicap Chase with Netherby Said ridden by Tony Dobbin. He continued to live at Fell View after his retirement, despite Kate Milligan taking over the stables, but he died on 23rd April 2000 aged 67.
1997-February 2001 Kate Milligan
Kate Milligan, born in Scotland in 1960 into a family of 5 children, 3 boys and 2 girls, travelled to Middleham to work for Neville Crump at Warwick House. She loved working with horses and rode as an amateur under both codes, although she was better known as a successful event rider, qualifying for the British Novice Championship Finals. In 1989 she began training as a permit-holder, basing herself on Kirkgate, sending out her first winner, Scandalous Rumour at Musselburgh in the Harperrig Novices Hurdle on 23rd January 1989 and she achieved two more winners before deciding to join Mick Hammond, who was then based at Tupgill. She was assistant to Micky Hammond for 4 years, but in the 1995-1996 season she successfully applied for a public trainers licence and began training from Brough Farm with 14 horses, spending a further year at Brough Farm before transferring her string of 15 to Fell View Stables in Eat Witton. During the 5 years she was at Fell View she had 13 horses in 1998, increased to 15 in 1999, and after a good year in 1999 her string expanded to 23 in 2000. Three of her best horses at Fell View were Oriel Lad, Lord Pat and Maremma. Oriel Lad won a number of important Sellers, especially at Sedgefield, while Maremma, owned by A F Monk and Associates, won the Harrow Hotel Dalkeith Hurdle at Kelso. Lord Pat triumphed in the Stakis Casino Novices Handicap Hurdle at Musselburgh. In February 2001, with a dozen horses in her stables, she departed for Castle Stables, in the centre of Middleham, with a clear view of the ancient Castle, replacing Patrick Haslam who had already moved across the road to the larger Manor House Stables.
1998 John Wade Handicap Hurdle at Sedgefield ORIEL LAD 6/1 owned by Dave Teasdale, trained by Kate Milligan and ridden by F Leahy
1998 Harlequin Party Tent Handicap at Carlisle ORIEL LAD 6/1 owned by Dave Teasdale, trained by Kate Milligan and ridden by F Leahy
1998 John Wade Hino Truck Handicap Hurdle at Sedgefield LORD PAT 11/4 fav owned by The LP Club, trained by Kate Milligan and ridden by F Leahy
1998 Harrow Hotel Dalkeith Novices Hurdle at Kelso MAREMMA 7/4 fav owned by A F Monk & Associates, trained by Kate Milligan and ridden by F Leahy
1998 John Wade Handicap Hurdle at Sedgefield ORIEL LAD 7/2 fav owned by Dave Teasdale, trained by Kate Milligan and ridden by F Leahy
1999 Orton Conditional Jockey Handicap Hurdle at Sedgefield ORIEL LAD 8/1 owned by Dave Teasdale, trained by Kate Milligan and ridden by Jodie Mogford
1999 Stakis Casino Novices Handicap Hurdle at Musselburgh LORD PAT 7/1 owned by The LP Club, trained by Kate Milligan and ridden by F Leahy
1999 Mail on Sunday Conditional Jockey Handicap Hurdle at Market Rasen MAREMMA 6/1 owned by A F Monk & Associates, trained by Kate Milligan and ridden by Jason Maguire
2001 Betsmart Handicap Hurdle at Newcastle LORD PAT 14/1 owned by The LP Club, trained by Kate Milligan and ridden by Barry Keniry