MOUNTAINEER RACECOURSE
The Mountaineer racecourse can be found in the town of Chester in the state of West Virginia and caters for thoroughbred racing enthusiasts throughout the year. It held its inaugural meeting in 1951. It makes use of 2 tracks, one of which is just over a mile in circumference, whilst the turf track is a mile round.
Its principal races are the West Virginia Derby, the Panhandle Handicap and the West Virginia Governor's Handicap.
I am grateful to Darb Rolyat for the scan of the West Virginia Derby Trophy shown below which was presented to Mrs Horatio Luro, owner of the 1963 winner Etimota who won by a record breaking 12 lengths. It was trained by Darb's step father Patsy Santo. Amazingly Patsy won the next 3 Derbys with Peter Le Grand in 1964, Pantuity in 1965 and in 1966 it was with Etimota's sister Kerensa, which was also owned by Mrs Luro. Both Etimota and Kerensa were fillies beating the colts.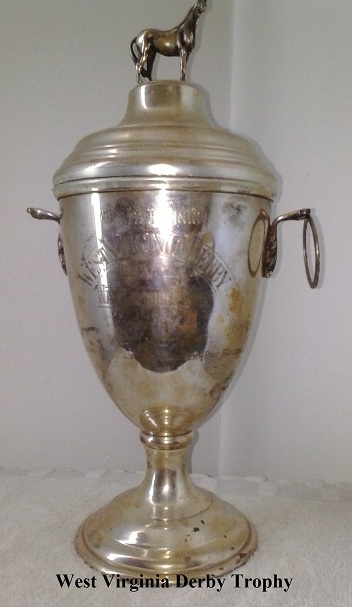 If you have badges, racecards, pictures of the racecourse or further details about the course, including your memories, then email johnslusar@fsmail.net