POMPANO PARK RACECOURSE
Set on Pompano Beach in Florida, the Isle Casino Pompano Park racetrack is known as the 'Winter home of Harness Racing' as the track is able to race during the winter months when other American tracks are forced to close because of the inclement weather. The track does have a close season during June, July and mid-August, but is able to offer live racing for almost 10 months of the year. It has a tight race track of 5/8ths of a mile circumference and opened for racing on 4th February 1964, being the brainchild of Frederick Van Lennen.
The track was originally designed in 1926 and was bankrolled by William L Kester. As well as offering competitive Harness Racing it also allowed amateur drivers the opportunity to compete in motor races, although this only lasted for a brief period.
It is a popular course and can host over 7000 people in its grandstand, particularly necessary around the time of the Broward County Fair.
I am grateful to our American Racing Correspondent Richard Gauthier for the badge shown below.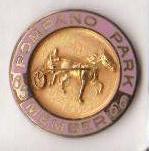 If you have badges, racecards, pictures of the racecourse or further details about the course, including your memories, then email johnslusar@fsmail.net