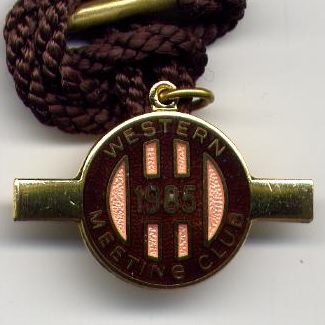 Although some records indicate that a race meeting took place in the vicinity of Ayr in 1576, when the starter and his assistant were both shot in the leg, the first results published from Ayr were in 1771 when Phillipo, owned by Sir John Douglas, won a £50 race. By 1777 the meeting, held at the burgh moor at Bellisle, had extended to five days, but it was to be a further 27 years before the inaugural running in 1804 of the Ayr Gold Cup, at that stage a 2 mile race, which was won by Chancellor. He repeated the feat the next year for owner Lord Cassillis. On Monday 15th October 1804 Ayr staged His Majesty's 100 Guineas Plate over 4 miles which saw Lord Belhaven's Brandon defeat sole rival Mountpleasant, owned by Mr Lupton. The next day the inaugural running of the Ayr Gold Cup took place over 2 miles.
Tuesday 16th October 1804
Ayr Gold Cup over 2 miles
1. Chancellor, by Trimmer, owned by Lord Cassillis 1 1
2. Unnamed colt by Hamilton, owned by Sir H Dalrymple 2 dr
3. Unnamed bay horse owned by Mr Oswald 3 dr
In 1824 the famous Western Club were formed to promote the interests of racing in the area and, for the first time, the Racing Calendar recorded the fixture as the "Western Meeting". The Ayr Gold Cup became a handicap race in 1855 but it was to end in controversy when Thomas Aldcroft dismounted from the first passed the post before returning to the winners enclosure and was duly disqualified, the race being awarded to John Dory. The course at Bellisle was a very tight, oval course, with bends so sharp that some thought them dangerous, and at the start of the 20th century the Western Club sought a suitable site for a new course. In 1904 they found what they were looking for, purchasing 150 acres on the Craigie estate. On Wednesday 18th September 1907 the new course opened and within a year there were four regular fixtures. Meanwhile, the Belleisle course was left behind to become the very successful Seafield Golf course. Racing ceased during the war years, resuming in 1919 when the Ayr Gold Cup was won by Lord Derby's Beresina. During the Second World War the course was taken over by the Army for the duration of the War, but racing resumed soon afterwards. The year 1950 was an important year in the progression of the racecourse when Ayr staged its first National Hunt fixture, and reaped a reward in 1966 when, following the closure of Bogside, Ayr hosted the Scottish Grand National won by African Patrol. In 1974 Red Rum triumphed in the Scottish Grand National; a statue now acts as a celebration of that famous victory.
The course offers an impressive 35 days of racing annually, including ten Festival or Feature days. The highlight remains the Ayr Gold Cup staged in mid-September.