TAMPA BAY DOWNS RACECOURSE
The Tampa Bay Downs racecourse is situated in the State of Florida at Tampa, and was the brainchild of Harvey Mayers and Matt Winn. It first opened its doors to racing in 1926. It currently holds regular meetings from December to May.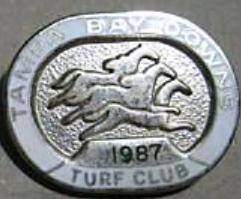 By 1946 the track was renamed Sunshine Park and enjoyed a period of refurbishment and new facilities, including a photo finish and starting gates.
In 1965 it was, once again, renamed this time as Florida Downs, but by 1980 had reverted to Tampa Downs. When Stella Thayer took over the ownership in 1986 it once again became known as Tampa Bay Downs.
Its principal races are the Group 3 Florida Oaks, the Tampa Bay Derby, the Hillsborough Stakes and the Breeders Cup Stakes.

The Tampa Bay Derby, run over 8 1/2 furlongs, was first contested in 1981 when the David Ashcroft ridden Paristo was successful. The latest running in 2009 was won by Musket Man ridden by Daniel Centeno and trained by Derek Ryan.
If you have badges, racecards, pictures of the racecourse or further details about the course, including your memories, then email johnslusar@fsmail.net