The New South Wales town of Tumut, on the banks of the Tumut River, is located in the Riverina region of the state some 250 miles south-west of the state capital Sydney. The region was originally inhabited by the Wiradjuri people until European settlers began arriving in the mid-19th century. Today the town benefits from its own racecourse, run by the Tumut Turf Club, which lays claim to being one of the oldest Racing Clubs in the state having been formed in the 1850s.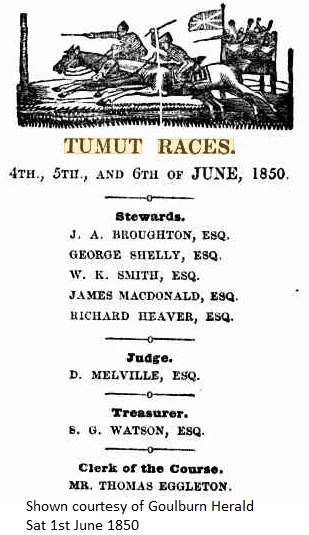 Indeed, the earliest record of a three day meeting was in 1850, as shown by the flyer opposite. However, in the early days, whilst the races were freely advertised, race results were seldom included in the papers. By 1858 full results were being given, and the feature race results from the three day meeting which ran from Tuesday 23rd to Thursday 25th March 1858 are shown below.
Tuesday 23rd March 1858
Maiden Plate of 60 sovereigns
1. Peter Simple owned by Mr T Davis
2. Valentine owned by Mr P McAllister
3. Queen of Trumps owned by Mr N Carberry
Wednesday 24th March 1858
Two Year Old Stakes for 20 sovereigns
1. Whalebone owned by Mr R W Wilson
2. Reuben owned by Mr Kent
3. Green Linnet owned by Mr Madrigan
Thursday 25th March 1858
Tumut Town Plate for 60 sovereigns
1. Sampson owned by Mr McAllister
2. Great Brittain owned by Mr John Meyer
3. Empress owned by Mr Stedworthy
After the races a Race Ball was held at Davis's Assembly Rooms.
The meeting on Thursday 23rd March 1876 was attended by a young man named T A Woodbridge. He witnessed the Tumut Cup which was won by Right Bower ridden by Coffey, beating Emerald ridden by Byrne and Lady Jane ridden by Lintott. This, in isolation, might not seem important until one realises that he also witnessed the Tumut Cup which was held on Thursday 15th February 1951 having witnessed 75 consecutive Tumut Cups. Quite rightly the T A Woodbridge Handicap was run on that day to mark his wonderful achievement.
Thursday 15th February 1951
Tumut Cup over 1 mile
1. Peter Robinson (5/2) owned by Mr O Minty and ridden by F McIntyre
2. Red Gem (4/1) owned by Mr L Walter and ridden by R Pearse
3. Sanfoil (33/1) owned by Mr C Webster and ridden by R Thatcher
8 ran
The highlight of its racing year is the Tumut Cup over 1400 metres which currently takes place on or around the second Saturday in January.
Recent Tumut Cup winners
(A full list of winners is available on request)
2009 Tumut Cup ($8,450) over 1400 metres was won by Lacryma Star (7/1) trained by N E Loy and ridden by Brendan Ward, beating Aurville and Lynlea's Lad 8 ran
2010 Tumut Cup ($6,500) over 1400 metres was won by Larrikin Joe (2/1 fav) trained by M A Hulm and ridden by Joel Maconachie, beating Universal Pack and Strike Me Happy 7 ran
2011 Tumut Cup ($6,500) over 1400 metres was won by Universal Pack (7/2) trained by Kerry Weir and ridden by Simon Miller, beating Hunting Lodge and Ambergris 9 ran
2012 Tumut Cup ($6,500) over 1400 metres was won by Thetoppie (16/1) trained by John Brennan and ridden by Bradley Vale, beating Fuhrsty and Larrikin Joe 10 ran
2013 Tumut Cup ($8,700) over 1400 metres was won by Hillbilly Dancer (100/30) trained by Sylvia Thompson and ridden by James Geppert, beating Thetoppie and Larrikin Joe 10 ran
2014 Tumut Cup ($8,700) over 1400 metres was won by Micalong (4/1) trained by Mick Miladinovic and ridden by Koby Jennings, beating Miss Bemuse and Thetoppie 10 ran
2015 Tumut Cup ($8,700) over 1400 metres was won by Brimstone (14/1) trained by Doug Cole and ridden by Kevin Sweeney, beating Thetoppie and Joranda Falls 9 ran
2016 Tumut Cup ($8,700) over 1400 metres was won by Ultima Chance (6/1) trained by Scott Collings and ridden by John Kissick, beating Ruary Mac and Hey Porter 10 ran
2017 Tumut Cup ($8,780) over 1400 metres was won by Kinselmac Manner (4/1) trained by George Osborne and ridden by Bryan Murphy, beating Sand Dune and Bondo 9 ran
2018 Tumut Cup ($8,660) over 1400 metres was won by Didn't Even Kiss Me (5/1) trained by Scott Spackman and ridden by Ms Wendy Peel, beating Bondo and Miss Farloo 8 ran