TURF PARADISE RACECOURSE
The Turf Paradise racecourse can be found in Phoenix in the state of Arizona and its first meeting was held on 7th January 1956. Its first founder was Walter Cruz who remained at the helm for 15 years. By the mid-1960s Turf Paradise was hosting over 100 days of racing per year and was billed as 'The finest Winter Racing Under the Sun'. Such a long season was made possible because of its joint meetings with Arizona Downs, all meetings being held at Turf Paradise.
By 1980 the track was increased in size when 6 furlong and 10 furlong chutes were added and an additional turf course developed. Herb Owens took over the running of the course and remained in place until 1989 when he was replaced by Robert Walker. Today the track consists of an 8 furlong dirt track and a 7 furlong turf track with 275 metre home straight. Its principal race is the Turf Paradise Derby run over 8.5 furlongs and first contested in 1986 over a mile when won by the Kenneth Hare ridden Chuck N Luck. The course is equally famous for hosting quarter horse racing. It has 3 graded quarter horse championships, including the Turf Paradise Quarter Horse Derby and Futurity.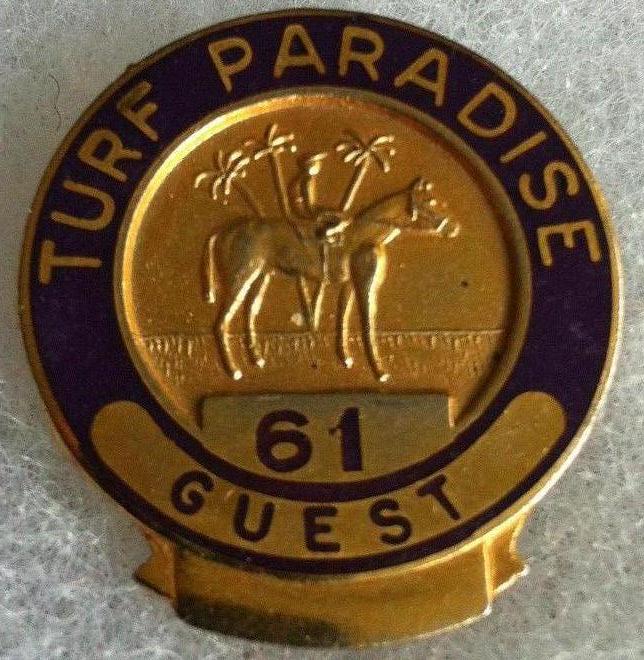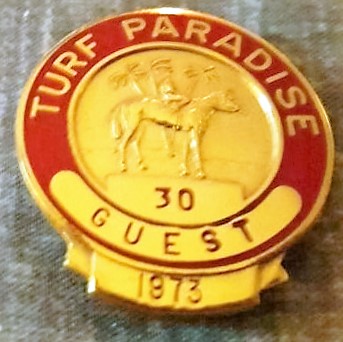 I am grateful to Richard Gauthier for the badges shown above.
Turf Paradise Derby winners since its inception in 1986
1986 The Turf Paradise Derby over 8 furlongs was won by Chuck N Luck trained by Creed Botts and ridden by Kenneth Hare
1987 The Turf Paradise Derby over 8½ furlongs was won by Three Phase trained by Bart Hone and ridden by Carl Kutz
1988 The Turf Paradise Derby over 8½ furlongs was won by Arts Angel trained by Neil French and ridden by Darrel McHargue
1989 The Turf Paradise Derby over 8½ furlongs was won by Stalixis trained by Doug Oliver and ridden by Alfredo Guerrero
1990 The Turf Paradise Derby over 8½ furlongs was won by Axe Age trained by Doug Oliver and ridden by Alfredo Guerrero
1991 The Turf Paradise Derby over 8½ furlongs was won by Honor the Hero trained by Doug Oliver and ridden by Tim Masters
1992 The Turf Paradise Derby over 8½ furlongs was won by Wavering Scene trained by Doug Oliver and ridden by Tim Masters
1993 The Turf Paradise Derby over 8½ furlongs was won by Smokin Albert trained by Zenon Lipowicz and ridden by Scott Stevens
1994 The Turf Paradise Derby over 8½ furlongs was won by Screaming Don trained by Lanny Sharp and ridden by Joey Castro
1995 The Turf Paradise Derby over 8½ furlongs was won by Speed Predicted trained by Doug Oliver and ridden by Jake Barton
1996 The Turf Paradise Derby over 8½ furlongs was won by Bombay trained by Kevin Lewis and ridden by Sandi Gann
1997 The Turf Paradise Derby over 8½ furlongs was won by White Hot trained by Kathy Walsh and ridden by Danny Sorenson
1998 The Turf Paradise Derby over 8½ furlongs was won by Availability trained by Walter Greenman and ridden by Garrett Gomez
1999 The Turf Paradise Derby over 8½ furlongs was won by Eagleton trained by Kevin Lewis and ridden by Isaias Enriquez
2000 The Turf Paradise Derby over 8½ furlongs was won by Gilty Moment trained by Richard Mandella and ridden by Luis Jauregui
2001 The Turf Paradise Derby over 8½ furlongs was won by Startac trained by Simon Bray and ridden by Alex Solis
2002 The Turf Paradise Derby over 8½ furlongs was won by Captain Squire trained by Donald Mills and ridden by Chance Rollins
2003 The Turf Paradise Derby over 8½ furlongs was won by Robledo trained by Vladimir Cerin and ridden by David Flores
2004 The Turf Paradise Derby over 8½ furlongs was won by Mambo Train trained by Marcelo Polanco and ridden by Emile Ramsammy
2005 The Turf Paradise Derby over 8½ furlongs was won by General John B trained by Roger Stein and ridden by Jon Court
2006 The Turf Paradise Derby over 8½ furlongs was won by Keagan trained by Scott Kruljac and ridden by Scott Stevens
2007 The Turf Paradise Derby over 8½ furlongs was won by Tie Rod trained by Joe Johnson and ridden by Juan Rivera
2008 The Turf Paradise Derby over 8½ furlongs was won by Nikkisgoldensteed trained by Robert Hess and ridden by Jon Court
2009 The Turf Paradise Derby over 8½ furlongs was won by Mayor Marv trained by Bob Baffert and ridden by David Flores
2010 The Turf Paradise Derby over 8½ furlongs was won by Dixie Commander trained by Steven Miyadi and ridden by Wilson Dieguez
2011 The Gene Fleming Breeders Derby over 8½ furlongs was won by Lewkacy trained by James Frey and ridden by Vince Guerra
2012 The Gene Fleming Breeders Derby over 8½ furlongs was won by Ten Ninety Seven trained by Jimmie Pickard and ridden by David Lopez
2013 The Gene Fleming Breeders Derby over 8½ furlongs was won by Red Zeus trained by Dan McFarlane and ridden by Kelly Bridges
2014 The Gene Fleming Breeders Derby over 8½ furlongs was won by J P Rocker trained by J Johnson and ridden by J Rivera
2015 The Gene Fleming Breeders Derby over 8½ furlongs was won by Prospectors Blues trained by Robert Hazel and ridden by Geovanni Franco
2016 The Gene Fleming Breeders Derby over 8½ furlongs was won by Scrap Iron trained by Kevin Eikleberry and ridden by David Vergara
2017 The Gene Fleming Breeders Derby over 8½ furlongs was won by Yo Y Me trained by Kevin Eikleberry and ridden by Ry Eikleberry
2018 The Gene Fleming Breeders Derby over 8½ furlongs was won by Fortified Effort trained by Kevin Eikleberry and ridden by Ry Eikleberry
If you have badges, racecards, pictures of the racecourse or further details about the course, including your memories, then email johnwslusar@gmail.com