WIMBLEDON GREYHOUND STADIUM
This site is not an official website for the track shown here and is neither approved or endorsed by the stadium. I am indebted to Richard English for the scans of badges on this page.
Greyhound racing first took place at the famous Wimbledon track on 19th May 1928 with the very first race being won by World of Roses. The track is situated at 0° 11' W 51° 25' N. The track has hosted some of the most prestigious races in the calendar, including The Laurels, the Puppy Derby and, when White City closed, the Greyhound Derby.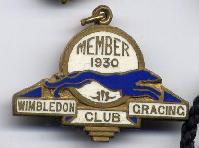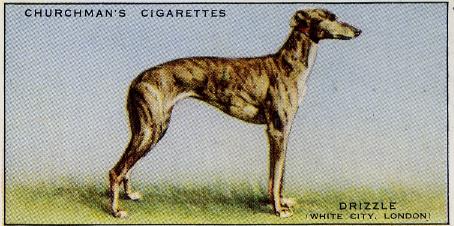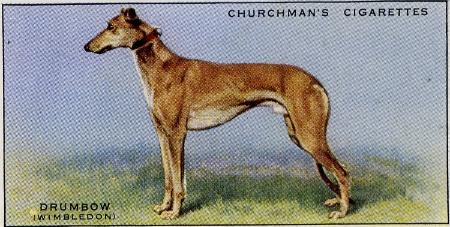 For detailed Wimbledon results, courtesy of Tony Nash, follow the links below:-
The Laurels Puppy Derby Champion Stakes Produce Stakes Gold Cup Christmas Vase Spring Stakes
Memories of a special Christmas Vase winner:-
I am grateful to Malcolm Dale who has fond memories of Wimbledon Stadium as a young man. He comments, 'My father used to own and race greyhounds at Wimbledon Stadium. He paid 28/- a week, which covered feeding, training, entrance fees for races and also provided him with a free pass for him, his wife and me on Mondays Wednesdays and Fridays, which were race days as he put some of the dogs in our name. We had a dog called Tourmailine Princess which was in my name, and it won the Christmas Vase in the early 1960s. A photograph of me, the dog, the Vase and a silver tray accepting the prizes in the middle of the track had pride of place in my house for many years. My mother made an arrangement with the silversmith who provided the trophies and we ended up with a full silver tea service - tray, teapot, milk jug, and sugar bowl tongs. Oh happy memories'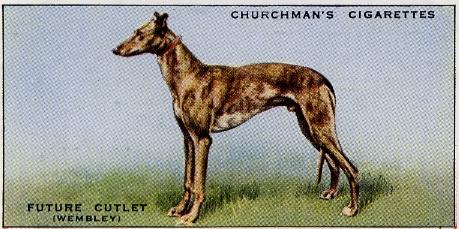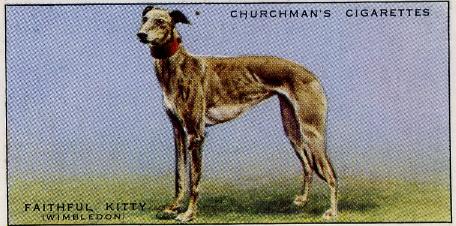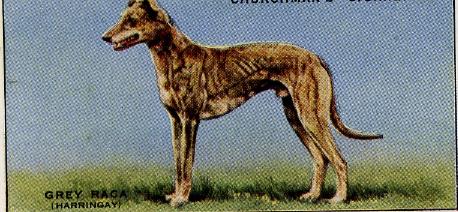 Track Records, as of 1935, are shown below together with an indication of how fast the time is in comparison to other tracks, both for currently open and defunct tracks, in the UK. Ratings are between 0 and 100, where 100 is an extremely fast time and reflects the speed of the track, tightness of the circuit and quality of greyhound visiting the tracks. I am grateful to Tony Nash for providing the data.
SPRINTS (up to 385m) STANDARD (386-549m) DISTANCE (550-699m) EXTENDED (700-999m)
Wimbledon Track Records at a snapshot in time:-
SPRINT 275 yards Tipperary Boy 15.7 secs Rating 10 27th August 1930
STANDARD 500 yards Davesland 28.32 secs Rating 17 24th August 1934
EXTENDED 700 yards Mick the Consistent 41.07 secs Rating 4 16th August 1935
Track Records as of 1947
SPRINT 275 yards Lone Keel 15.24 secs Rating 37 18th May 1938
STANDARD 500 yards Ballyhennessey Sandhills 28.08 secs Rating 25 27th July 1938
EXTENDED 700 yards Grosvenor Edwin 40.37 secs Rating 20 22nd March 1938
Track Records as of 1971
STANDARD 500 yards Shady Parachute 27.57 secs Rating 42 1968
EXTENDED 700 yards Delores Rocket 39.58 secs Rating 38 1971
Track Records as of September 2014
SPRINT 273 metres Skate On 15.82 secs. Rating 70 31st May 2014
STANDARD 480 metres Fiery Splendour 28.06 secs Rating 61 3rd May 2014
DISTANCE 687 metres Romantic Rambo 41.24 secs Rating 56 31st May 2014
EXTENDED 894 metres Taylors Riviera 55.53 secs Rating 40 29th June 2010
MARATHON 1080 metres Somer Lovin 69.64 secs Rating 67 7th July 2007
This section gives a comprehensive picture of the badges produced by the track throughout the ages, but only provides the briefest of glimpses of its history. For those wishing to undertake further research we can recommend a visit to

http://astore.amazon.co.uk/wwwgreyhoundd-21 where further reading can be undertaken.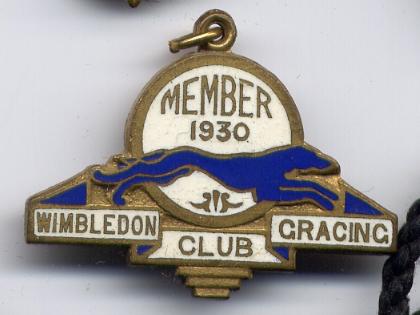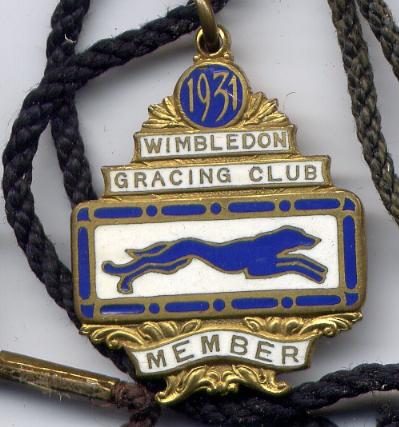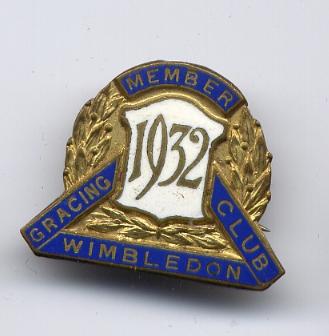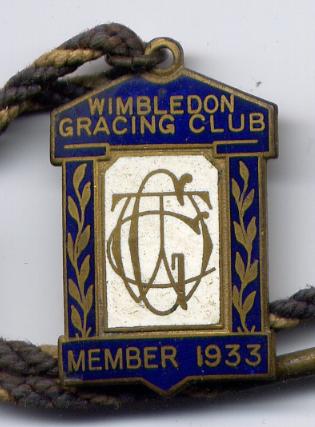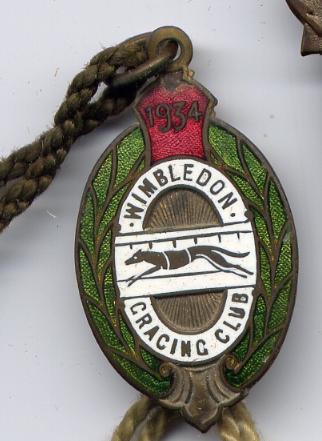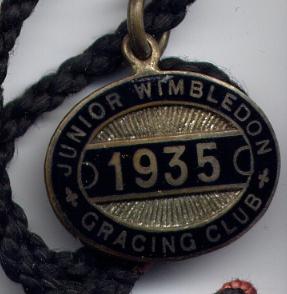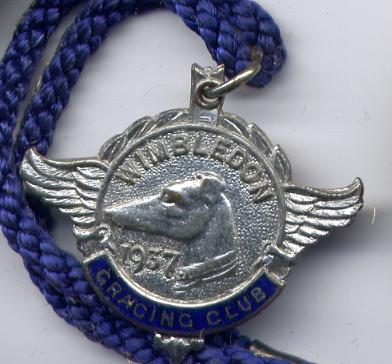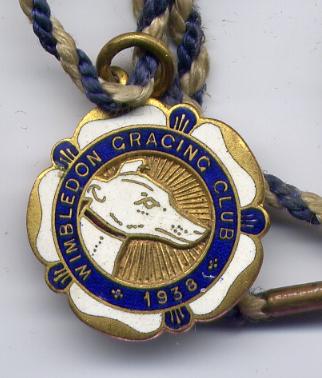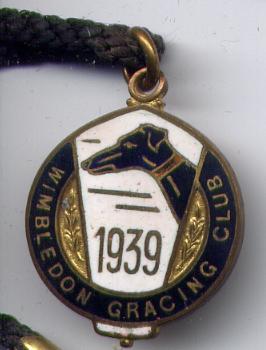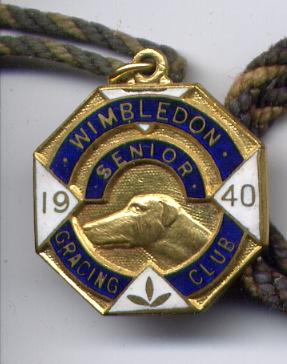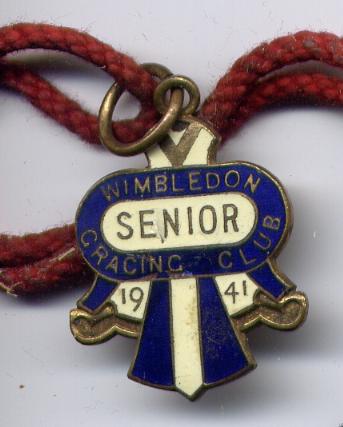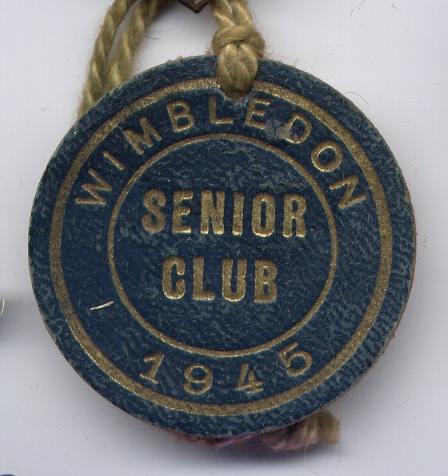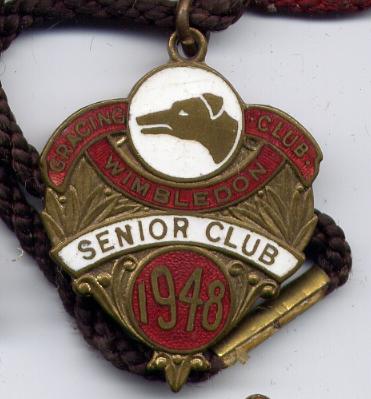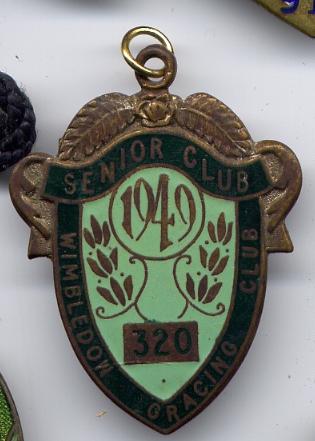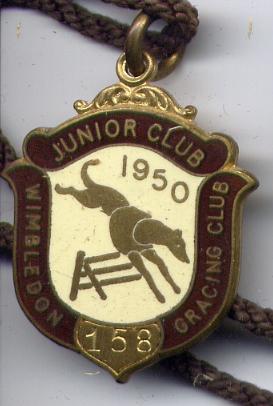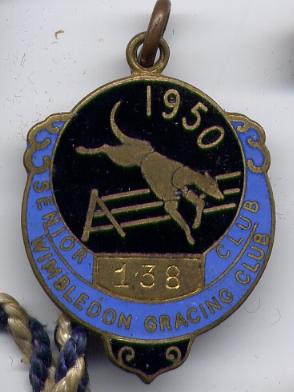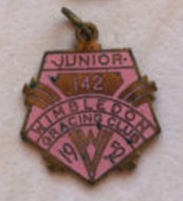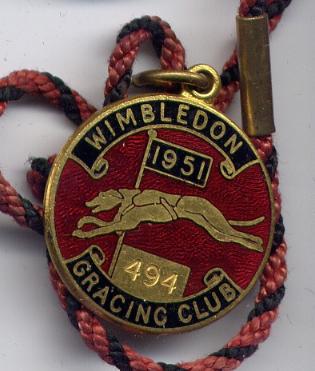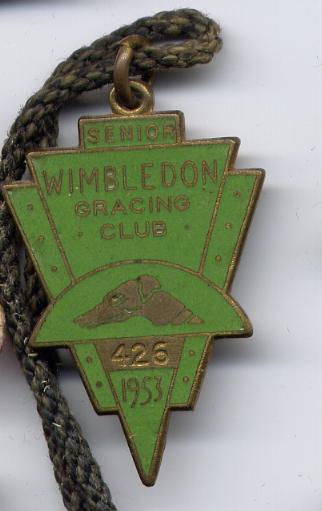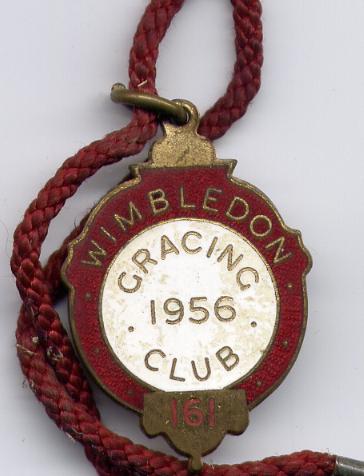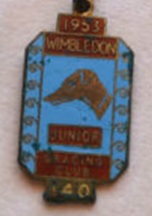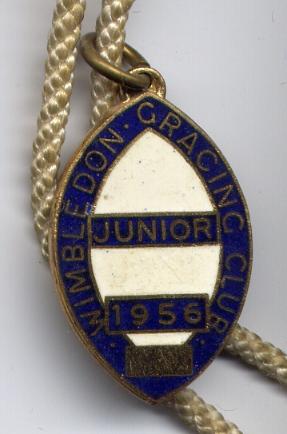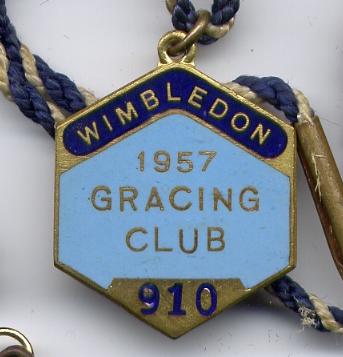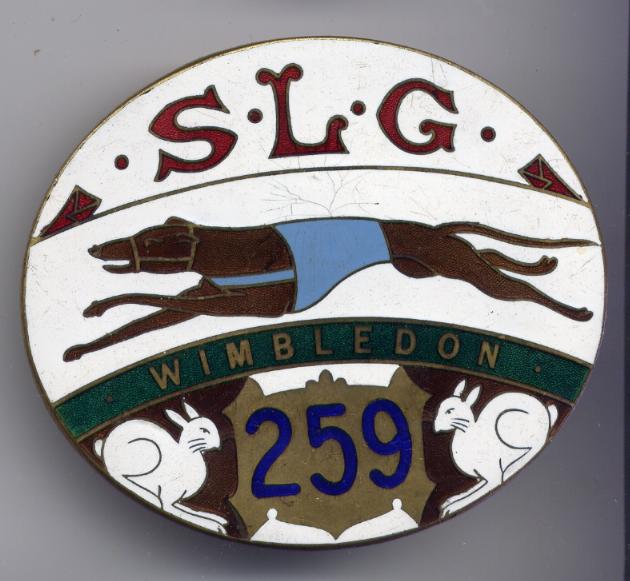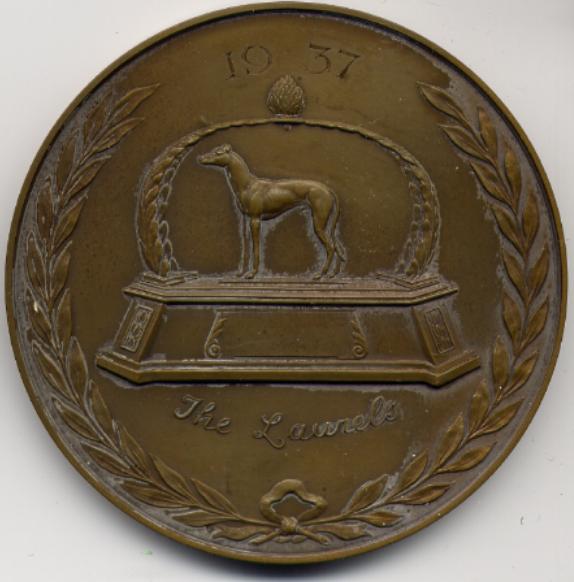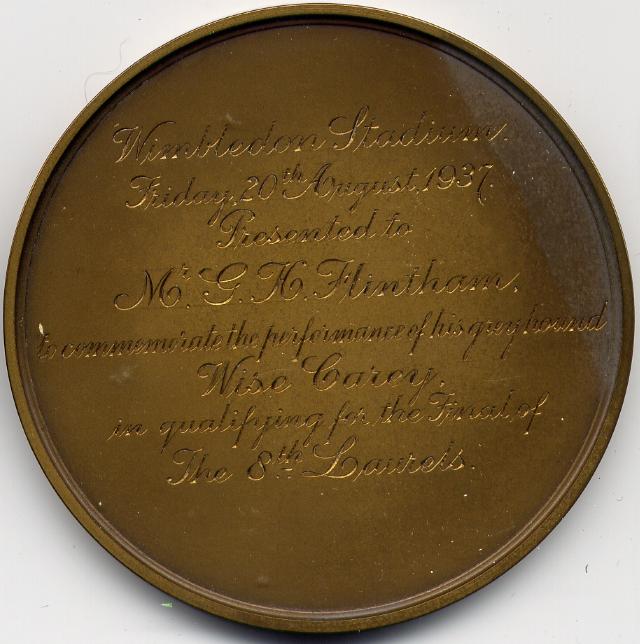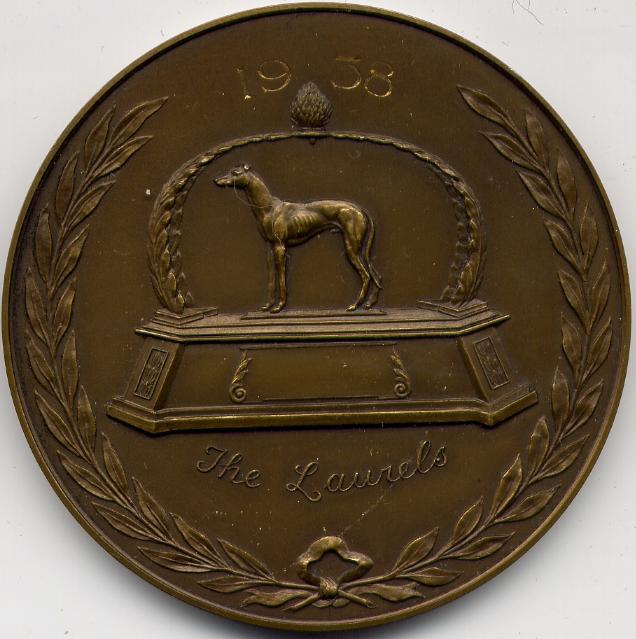 The Laurels was inaugurated at Wimbledon in 1930 with the first winner being Kilbrean Boy. The medal shown above was presented to one of the 1937 finalists, Derby winner Wattle Bark. He was owned by Mrs R H Dent and set a record 29.26 secs over the 525 yards of the 1937 Greyhound Derby. However, despite reaching the final of the Laurels he was no match for the favourite Ballyhennessy Sandills.

The second medal was presented to the owner of finalists Wise Carey but, once again, he was no match for the favourite Ballyhennessy Sandills who completed back to back wins.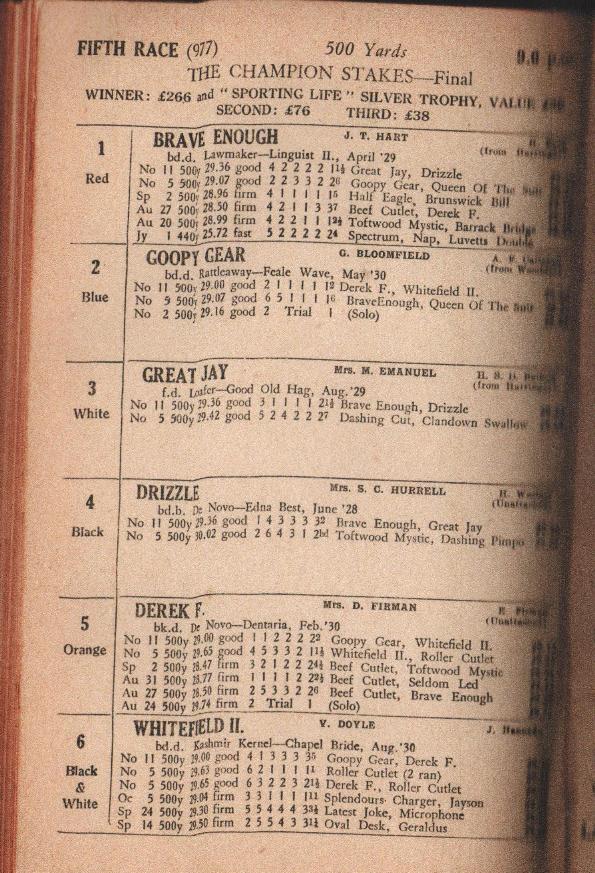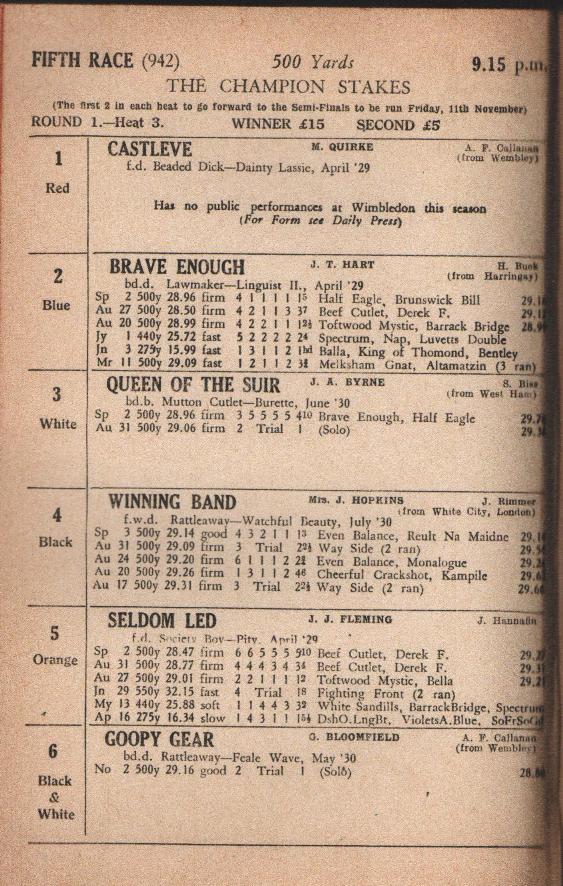 The first round heats of the Champion Stakes at Wimbledon in 1932 which included four outstanding greyhounds of the day.
Trap 2 Brave Enough-who won over £2000 in prizemoney. Winner of the 1931 Scurry Cup 1931 & 1932 cambridgeshire 1931 sprint championship run at Bradford and one time track record holder at Harringay.
Trap 3 Queen of the Suir-who in her career won the Irish Oaks in 1932, the Oaks at White City in 1932 & 1933, the Coronation Stakes twice in '33 & '34 plus other major competitons. She was a litter sister to Beef Cutlet and another top class bitch Bella.
Trap 5 Seldom Led-Winner of the Derby in 1931 as well as the Trafalgar Cup and Christmas Cup which were run at Wembley. He won half of all his open races.
Trap 6 Goopy Gear who won the heat in 28.87 by six lengths from Brave Enough with Queen of the Suir back in third. Goopy Gear was highly fancied for the following years Derby at White city but was disqualified for fighting Future Cutlet in one of the heats
Goopy Gear went on to win the final of the Champion stakes in 28.89 when beating Brave Enough. For some reason or other neither Wild Woolley nor Beef Cutlet were entered for the competition.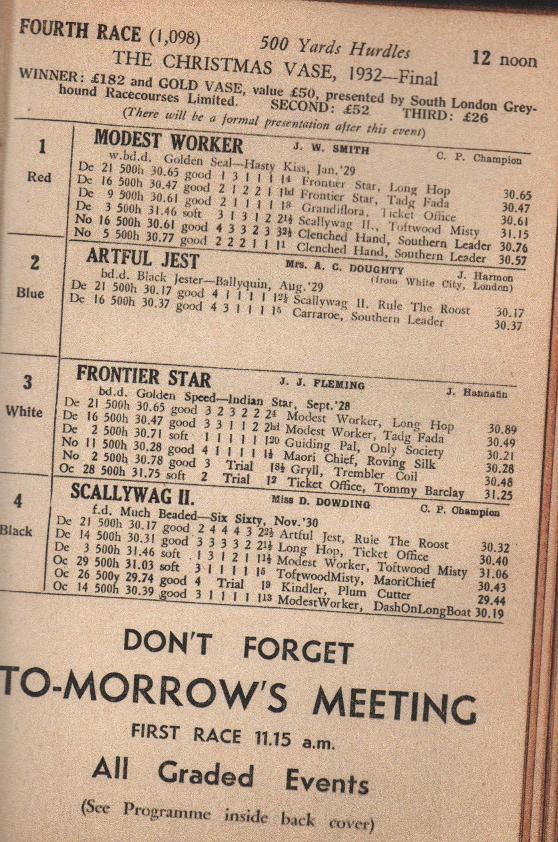 The final of the Christmas Vase; Does anyone know who won? Scallywag was an outstanding dog on his day. Also entered, but eliminated in the heats, were two national winners Rule the Roost and Long Hop.
Thanks are due to Tony Nash for the programme scans and the detail
I am grateful to Des Torrance for a more recent (over 50 years old) Laurels racecard shown below.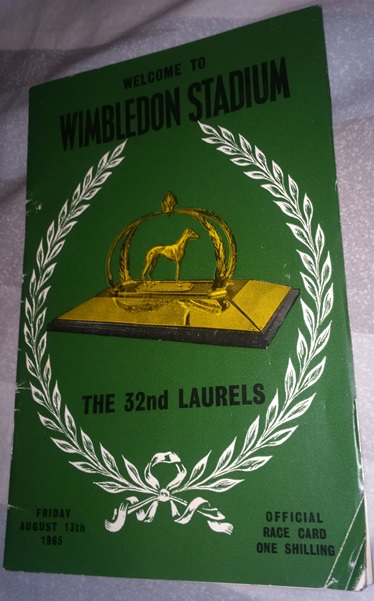 If you have rare Wimbledon badges and artefacts for sale then email johnwslusar@gmail.com