GULFSTREAM PARK RACECOURSE
Situated in the Hallandale Beach area of Florida, Gulfstream Park rightly boasts as being one of the most picturesque throughout the USA. Racing began at the track on 1st February 1939 when a crowd in excess of 18000 witness the first meeting. Although the War then intervened, the course reopened for business in 1944.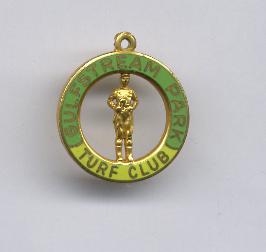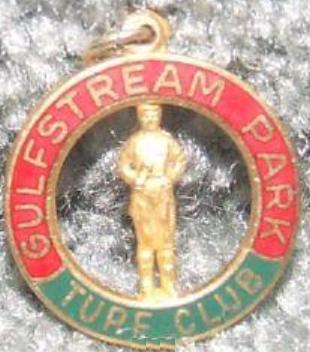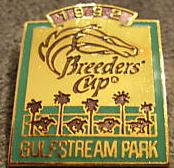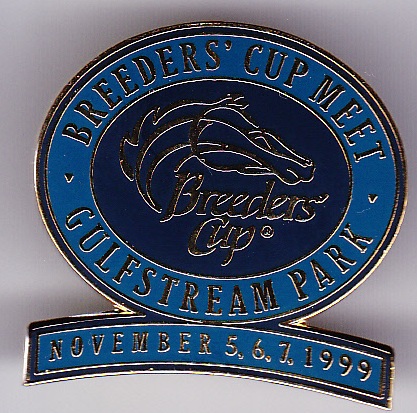 Facilities improved rapidly at the course, with the grandstand extension completed in 1952 reflecting this. The period between 1982 and 1986 saw further significant improvements. The course is famed for holding the Florida Derby, first run in 1952, and for the Gulfstream Park Handicap first begun 6 years earlier. Twice the track was sold in the nineties, firstly in 1991 when bought by Bertram Firestone, and then again in 1999 when the present owners Magna Entertainment Corporation purchased it.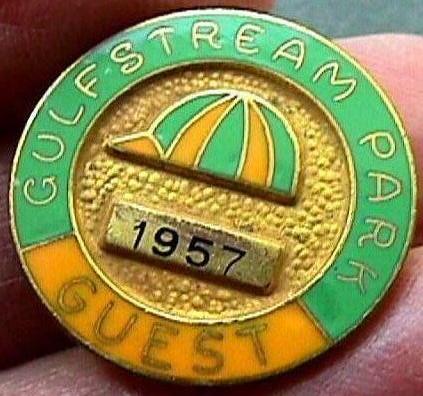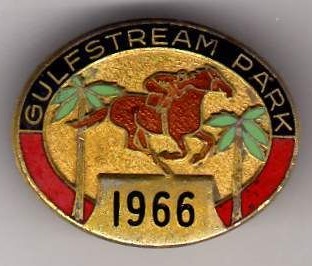 Shown opposite is a badge for the Breeders Cup meeting held at Gulfstream in 1999 from our American Racing Correspondent Richard Gauthier. The main race, the Breeders Cup Classic, was won by Cat Thief ridden by Pat Day.
The course hosts the Group One Donn Handicap, usually run in January or February, over 9 furlongs which was run for the first time in 1959 when One-Eyed King was victorious.
I am grateful to our American Racing Correspondent Richard Gauthier for the scan of the badges shown below.

The most famous race at the track is undoubtedly the Florida Derby for 3 year olds, a Group One race over 9 furlongs which was first run in 1952. That first winner was Sky Ship, and the latest winner the Kent Desormeaux ridden Big Brown.
Gulfstream Park had the honour of hosting the 1989 Breeders Cup. They also hosted it in 1992 and 199. Use the link to research Cup history.
If you have badges, racecards, pictures of the racecourse or further details about the course, including your memories, then email johnslusar@fsmail.net