HAWTHORNE RACECOURSE
The Hawthorne Racecourse is situated in Stickney in the state of Illinois and first held racing in 1891, with the grandstand and other facilities having been completed the previous year. Unfortunately in 1902 the grandstand was gutted by fire. Changes in gambling in Chicago in 1905 meant that horse racing suffered and the track closed, but for one short period in 1916, until 1922.
The principal races are the Group 2 Hawthorne Gold Cup and Illinois Derby, and the Group 3 Hawthorne Derby.
I am grateful to our American Racing Correspondent Richard Gauthier for the rare scan shown below:-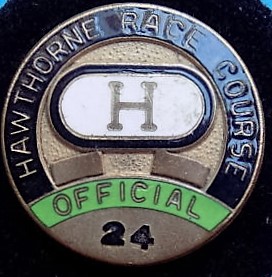 The Hawthorne Gold Cup is a 10 furlong race which has been held since 1928 when won by the John Maiben ridden Display. Sun Beam created a record by winning the next 3 runnings. The latest renewal in 2008 was won by Fairbanks.
The Illinois Derby is contested each April over 9 furlongs for 3 year olds and was first run in 1923 when In Memoriam was victorious. The most recent encounter in 2008 saw Recapturetheglory win.
If you have badges, racecards, pictures of the racecourse or further details about the course, including your memories, then email johnwslusar@gmail.com