TURF PARADISE RACECOURSE
The Turf Paradise racecourse can be found in Phoenix in the state of Arizona and its first meeting was held on 7th January 1956. Its first founder was Walter Cruz who remained at the helm for 15 years. By the mid-1960s Turf Paradise was hosting over 100 days of racing per year and was billed as 'The finest Winter Racing Under the Sun'. Such a long season was made possible because of its joint meetings with Arizona Downs, all meetings being held at Turf Paradise. A rare badge from Arizona Downs is shown below, courtesy of our American Racing Correspondent Richard Gauthier.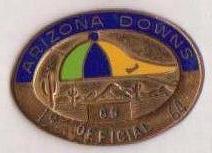 By 1980 the track was increased in size when chutes were added and an additional turf course developed. Herb Owens took over the running of the course and remained in place until 1989 when he was replaced by Robert Walker. The track consists of an 8 furlong dirt track and a 7 furlong turf track. Its principal race is the Turf Paradise Derby run over 8.5 furlongs and first contested in 1986 when won by the Kenneth Hare ridden Chuck N'Luck. More recently, in 2010 it was won by Dixie Commander ridden by Wilson Diequez.
The course is equally famous for hosting quarter horse racing. It has 3 graded quarter horse championships, including the Turf Paradise Quarter Horse Derby and Futurity.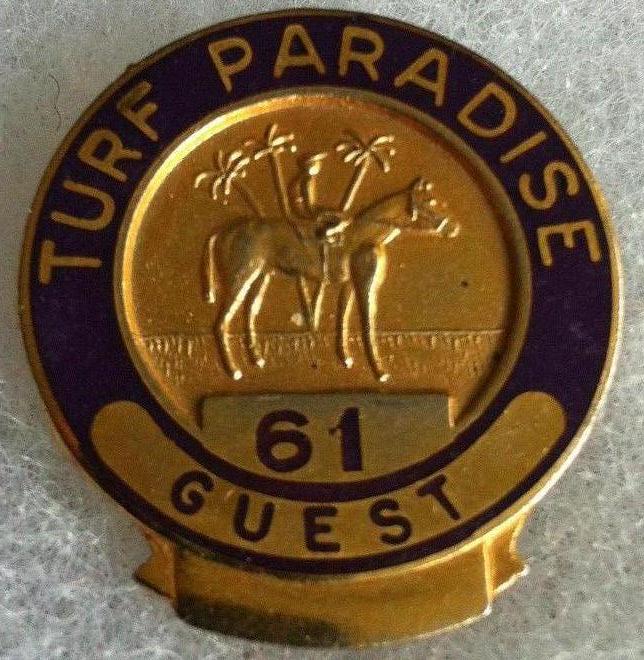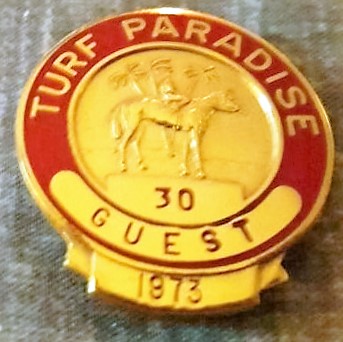 If you have badges, racecards, pictures of the racecourse or further details about the course, including your memories, then email johnslusar@fsmail.net