WATERFORD PARK RACECOURSE
The Waterford Park racetrack had a long, illustrious history having been originally known as Waterford Downs. It was the brainchild of Al Boyle who bankrolled the track and named it after the Irish family home where he had lived in Waterford. Whilst plans were in place to develop the track in February 1939, in the event delays and the Second World War meant that building work did not begin until July 1948. By 1950, with the track still not completed, the name was changed to Waterford Park racetrack and the inaugural meeting finally took place on 19th May 1951.

I am grateful to our American Racing Correspondent Richard Gauthier for the excellent set of badges shown above.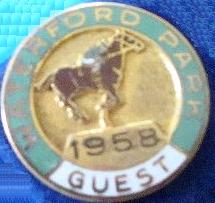 Mountaineer Racectrack is situated in Chester in the state of West Virginia and was thus named in 1990. Prior to this the racecourse was known as Waterford Park. It hosts the Group 2 West Virginia Derby for 3 year olds over 8.5 furlongs, which was first run at the track in 1963 when won by Etimota. The races history dates back to 1923 when held at Huntington and won by Tender Seth. The latest 2008 winner was Ready Set. More recently in 2012 the race was won by Macho Macho ridden by Corey Nakatani.
Other pricipal races at the track include the West Virginia Governor's Stakes and the Waterford Park Handicap.
Such is the esteem in which the racecourse is held that it was a contender to host the 2009 Breeder's Cup prior to it being awarded to Santa Anita.
If you have badges, racecards, pictures of the racecourse or further details about the course, including your memories, then email johnwslusar@gmail.com