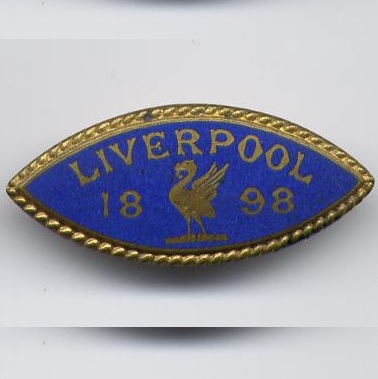 Aintree racecourse held its inaugural meeting on Tuesday 7th July 1829 in controversial circumstances. William Lynn, landlord of the Waterloo Hotel and mastermind behind the Waterloo Coursing Cup, was at odds with John Formby who had overseen the development of a course a few miles away at Maghull. Maghull was built on marshy ground, while Aintree had firmer foundations and, in the end, Aintree survived when Maghull fell by the wayside. Details of that very first meeting, consisting of 4 races, are shown below courtesy of the Leeds Intelligncer (Thursday 9th July 1829) and the British Library Online. In 1836 the Liverpool Grand Steeplechase was won by The Duke, ridden by Captain Martin Becher, and The Duke repeated the victory in the same race a year later in the hands of Henry Potts. In 1838 the Grand Steeplechase was held at Aintree when Sir William was victorious, while in 1839 the first Grand National took place when won by Lottery. Since then the race has captured the imagination and thoughts of the nation every year. Its greatest hero was Red Rum who contested the race 5 times, winning three times and gaining second place on the other 2 occasions. However, Aintree is no longer a one race wonder, with a great festival of racing built around the feature race.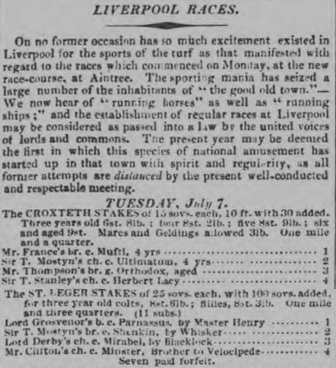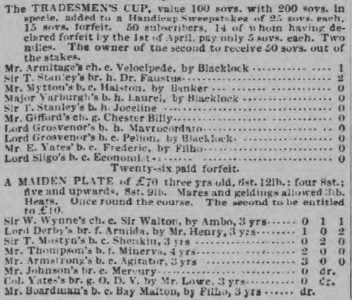 The course continues to be as popular as ever and offers the three day Grand National meeting as well as five other meetings, including an evening meeting and a Sunday card.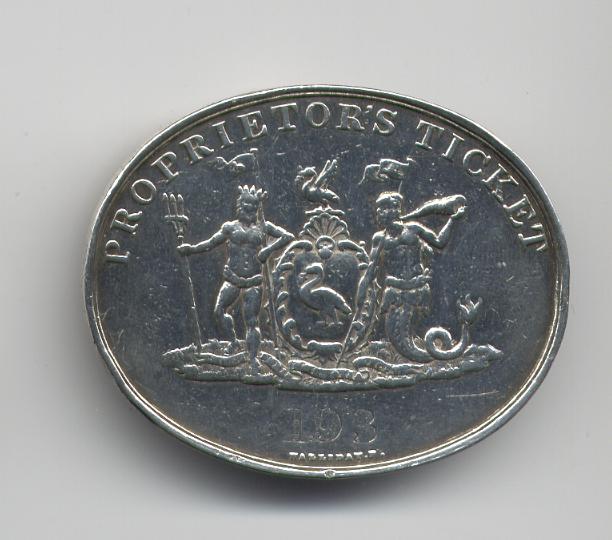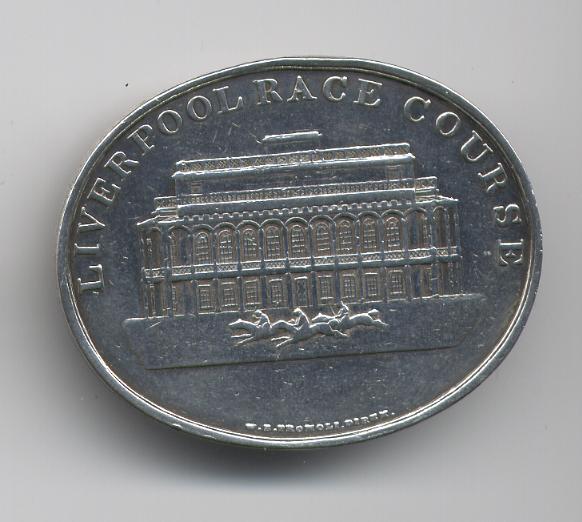 A postcard from the Aintree 1913 meeting is shown below.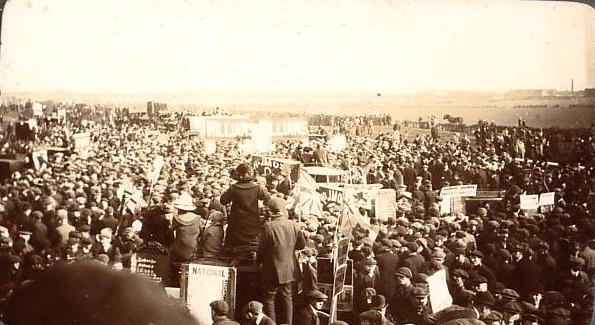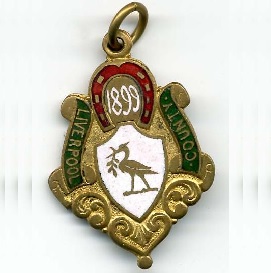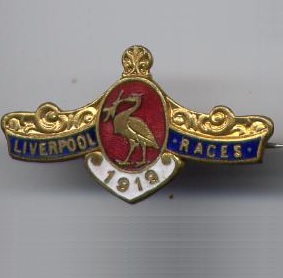 The earliest indications of a race meeting taking place in the vicinity of Maghull, near the Aintree district of Liverpool, was in 1808, possibly making use of Ormskirk racecourse. The two day meeting was staged on Wednesday 20th and Thursday 21st July 1808, opening with a 2 mile Sweepstake which was won by Mr Benson's Dimple. The next day the Royalty Gold Cup over 4 miles saw The Duke of Hamilton's Peter Little overcome Sir W Gerard's Julius Caesar. However, the meeting ceased in 1815, as did a number of local meetings in that same year. By 1827 a local farmer John Formby, joint owner with his wife Helen of Maghull Hall and its estate, re-established racing at Maghull, albeit Flat racing, on a very marshy area of his Old Racecourse Farm off the Sefton Road. The inaugural three day meeting started well on Wednesday 25th July 1827, but the next day there was torrential rain overnight and all day, turning the ground back into a marsh. The massive crowd had almost nowhere to shelter, save a grandstand leased by William Lynn for the occasion. The racing suffered from the state of the ground and the local Racing Committee implored Formby to improve the state of the course or risk it being superseded by a course just down the road at Aintree. At the three day meeting from Wednesday 23rd to Friday 25th July 1828 the first two days went well, but then incessant rain returned on the final day, bringing with it marshy ground and further problems for John Formby. Despite his many problems at Maghull, Formby continued to stage meetings each May, although they clashed with Chester, while Aintree continued with their summer meetings. The final Maghull meeting was in May 1835, with results shown below, after which William Lynn purchased the rights for the meeting and subsequent May meetings were transferred to Aintree.
Wednesday 13th May 1835
The Formby Stakes over 1 ½ miles
1. Masetto, brown colt owned by Sir J Boswell
2. Intriguer, bay colt owned by Sir T Stanley
3. Mrs Oakley, chestnut filly owned by Mr Fox
4. L'Hirondelle, chestnut filly owned by Mr Mostyn