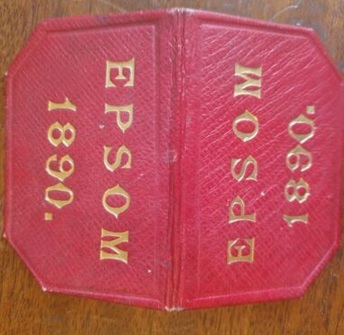 The earliest evidence of racing on the famous Epsom Downs was on 7th March 1661 at a meeting attended by King Charles II, which Samuel Pepys later confirmed in his diaries. The London Flying Post reported a three day meeting taking place from Thursday 27th to Saturday 29th November 1701 when the main contests were a £20 Plate and a Galloway Plate. By 1711 meetings were staged at nearby Banstead with races run over 4 miles, after which the horses were then rubbed down at the Rubbing House. Today a similarly named pub commemorates this process. The Oaks, the fillies Classic, took place on Epsom Downs on 14th May 1779 when won by the Lord Derby owned Bridget. A year later the first Derby Stakes was won by Sir Charles Bunbury's Diomed, ridden by S. Arnull on 4th May 1780. Every Derby result is accessible using the links below. At Epsom 47 years later, in 1827 William Dorling produced the first racecard complete with runners, riders, betting forecast and colours. On Wednesday 3rd June 1840 Dorling produced a very special silk racecard for Queen Victoria who attended the Derby, witnessing Little Wonder win for owner Mr D Robertson. She never attended the Derby again, famously claiming it was because she was not served bread and butter with her meal. In 1872 the Derby was run on the present day course for the first time and resulted in a triumph for Mr Savile's Cremorne, ridden by Maidment and trained by Gilbert. In 1896 Persimmon provided a Royal victory in the Derby, winning for the Prince of Wales; he won it for a second time with Diamond Jubilee in 1900, and completed the treble in 1907 as King Edward VII, when H.Jones rode Minoru to win the Derby. One of the most famous and controversial events in Epsom's history occurred in 1913 when Emily Davison was killed as she ran out in front of the Kings horse. Epsom was used for the war effort between 1915 and 1918, causing the Derby to be transferred to Newmarket. Between 1940 and 1945 the same situation occurred again when the Derby was staged at Newmarket for 6 years. The Willie Carson ridden Troy won the 200th Derby in 1979 when trained by Major Dick Hern. The future of Epsom was secured in 1984 after it was purchased with the help of Lord Wigg. Currently the course offers 10 fixtues annually.
Epsom Oaks 1779
Wednesday 14th May 1779
1. Bridget, filly owned by Lord Derby
2. Fame, bay filly owned by Mr Vernon
Also Unnamed filly by Eclipse owned by Sir J Shelley
Unnamed brown filly by Metaphysician owned by Sir J Lade
Unnamed filly by Otho owned by Lord Egremont
Epsom Derby
Thursday 4th May 1780
1. DIOMED (6/4 fav) owned by Sir Charles Bunbury and ridden by Sam Arnull
2. BOUDROW (4/1) owned by Major O'Kelly
3. SPITFIRE (7/1) owned by Mr Walker
4. VAUXHALL SNAP Colt owned by Sir F Evelyn
5. HEROD Colt owned by Mr Panton
6. ECLIPSE colt owned by HRH duke of Cumberland
7. CARDINAL PUFF Colt owned by Mr Sulsh
8. GIMCRACK Colt owned by Mr Delme
9. MATCH'EM Colt 910/1) owned by Duke of Bolton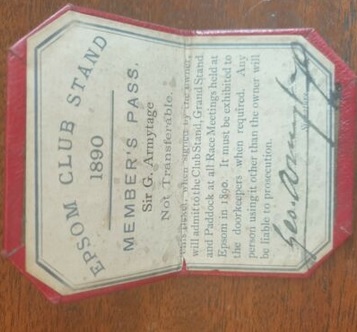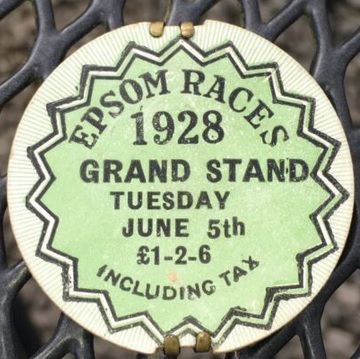 Hampton races began in 1814 and were situated at Molesey Hurst, then in Middlesex. The inaugural two day meeting took place on Tuesday 26th and Wednesday 27th July 1814, opening with the Clarence Cup which was won by Mr Ball's Emily. The racecourse was a flat, oval course with a circumference of 12 furlongs, and there was a sprint course of 4 furlongs joining the main course, which was used for longer races on the Surrey, Middlesex and Queens Plate courses. Races were held regularly twice a year, with the mid-Summer meeting dubbed the Cockney Derby. In the Sporting Magazine of 1846 their view of Hampton Races was, "Nobody ever dreams of going to Moulsey Hurst with a view to good racing". Hampton racecourse closed on Wednesday 15th June 1887 and was replaced by the more permanent course at Hurst Park which opened on 19th March 1890.
Tuesday 26th July 1814
The Clarence Cup over 2 ¼ miles
1. Emily, bay filly owned by Mr Ball
2. Trial, bay gelding owned by Mr White
3. Fanny, bay mare owned by Mr Barrondale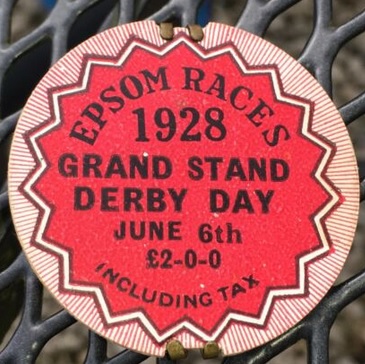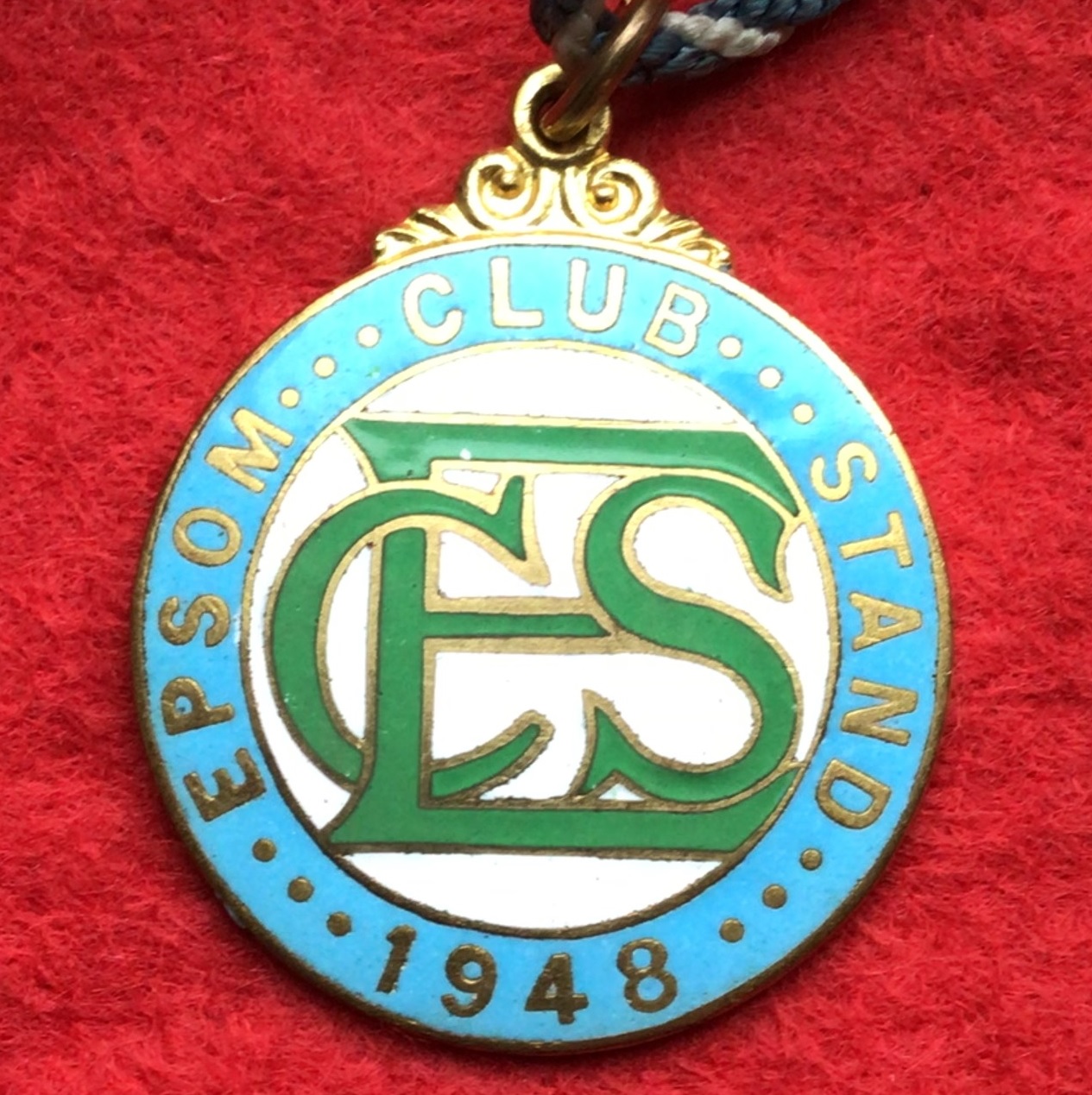 An incredibly rare racecard from the 1847 Derby at Epsom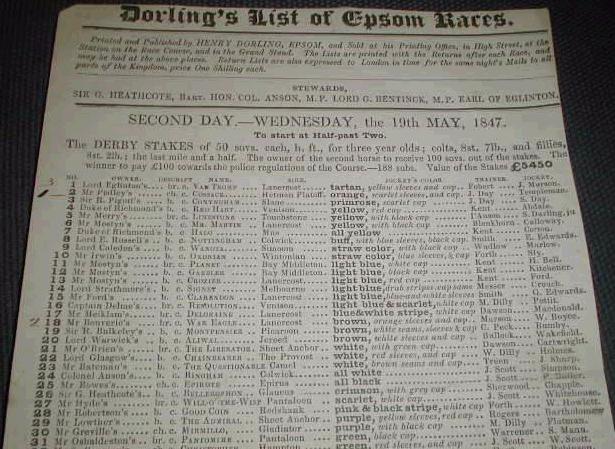 1847 Epsom Derby
Wednesday 19th May 1847
1. Cossack, owned by Mr T Pedley and ridden by S Templeman
2. War Eagle, owned by Mr Bouverie and ridden by W Boyce
3. Van Tromp, owned by Lord Eglinton and ridden by J Marson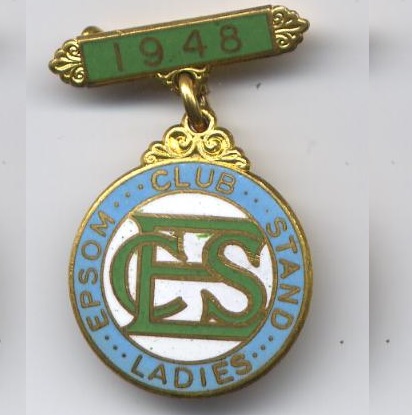 Many horses which travelled to Epsom by train 'detrained' at the station and walked the short distance to Tattenham Corner Stables, either to await their race or to spend the night there if they arrived a day early. Both Pinza and Nearula were housed at Tattenham Corner Stables prior to their runs in the 1953 Epsom Derby won by Pinza. Some might think that box 13 was unlucky, but Trigo (Epsom Derby 1929 winner) and Blenheim (Epsom Derby 1930 winner) were both stabled in box 13.